13 Amazing Short Hair Color Ideas To Upgrade Your Look Do you also feel that cutting your hair short instills a whole new level of power in you? Gone are the days when flaunting a cascade of waist-length hair was the only way to fit into the current fashion statement. Short hair is easy to manage and makes you look up to a decade younger. If that you have finally made up your mind to get a makeover, how about adding a flattering color to it! Color definitely revamps your style. You did not think coloring was just for long hair, did you? There are many ways to make the short hair light up, and tricks like adding highlights and lowlights put your hair right in the spotlight. We at Stylecraze have a perfect list of trending hair colors that will inspire you to style your hair next! So are we ready to get loads of compliments on our hair?
1. Short Hair Balayage
Balayage is a style statement in itself. The choppy texture is perfect for making your natural hair color stand out. The coloring technique adds dimensions to your short hair and makes it look dense. It works like a highlighter which makes your hair strands contrast with the bits that are colored. It ends up making your hair look voluminous and ultra-cool.
2. Lavender Pixie
There is something about silver and lavender hair color that makes it an instant favorite. The colors compliment each other to form the perfect highlights on short and layered hair. If you own a cute pixie and want two shades of color for the lower and uppercut, lavender and silver are the right colors to go for.
3. Blonde Undercut Shadow Roots
Do you also adore double shades of color that are darker on the roots and slowly blend into a lighter color on the tips? This is something that is made for short hairstyles. It adds movement to your hair and defines your cut accurately. The darker color acts as a shadow making your air look denser than it is.
4. Platinum Pixie
There is nothing trendier than short platinum highlights. No one would have ever thought people would actually look amazing in hair color that is far from being dark. The contrast between your natural hair color and undercut platinum is what suits your short hair the most. If you have a round face, this cut will balance the shape and make it look cuter.
5. Textured Ashy Layers
Ombre is always welcome when you are looking for a hair color that compliments short locks. If you decide to let one side of your hair grow out, the combination of grey and your natural color will give it depth and define the chopped strands individually. This hair color is a favorite among many influencers and has all the aesthetics that you need. Not to mention it compliments any outfit you wear due to its monochromatic color tone.
6. Burgundy Big Bangs
If you are not a fan of in-your-face bright colors like cherry red, for example, burgundy can be a choice for a somber yet edgy look. We sincerely feel burgundy can make anyone look amazing. If your haircut lets a good amount of hairbrush on your face, let the color be something contrasting like burgundy. You can color the front in this color and leave the side as your natural color for contrast.
7. Ultraviolet Modern Pixie
Hair color like this will require some professional help. It requires a lot of patience and steady hands to add so many colors to your hair. The results are going to be worth the wait! You can try this color if you have a short blunt. The edgy undercuts and groovy angles add definition to your hair while it looks fantastic from every angle.
8. Ashy Lavender Blunt
This haircut makes everyone look really cute and young. The ashy bob with the tips painted lavender enhances the features of your haircut and gives it an illusion of enormous volume. It highlights your face cut and directs attention to your facial features.
9. Red Head
Who said red was for long hair only?! The shorter your hair is, the more defined your hair color looks. If you have naturally blonde hair, coloring your hair red will not be a problem. You can bleach the hair from under your tips and color it just the shade you want if you have a darker shade.
10. Golden Streaks
Who could resist goldilocks? If you are not confident about having your whole hair colored golden, you can just paint the tips and leave the upper half the original dark color. The bright highlights will show in turns and make you look amazing in every outfit.
11. Piercing Blue Pixie Cut
You can never go wrong with teal blue layered on platinum. We like it best because it plays excellent contrast in shades and the luster of the color on your hair. You can also go blue with a blunt cut if you dip dye the bottom blue and the top platinum. Go for a darker shade of shaved undercut for a fun contrast with your blue hair. You can either dye it too, with dark shades or keep your natural color.
12. Baby Pink Hair
You will be surprised to see how punky this color can make you look. Pink is not just about rainbows and candies, and when it's blended with ash, it is all about looking amazing. The shorter your hair is, the better the color opens on your hair.
13. Mint Green Hair
It's a shame if you leave green out of your list, especially when earthy colors make you look so amazing. Mint green can make anyone go from okay to wow. Be it a pixie or a blunt cut, green is what you need to transform yourself once and for all.
So, these were the "in" fashion hair trends that set you apart from the crowd. If you are skeptical about coloring hair, you can visit your stylist to get a thorough detail of whether or not you should do it. Remember to take good care of your hair even after you color it. Regular moisturizing and trimming every 8 weeks is what every type of hair deserves. Which among these hair colors is your favorite? Let us know in the comments below!
The following two tabs change content below.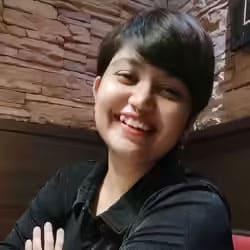 Indrani is a writer and artist who likes to add a dash of humor to everything she does. After graduating...
more