6 Asian Airports That Will Blow Your Mind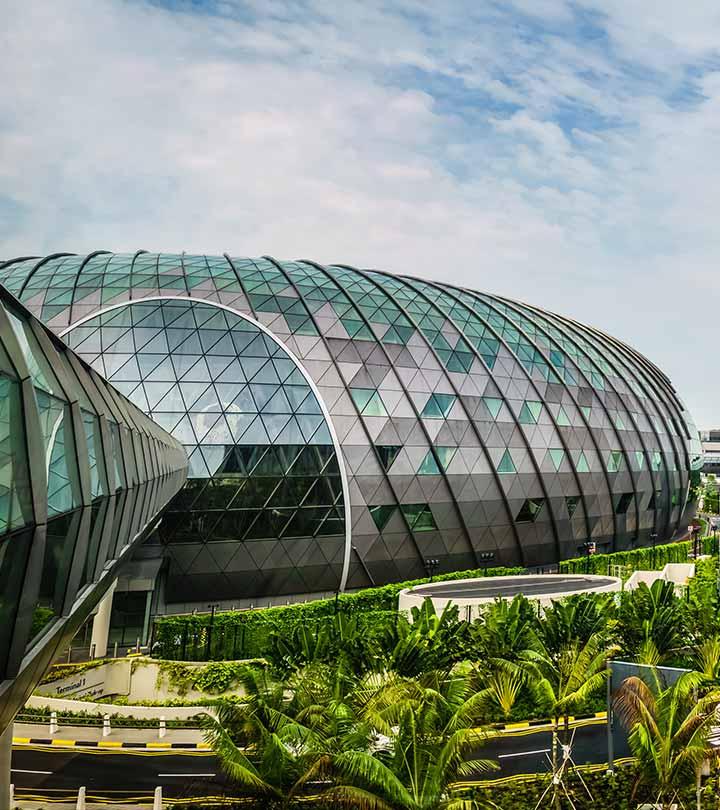 Traveling comes with so many emotions and adventures. And any international travel is incomplete without one key factor—airports. The word in itself creates visions of thousands of people running around, rows of air planes waiting to be boarded and the periodic announcements on the public addressing systems. In a nutshell, airports can be a nerve-wracking experience for someone on a vacation. However, in recent times, the governments of several countries have tried to break this status quo. In the process, they have built some of the most beautiful airports that are not merely a passage to an adventure, but also a treat to the senses.
Of those, here we have listed the top 6 airports that we found to be absolute eye candies.
#6 – Baku Heydar Aliyev International Airport, Azerbaijan
This terminal of Heydar Aliyev International Airport was built in 2015 and is located in the city of Baku. This terminal was designed specifically to portray the Azerbaijani culture, hospitality, and values. Designed to provide a warm and hospitable environment for visitors, the terminal has a contemporary style with a touch of tradition, extending throughout the span of the place. One of the most amazing parts of this place are the cocoon-like enclosures that were custom-built with American white oak veneers. The use of naturally available materials, such as wood, fabric, and stone give the place "warm hospitality".
#5 – Daxing International Airport, Beijing, China
China has been known for its tradition and flamboyance, all while remaining sophisticated and functional. China's Daxing International Airport is an epitome of this. Shaped like a star, this airport is called the "starfish" and is expected to be one of the world's largest terminals. In contrast to several airports, where you cannot see your dear ones after they cross the security check, the airport's design allows visibility until the gate. The airport will display futuristic design with relaxing colors that will not only be a feast to the eyes but also highly functional. Beijing's second international airport, Daxing is set to be ready for operations on the eve of China's National Day, 2019.
#4 – Hong Kong International Airport
One of the most common design flaws in most airports globally is the lack of natural lighting and space. This not only makes the environment feel stuffy but also leaves the passengers stressed and begging for some air. Hong Kong International Airport is a blend of technology and smart designing. Being well-lit and ventilated, the airport provides an outdoor platform that gives a breezy 360-degree view. Besides, the terminal provides game simulations and a massive cinema theater. And, a cherry on the pie, the airport also provides aircraft simulation to give you a hands-on experience of landing onto the runway.
#3 – Kuala Lumpur International Airport, Malaysia
Like we said before, airports are a moving picture of stress and anxiety. But, what if this image can be turned around to provide a calm, serene, and natural ambiance. Is it possible? Yes, it is. The Kuala Lumpur International Airport is an absolute treat for nature enthusiasts. The indoor forest promises to help the modern-day traveler unwind before, during or after a journey. In addition to the forest, there is also bird's chirping, real trees, and a giant waterfall—all dab in the middle of the main terminal. If this doesn't account for beautiful, what else does?
#2 – Incheon International Airport, Incheon, South Korea
Imagine arriving at an airport and as you look up at the roof, it feels like a traditional Korean temple. If you have seen this before, you have possibly been to Incheon International Airport in South Korea. With local artifacts and gardens all over, the airport offers a serene and peaceful time for traveler. So, that is awesome. But, that isn't it. The Incheon International Airport provides a possible way to keep one entertained. Starting with a 72-hole golf course, the airport provides a casino and casino, along with a full-fledged ice rink in the basement. And, if you want to do nothing, there are massage chairs all around the upper levels to let you catch on some beauty sleep.
#1 – Changi International Airport, Singapore
Considered as one of the world's best airports, Changi International Airports comes with a reputation. For starters, this place has a waterfall. And, no. It isn't a facade, but the world's tallest indoor waterfall. What's more? Changi International Airport also has an indoor forest, comprising of 3,000 trees and 300 eateries and shops. The awesomeness doesn't end there. The airport has the world's first butterfly garden in an airport. For those who are looking for fun activities, Changi International Airport is home to the worlds tallest slide in an airport, with movie theaters, and a rooftop swimming pool. All this while being among the 20 busiest airports globally. Forget going on a vacation. Going to this airport feels like a vacation in itself.
Sometimes, it isn't just the destination, but also the journey itself that makes our heart feel better. And, crossing these beautiful airports are going to make that journey way better. There is our list of some of the most beautiful and awesome airports in the world. It's time to apply for leave, book those tickets, pack your bags, and let the travel bug bite you.
The following two tabs change content below.

Latest posts by Surya Sathya Narayanan (see all)