5 Beauty Benefits Of Coconut Water That You Did Not Know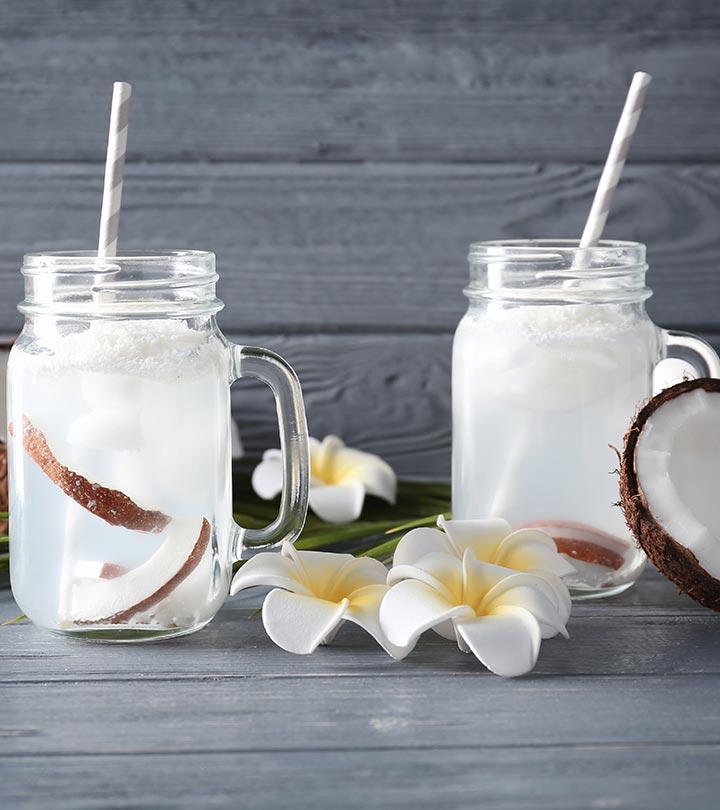 The mere sight of tender coconut reminds us of the days of summer, right? It reminds us of the sheer joy we experienced while quenching our thirst with the coconut water, and oh, not to forget, the delight upon finding the malai (tender coconut layer) hiding in the depths of the coconut. But have you noticed how coconut water has become very popular suddenly, especially in the health and fitness world? It has been through quite a journey from being a thirst-quenching exotic drink to becoming a popular health drink, loaded with a wide array of beauty benefits.
Just to clear the air here – when we say coconut water, we mean the clear water present in the green coconuts! (Just so that you don't confuse this with coconut milk)
Yes, we're going to talk about the beauty benefits of coconut water, but before proceeding to that let's get to know some nutritional facts about it too.
It tastes sweet and has a nutty feel to it.
Studies say that a cup of coconut water (240g to be approximate) contains just 45 calories (1).
It contains no fat and no cholesterol, unlike coconut milk (2).
It contains carbs and natural sugars which are easily digestible.
It's high in electrolytes like potassium and sodium (3). Precisely why doctors advise patients to drink lots of it.
It's equipped with a nutrient package which is ideal for our body – vitamin C, vitamin A, protein, calcium, and iron.
Beauty Benefits That Coconut Water Provides
1. It Provides Anti-Aging Benefits
Lauric acid is an anti-microbial powerhouse which is present in coconut water. It helps protect the skin from contracting any skin infections. The presence of a protein in the coconut water called cytokines boosts cell activation and cell growth of the skin (3). Coconut water also has properties that regulate the inflammation caused by acne and it also helps in keeping the skin free from wrinkles and fine lines which are all signs of aging. Therefore, drinking enough coconut water will have a lot of anti-aging benefits for you.
2. It Hydrates The Skin
Irrespective of the summer heat or the winter cold, most of us have one common skin problem, that of dry skin, don't we? Coconut water fixes this problem for you! Dip small-sized cotton balls in coconut water and apply it on your skin. Do this regularly. You will begin to notice that your skin looks hydrated without the use of any greasy face moisturizer. Coconut water is one of the natural moisturizers available for our skin. Your skin will soon become very smooth and soft and you'll find yourself saying bye-bye to dry skin problems.
3. It Is A Natural Skin Toner And Cleanser
If there is any skincare product that we spend oodles of money on, it has to be the basic skin cleanser and toner. Often times, we end up buying cleansers and toners that do more of harm than good to our skin, right? What if we told you that coconut water can do the work of both? Yes, we are not kidding here at all! Cleaning your face with coconut water will help you get rid of all the impurities and dirt. The water can even be used as a makeup remover to get rid of the stubborn makeup. You can also consider adding a few drops of lemon juice in the coconut water and cleaning your face with it. It will brighten up your skin and leave it hydrated beautifully.
4. It Helps To Tame Frizzy And Unmanageable Hair
Coconut water's benefits aren't just limited to skin here, it also works wonders on our hair. Not that we didn't know how miraculous coconut oil is for our hair, turns out even its water is pretty beneficial for the tresses
If you want a quick way to obtain silky hair, all you have to do is massage your hair with coconut water. If brittle hair and hair loss have always been your primary concerns, then pick up some coconut water and treat your hair with it. This is because coconut water has excellent conditioning properties which help increase the life of hair in the long run.
5. It Alleviates Sun Damage On Skin
No matter how many layers of sunscreen we apply, we definitely do end up with sunburns. Coconut water has anti-oxidant properties and also contains high levels of vitamin C which helps in reducing sunburns (4).
All you have to do is apply coconut water on your skin and let your skin soak it to reap the benefits. Leave it on for at least 20–30 minutes and then rinse your face. This can also be considered as one of the simplest sunburn treatments.
Coconut water is increasingly being used in skincare and beauty care these days. The reasons for these are quite obvious – it is natural and risk-free. So, from now on, don't just drink it, apply it on your skin and hair and enjoy the benefits. Do you know of any other use of coconut water? Let us know in the comments section below.
The following two tabs change content below.