The Beauty Benefits Of Eggs You Should Know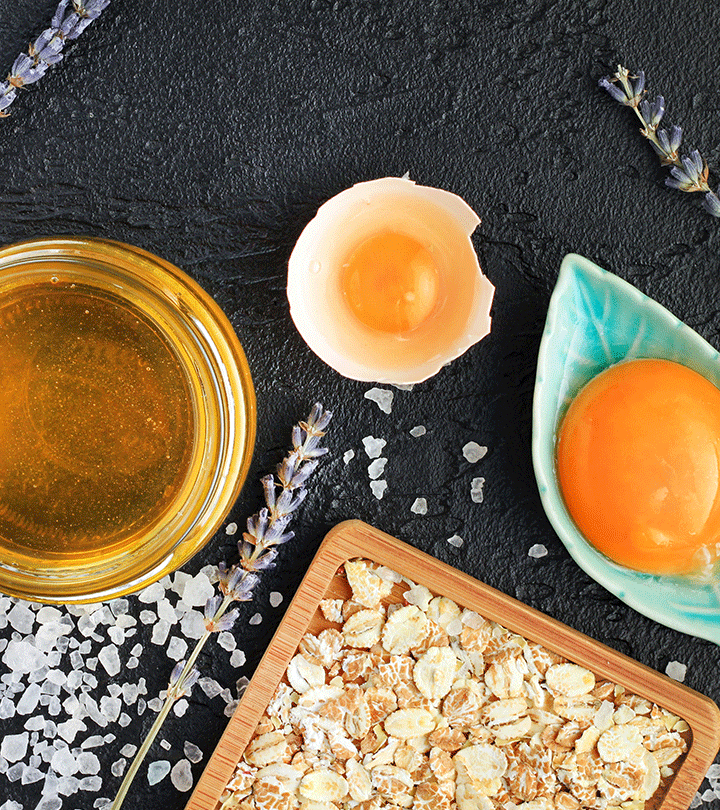 Eggs have long been used as one of the prime ingredients of skincare. Even as early as 3000 BCE, ostrich eggs were used along with other skin care ingredients to create the perfect recipe for addressing skin concerns of all kinds. Even though we can't easily access ostrich eggs today, we can substitute them for poultry eggs that are readily available and equally effective. Eggs contain nutrients that can promote healthy hair, nail growth and skin rejuvenation. People have even come up with unique recipes that have helped them remove white and blackheads with the help of egg whites and tools like tissue paper. Here in this article are a few recipes you should try with eggs to maintain healthy skin. Read on!
Egg Recipe For Hair
Do you recall Priyanka Chopra's Vogue video when she shared the recipe for her homemade hair treatment, which included raw eggs? That's because eggs, whether consumed or applied, have incredible benefits for hair and skin. The only potential concern is the awful odor of raw eggs. This is why we developed a recipe for a hair mask that not only helps cover the odor but also strengthens and smoothens your hair.
Ingredients
You will need the following:
1 egg
Half a tablespoon of olive oil
A spoonful of pure honey
A drop of rosemary essential oil
A drop of essential tea tree oil
To begin, break the egg into a bowl and add the other components in it one by one. Next, use a fork or a whisk to thoroughly combine the ingredients. Once it is frothy and smooth, apply it to your clean, dry hair and let it rest for at least an hour. Once it soaks in your hair, wash it with a gentle shampoo and apply apple cider vinegar to the bath water. Water alone will do, however, it may leave a faint odor behind. If you want to get rid of that eggy scent, use a scalp brush while you shampoo to get into the hair follicles and remove any egg particles that can later cause the smell. Once you are done washing, dry your hair. Your hair will feel silky, smooth, and shiny after using this.
Egg Recipe For Skin Care
Even today, many products in the market use eggs as an ingredient for face masks. We have something you can try if you're interested in trying a homemade skin care recipe. Facials that use egg whites to combat oily skin and restore a matte finish are all the rage. The mattifying effect is meant to minimize the appearance of pores and aid in the fight against blackheads. You can give it a shot if the skin is naturally oily and greasy. There are several approaches to making a skin care pack that will suit you. First, you can just extract the egg whites, mix them, and put them on your skin after they appear frothy and whipped. The mask is then let dry before being washed off.
The tissue paper trick for a removable mask is something you can try. The process begins with whisking an egg and then putting it to the face with the help of a brush. The next step is applying tissue paper over the wet egg on your face. The mask will dry and stick to the paper, making removal easy. The effect is the same as with a peel-off mask in that any accumulation on the surface is removed.
If you use a protein-based product, remember to follow up with a light lotion to rehydrate your skin afterward because proteins can make your skin dry. In addition, eggs are packed with essential nutrients that will help your skin glow.
Eggs contain just about every necessary component, including Vitamin C (1). As such, it shouldn't  come as a surprise that they significantly contribute to the well-being of your skin, your body's biggest organ. Therefore, eating them may do wonders for your hair's health and appearance.
Many people use eggs regularly for their skin and hair care routine. And it has never disappointed them. Make sure you read the recipe and follow proper instructions before attempting an egg face pack for the first time. It might be messy, and the scent can bother you if you are not used to eggs. You can use essential oils to cover the odor. Egg whites act as a natural pore cleaner, so if you have dirt accumulating in your pores, eggs are your best friend. So, what is your favorite recipe to use eggs for your skin care routine? Let us know in the comments section!
The following two tabs change content below.