10 Beauty Blender Hacks That Will Make You Glow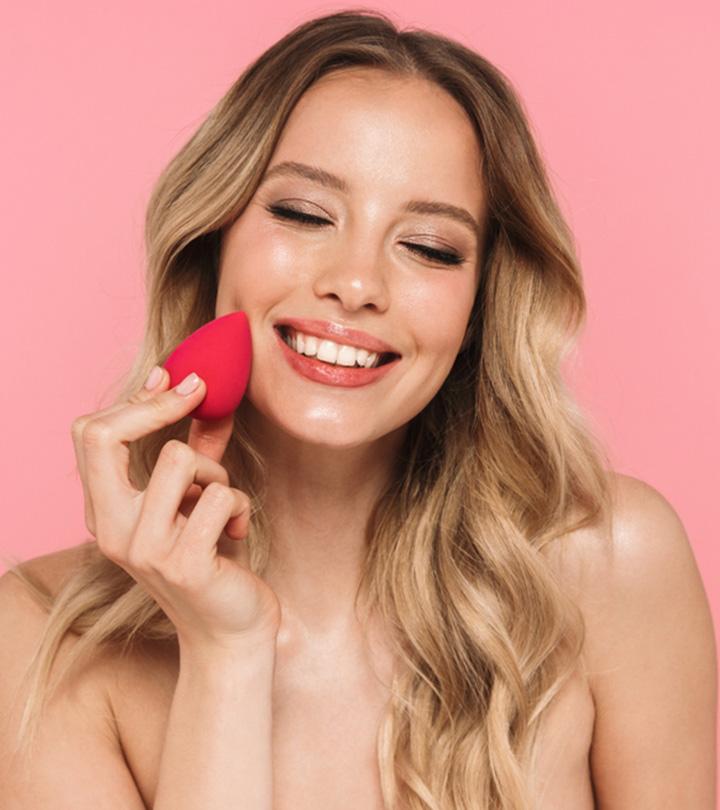 A good dewy look is a perfect way to spice up any basic outfit of yours. If you have been doubtful about investing in a beauty blender and prefer using the good old brushes or your fingers, here are ten reasons to invest in one. The beauty blender is one of the best investments you can make for your makeup kit. This versatile tool can be used for everything from applying highlighter to applying setting powder and even eyeshadow. Whether you've wondered how to get that super smooth airbrushed look or are simply going for a dash of glow to your natural look, a beauty blender can do it all. So, here's why you need to add one to your kit stat:
1. To Apply A Primer
Add primer to your beauty blender right before you go through your regular foundation routine. This will also be a barrier so that your foundation doesn't get soaked into the beauty blender. If you don't use primer, you should. Primer acts as a barrier and helps smooth any open pores, bumps, or imperfections in your skin. This will help your makeup glide on more smoothly and ensure that it doesn't seep into your skin and cause any breakouts.
2. To Apply Full Coverage Foundation
To create a finish, covering every inch of your skin, you should use a blender that is dry and try an effect called "stippling". This is when you vigorously pat your face with a dry beauty blender covered in foundation and massage it along the length of your skin. While doing so, be gentle and avoid dragging the product across your face as you do so.
3. To Achieve A Dewy Look
You can use a damp sponge to achieve that coveted dewy early morning look that shines like a thousand diamonds. This trick works well with all kinds of foundations, including ones that offer full coverage. Just make sure you squeeze out excess water that might be in your sponge.
4. To Smooth Flakey Skin
If your skin is dry and flakey, you can make it smooth by applying a drop of facial oil to the sponge, gently buffing your skin smooth with the beauty blender. The facial oil will nourish and dehydrate your sensitive skin while the beauty blender will get rid of any excessive flakey bits that may be present on your face.
5. To Brighten Your Under Eyes
You can apply baking powder under your eyes to give yourself that neat airbrushed look and lock your look into place at the same time. To start "baking" your skin, take a damp sponge, apply a layer of setting powder on it, and dab your eyes in a tapping motion. Focus on the areas that you want to brighten and set in place rather than dragging it across your face.
6. To Even Out Your Eyeshadow
You can make use of a dry, tiny makeup sponge to evenly glide your eyeshadow onto your eyelid. Just take the corner of your makeup sponge and dip it into the shimmer or matte shadow and dab pigment onto your eye. This will help you achieve even matte coverage and provide you with a great payoff of shimmery shadows. You can use your own fingers and pinch the makeup blender to apply the product precisely.
7. To Apply Liquid Highlighter Or Cream Blush
You can use a blender to apply the liquid highlighter and achieve a smooth natural-looking finish that will give you the youthful look that you crave. In order to do this, you should apply your blush before you do your highlighter. Start the application process by moving from the apples of your cheek to your cheekbones and layer the cream highlighter on top of your skin.
8. To Remove Excess Blush
If you've found yourself going overboard and adding extra blush, you can make use of the clean part of a damp sponge to get rid of any excessive blush that might be sticking to your skin. Just blot the blush and push the blender gently onto the surface of your skin. This will help the blender pick up any excess powder that will be sticking to your skin.
9. To Control Excess Shine
If you don't have blotting paper on hand but have to deal with greasy skin, you can make use of a beauty blender instead and let the sponge work its magic. This will absorb all the excess facial oil that will be present on your skin. However, you must ensure that you wash the beauty blender afterward so that it doesn't harbor any germs or bacteria.
10. To Soften Harsh Makeup
If you've drawn your brows sharp enough to cut through butter and are afraid it looks unnatural (no kidding, woman), you can use a beauty blender to blend the brow makeup and make it look more natural. You can also use the beauty blender to smooth out the edges of your eyeliner if you want to opt for a more smokey and mysterious-looking finish.
Sure, you might feel like a beauty blender is a waste of money if you're someone who doesn't usually go for a heavy makeup look, but a beauty blender will benefit even the rookiest of makeup users. So the next time you're shopping at your regular beauty store, give the beauty blender a shot. Do you agree with our tips? Let us know your thoughts on the same in the comment section below.
The following two tabs change content below.

Latest posts by Niharika Nayak (see all)

Niharika Nayak
Niharika has a passion for all things art, music and travel. During her spare time she likes experimenting in the kitchen, painting pop culture icons and chasing after random street cats. Her dream is to one day own an amusement park so she can ride roller coasters for free.