7 Beauty Products That Dermatologists Added To Their Black List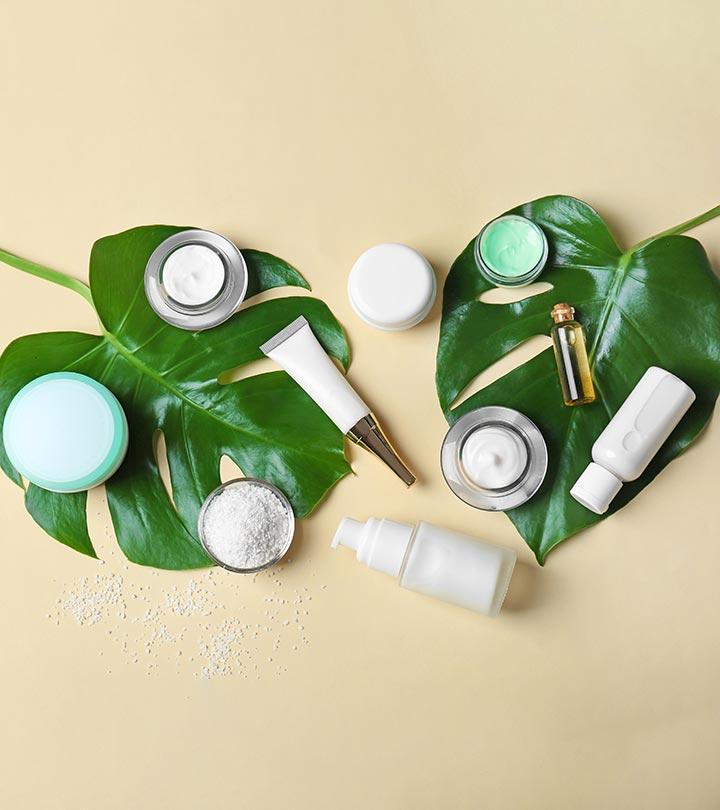 There are times when our skin is at its wonky best, leaving us panic struck. So, when we want to find out what has gone wrong with our skin, we pay a visit to our most trusted dermatologist. And let's admit it, we are forever curious to know about the skincare products that they use in their everyday life. After all, if it's good enough for them, it's even better enough for us, right? They are the experts!
As much as we are keen to know about the products they use, we also want to make sure that we know the names of the products that they have placed in the taboo category and why. Here is a list of 7 such beauty products that dermatologists strictly recommend not using on our skin.
1. Say No To Your Hand And Body Lotion
Dermatologists always prefer using hand and body creams instead of the lotions. The creams are heavier and have a better viscosity when compared to lotions. They even penetrate better into our skin and prevent any loss of moisture from our skin. You can resort to lotions if you happen to love that sticky, greasy feeling lingering on your skin.
2. Charcoal Facemask (Yes, You Read That Right!)
Everything in charcoal has become an on-going trend these days. You can see everyone posting pictures on social media wearing charcoal masks or nose strips. As much as the black-colored mask intrigues us, we stopped to see what our dermatologists have to say about this. And we were surprised to know that the black mask was blacklisted by them! Our experts claimed that these masks damage the structure of our skin in addition to being painful while peeling it off one's face (1). The ingredients that make up this mask are very harsh for our sensitive skin.
3. Don't Spray That Sunscreen
Of course, a sunscreen spray is very hassle-free to use when compared to the sunscreen creams. But dermatologists prefer the creams. Sprays can be devouring; when sprayed on our body, they lose their elements even before it reaches our skin. If you are using a cream, you can apply a thick layer of sunscreen. But, with the spray, this isn't possible. We give you a bonus tip — use sunscreens that have zinc oxide! These are gentler and more effective on our skin.
4. Tanning Oils
We have a lot to learn about SPF (sun protection factor). But, the one thing that you need to learn right now is that one must never resort to tanning oils. Our body has enough oils, we don't need the tanning oils to clog the body pores even further and damage our skin. Besides this, it doesn't provide enough sun protection either. It only makes our skin shine in the sun, thereby attracting the heat of the sun.
5. Say No To Hydrocortisone Cream
Beware! This cream is apparently a steroid product and a strong one (2). And it is advised to be used only by a dermatologist after the patient's skin observations. However, most of us have started to use it for our acne problems without any doctor's prescription. Refrain from doing it anymore. It can cause skin rashes, thinning, and might also result in a condition known as "steroid acne." Make it a point to always consult your dermatologist and then use medical products on your skin.
6. Foot Masks
We always resort to the easiest ways of taking care of ourselves. Even when it comes to our feet! Instead of heading to a salon and getting a pedicure done, we have started to resort to foot masks. It might give our feet a royal touch, but dermatologists believe they aren't worth it. Foot masks don't really moisturize your feet well; foot creams do a better job. Foot creams smoothen our feet and also heal the cracks. Foot masks, on the other hand, are purely a waste of money and time.
7. Don't Swear By Coconut Oil
If you belong to the Asian community, you are bound to use coconut oil as a rescue essential in taking care of yourself. You must have come across "virgin coconut oil" in supermarkets, but the fact stands that there is no such virgin variation of coconut oil. This oil might be extremely beneficial when used in hair care, but when it comes to skincare, it's a big no-no! Using coconut oil on your face can clog your pores, make your skin oily, and thereby, result in acne and pigmentation problems (3).
Aren't you surprised after reading the list of blacklisted products that dermatologists swear by? You are now aware of the products that are beneficial for our beauty care routine and why. Have you ever tried asking your dermatologist what is their beauty care routine? If yes, leave your answers in the comments below!
The following two tabs change content below.

Latest posts by Shivani K (see all)