Meet Varshita Thatavarthi, The Sabyasachi Model Who Is Redefining Beauty Standards Like A Boss
Women have always been told what to do, how to behave, how to dress, and how to talk. As ridiculous as it sounds, women were also expected to look a particular way so that they would meet the illogical standards met by the society's beauty concepts. If you are an Indian woman, I'm sure you can recollect at least one instance when someone passed a comment on your skin tone or your body weight/ height. Well, our ancient poets didn't describe women as stick figures and beach bodies. But today, for the population that is keen on keeping their culture alive, being skinny is a concept that they don't mind owning from an alien culture. And while the most-admired westerners spend hours under the sun trying to get tanned, we try to despise our naturally dusky skin tone.
With all this mess going on loose in the public, media and the beauty industry have found a perfect scenario to run their businesses. Or is it the other way around? Is it the media that's setting all the goals? Well, we think that it's a cycle and everyone's equally responsible for giving into these despicable beauty standards. Thankfully, we see less of fair and lovely and more of confidence among the generation of women today. Not all of them are open to changes, but we can already see the torch bearers of the movement that is going to crush down the age-old beauty standards to dust. Talking about such bold women, Varshita Thatavarti is a name that you must know about. You may not know her by name, by you'll definitely know her from the recent posters and Instagram posts of the elite brand Sabyasachi. Let's read more about Varshita.
Who Is Varshita Thatavarthi?
Varshita Thatavarthi is a 25-year-old model hailing from Delhi and she became popular when the Sabyasachi photoshoot for this year's International Women's Day became viral. The picture portrayed a male and female model (Varshita) who weren't within the generally "acceptable" model criteria and the caption read, "This International Women's Day, celebrate confidence. Varshita Thatavarthi in Sabyasachi." The caption stuck together with this photograph is indirectly telling that the brand accepts the misconception that confidence is associated with having a society accepted physical appearance.
Well, this didn't go well for the brand as netizens called it out for being re-emphasizing the stereotypes. In a very sad way, this became the first step to success for Varshita. People started noticing the gorgeous model and started supporting the idea of breaking stereotypes. And well, this was much needed because we live in a world where young girls starve themselves to sleep in order to lose weight and corporate chains of gyms and health clubs earn in gold. You just need to be healthy — that's all that matters.
Varshita who was born in Visakhapatnam, Andhra Pradesh has struggled for five long years before she could get a name in the industry. Because of her dusky skin and curvy body, she was denied many opportunities even though we're sure she's brilliantly talented. But her passion and perseverance kept her going through the rough days. In an interview with a leading online channel, Varshita said, "It takes an enormous amount of patience and strength to cope in an industry that has been conditioned to believe that anything above size 2 is an aberration. I've been rejected for five years because I had a fuller body and dusky skin. I've been to corridors of hell when no agency in India wanted to represent me because I didn't fit their conventional body type requirement."
She also finds the idea of calling plump and curvy models "plus-size" repulsive. According to her, the usage of this term emphasizes the "addition" to the normative sizes which is completely absurd. If all the other models are called just "models," why should she be called a "plus-size model?" This is a very thought-provoking question and we hope that the industry soon finds an answer or a solution to it. Varshita has been in many other photoshoots of Sabyasachi as well and she has quite a huge fan following on social media. And, why not? Women like her become a living testament to the idea of hard work and perseverance.
Varshita has been trying to get into the acting world for quite a while and it has been nothing but bitterness until now. She was asked to come back after becoming fairer and thinner and it shattered her. Unlike these days, growing up in the 90s gave you no internet and hardly any content of embracing your true self. This lack of awareness hit Varshita and she was doomed to believe that she was ugly for a long time.
Now that a lot of us focus on skincare products rather than fairness products, and staying fit rather than skinny, change is almost around the corner. No matter how you are, you are beautiful and the only thing that matters is who you are. So, let's celebrate you today, shall we?
The following two tabs change content below.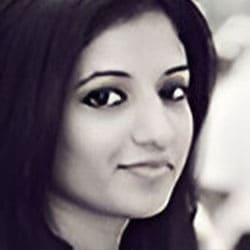 Latest posts by Chaitra Krishnan (see all)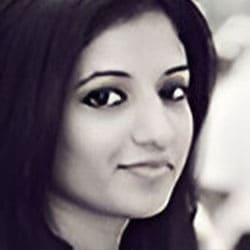 Chaitra Krishnan
Chaitra is a passionate writer and fashion enthusiast. A fiction fan and poetry lover, she goes by the motto "When life throws lemons at you, mix the juice with some honey and get rid of your tan!" Also, jumps at the word "Sale".