9 Beauty Tips For People Who Wear Glasses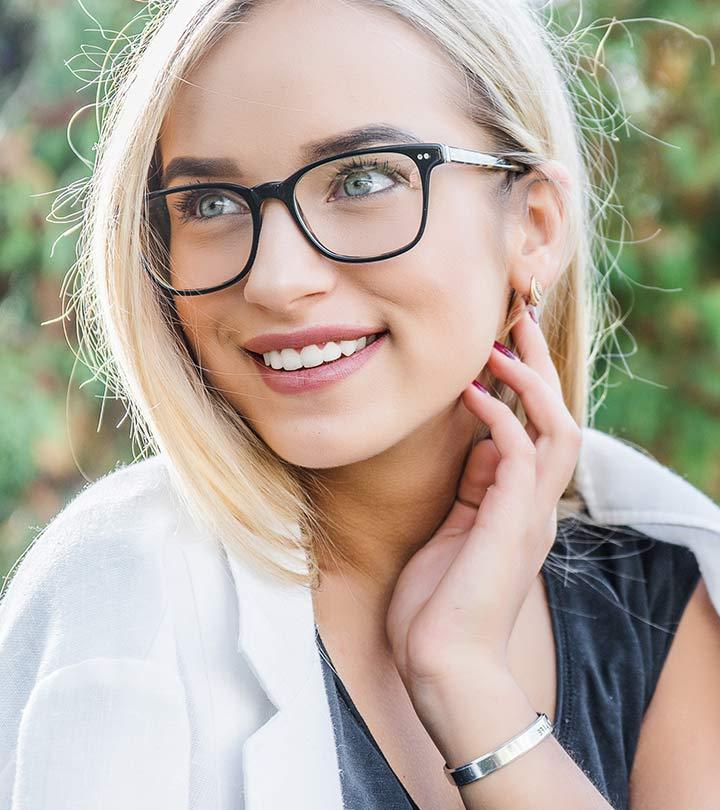 It's said that eyes are the windows to one's soul and it's also the first thing that most people notice when they meet someone. Come to think of it, eyes are probably the most expressive features of one's face. They can convey a thousand emotions even when our tongues fail to articulate them correctly.
Eyes also make for a perfect playground for someone who loves makeup. One can be a sultry seductress, a plain Jane, a glamazon — just by experimenting with a few eye makeup looks. But what if your God-given eyes need a bit of a support? What then? We are talking about those of us who need four eyes to get our work done instead of the usual single pair, that is, those who have to wear glasses.
Well, we are here to tell you that even if you happen to wear heavy duty glasses, you can still flaunt your pretty peepers in style! Want to know how? Just read on.
1. Prevent Your Lashes From Bumping Against Your Glasses By Doing This
If you have long eyelashes, then you would have faced the inconvenience of them bumping against your glasses and leaving smudges of mascara all over them. The best solution would be to curl them upwards so that they are away from your glasses. This would also make your eyes pop.
2. Use A Colored Liner To Make Your Eyes Pop
If you wear bulky frames or those huge nerdy glasses, you would've noticed that most of your eye makeup gets hidden behind them, or maybe it is not visible under the shadows cast by them. So, in order to get your eye makeup to stand out, you should switch to more vibrant, colored eyeliners.
3. Give Your Lips A Marilyn Monroe Makeover When You Want To Forgo Eye Makeup
If you want to give your eyes a break from all the makeup or want to go for a no-makeup look, but don't want to look like you're on your deathbed, we have another tip for you. Paint your lips ruby red! No kidding, it will give your face a total makeover, and make you look very chic.
4. Always Keep In Mind The Kind Of Makeup You Like To Wear While Choosing The Color Of The Frames Of Your Glasses
If you are someone who loves to play around with makeup by wearing flamboyant lip shades, then why don't you keep that fact in mind while choosing the frames for your glasses. Because wearing bold, colored frames might clash with your makeup. Therefore, always consider your go-to makeup look while choosing the frames for your glasses.
5. Use A Brightening Under- Eye Concealer
Big framed glasses, or for that matter, almost all kinds of glasses create under eye shadows which when coupled with dark circles can literally give you a very zombie-like pallor. To avoid this from happening, you should use a brightening under eye concealer to give you a more "up and awake" look.
6. For Your Bold, Brightly Colored Frames, Go For A Neutral Lip Color
Remember what we said about coordinating the color of glasses with your makeup? Well, this tip is for those of you who sport funky colored glasses. If you want a more polished or chic look, you should choose a neutral lip shade while you are sporting your funky glasses. It will downplay the color of your frames and give you more of a "prim and proper" vibe.
7. You Can Afford To Go Bolder With Your Eye Makeup
Unlike those who don't wear spectacles, those who wear them can afford to be a little more dramatic with their eye makeup. Be it in terms of colored eyeshadow or a bold eyeliner, you can afford to go a little overboard because it will be covered behind your glasses. And your dramatic look will look more subdued, therefore striking just the tone you want.
8. Always Remember To Groom Your Brows, They Are More Important Than You Think
If you are under the impression that your brows are covered by the frames of your glasses so how do they matter, you are wrong! Eyebrows act as pillars of your face. They frame your face by highlighting your features and making them distinct. So always make it a point to groom your brows properly, even when you are wearing glasses. You can use a brow gel for this purpose.
9. Use Blush To Highlight The Placement Of Your Glasses
It's not all about your precious peepers! Now that we have discussed eye makeup at length, let's discuss another element of your makeup look, i.e, your blush. Glasses can cover a large part of your face, but that doesn't mean you shouldn't do makeup to highlight other features of your face such as your nose or your cheeks. In fact, a very nice way of highlighting your cheeks is to apply the blush just where your glasses are placed. It will give you a more flushed and dewy appearance.
There you go, folks. Go ahead and try these beauty tips to make the most of your bespectacled look. If you have any other tips to add to this list, share them with us in the comments section.
The following two tabs change content below.