7 Best Beauty Tips Using Aloe Vera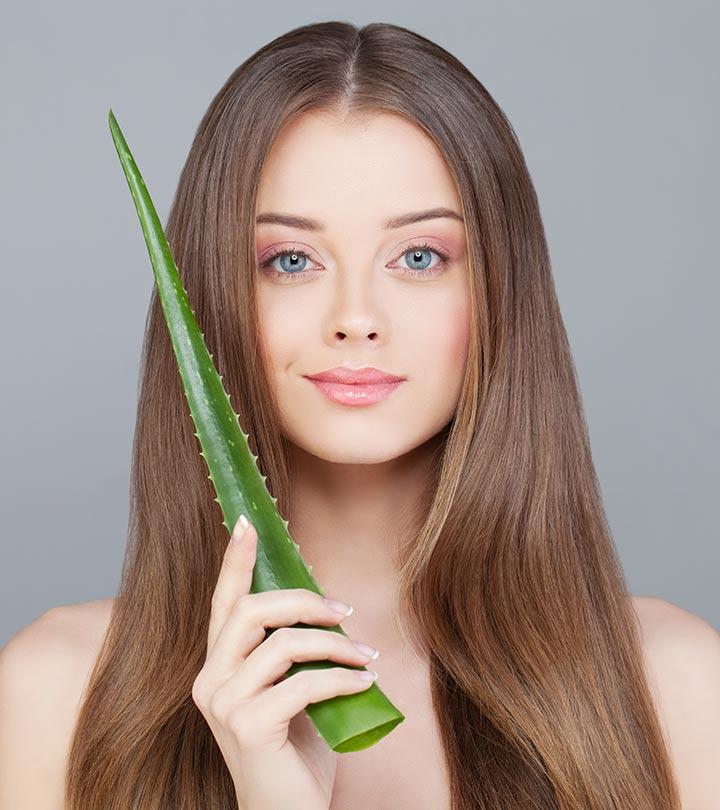 You just cannot find a beauty magazine in this world that has never had editions where at least an entire full page is dedicated to just the advantages of aloe vera, can you?
Whether it's the behemoth world-popular beauty brands touting the advantages of their products which have aloe in it or the celebrity A-listers like the Kardashians and Victoria Beckham endorsing the advantages of this spiky succulent plant, aloe vera sure is living up to its name of "plant of immortality" which was a moniker that the Egyptians had bestowed it with.
So, what's so special about this thick-leaved plant that has made it the crux of the wellness and beauty industry today? It's nothing but a succulent plant that stores this transparent gelatinous liquid in the leaves. It is this gel that is the only beneficial part of the plant; it's loaded with minerals, amino acids, antioxidants, other nutrients, and vitamins that work miracles on our skin.
How Do You Get The Aloe Vera Gel?
Fret not! We'll give you the option. Pick any (winks)!
Just buy an aloe vera plant and keep it at home (the most low maintenance way). All you have to do is cut the leaves out. Remove the thorns from the sides, slit the leaf from the middle and scoop out the gel.
If you think you are not a good plant caretaker, then get yourself some aloe leaves from the nearest organic store.
If you cannot lay your hands on any of the aloe leaves. Then buy one of those organic tubs or jars of ready-to-use aloe gel from the market.
Pro tip: While buying aloe gel, make sure that it's not green in color. Because organic, chemical-free aloe gel will be transparent.
Here's a list of some beauty remedies that include aloe vera. Read on and learn how to reap the benefits of this "plant of immortality."
1. Soothe A Sunburn
Aloe vera has great anti-inflammatory properties which makes it a great treatment for all kinds of sunburns, bug bites, poison ivy, etc. Applying this gel instantly provides relief from redness, inflammation, etc. Studies say that it blocks nearly 30% of the sun's ultraviolet rays which makes it an efficient shield against sunburn (1).
2. As A Moisturizer
Both Jennifer Aniston and Victoria Beckham have been open to the world about how they swipe neat aloe gel over their skin for quicker moisturization of their skin. It's known that the aloe vera gel penetrates the epidermis of our skin four times deeper than water. This way aloe hydrates our skin without causing any clogged pores.
3. The Genie For Sensitive Skin
Applying even the costliest of all the skin creams out there poses problems for a person who has sensitive skin. People with sensitive skin have a weak lipid barrier. Applying pure aloe vera gel on sensitive skin will heal the inflammation of skin and boost cell regeneration. The best way to take care of sensitive skin is by applying aloe gel on it. The gel nourishes the skin and pumps it with the required nutrients.
4. Lightens Blemishes
Aloe has these two magical hormones called gibberellins and auxin that boost the development of healthy new skin cells (2). Therefore, applying aloe gel on your blemishes or scars will not only lighten them up, but you'll also find new skin surfacing on the marks, thereby, covering them.
5. Best Eye Makeup Remover Ever
As much as applying good eye makeup requires precision and time; removing this makeup also requires a good amount of effort. Eyes are extremely sensitive, therefore, one needs to make sure that the chemical particles of the eye makeup don't enter the eyes. The best natural way to remove your eye makeup is to mix the aloe gel with some olive oil. Soak your cotton wipe or cotton ball in this mixture and wipe your eyes gently. The gorgeous Salma Hayek swears by this hack!
6. Aloe Boosts Hair Growth
The transparent gel of aloe has a chemical that is very similar to keratin, the building block of hair follicles. Applying aloe vera gel to the scalp also boosts the blood circulation to the scalp and the presence of proteolytic enzymes removes the dead skin cells from the scalp that hamper the growth of fresh hair. Just massage aloe gel onto your scalp for a couple of minutes and rinse after half an hour.
7. Aloe Promotes Lustrous Locks
If your hair is brittle, lacks luster, and is becoming very hard to manage, Aloe comes to your rescue! Mix aloe vera gel with water and blend them in a mixer. Once you've shampooed and conditioned your hair, give it a final rinse with this aloe mixture. This will infuse moisture into your hair making it smooth and lustrous.
These were just some of the beauty benefits that this miraculous plant provides us. Do you want to add any beauty benefit of aloe here? Let us know in the comments below.
The following two tabs change content below.

Latest posts by Shivani K (see all)