Beginners Guide To Build A Haircare Routine Ok, let's be honest here; how many of us think shampooing once a week is good enough for maintaining a good hair care routine? You might not believe it, but that is what we ultimately end up doing. Your hair has to deal with the constant hustle of everyday styling, chemicals, dust, and pollution. It is practically impossible to treat all hair problems with a single shampoo. We don't believe in using a hundred products to maintain healthy hair, and honestly, nothing works better than absolute natural products. If you are new to haircare and looking for products for maintaining good hair, you are at the right place. Read on to know everything you need to make every day a good hair day!
Step 1: Check Your Hair Type
For pointers, hair type is not just about texture. There are many factors, including how well your hair absorbs moisture, how elastic it is, and how much it can bear before it breaks off. Here are a few factors determining if you have coarse, oily, frizzy, fine, or thick hair.
To find the diameter of your hair, all you need to do is a simple test. Take a hair strand between your fingertips and roll it. If you feel nothing, it is a sign of fine hair. If you feel a strand, it is medium hair, and if you feel the texture clearly, it is coarse hair.
Hair density is defined by how much hair you have on your head. To check hair density, part your hair from the front half of your head and check the hair's distance from the parting. If the parting is a small line, your hair is very dense. If the partition is clearly visible, then your hair is very thin.
Healthy hair is usually elastic. If you pull your hair, it will stretch before it snaps to the tension. Take a strand of hair and pull it; if it snaps at one go, it means your hair is not strong enough and lacks proper nutrients.
If your hair doesn't absorb moisture, it could result in harsh and rough strands. To check your hair capacity to absorb moisture, fill a bowl with water and place a strand in it. If the hair sinks, the porosity is high. If the hair floats under the water surface, it is balanced, and if it floats above the surface, the hair does not absorb moisture and could be dry and coarse.
Step 2: Gather The Hair Products
The kind of products you need depends solely on the hair texture.
Shampoo, conditioner, microfiber towel, hairdryer, diffuser, heat protectants, and styling products are some of the common products.
Paddle brushes are ideal for most hair types. They are made with different bristles, and you can pick one according to your hair type. You can choose a brush with sturdier bristles like synthetic and nylon if you have thicker hair.
Step 3: When To Wash Your Hair
Now that you know what your hair type is, what you need to do to keep your hair healthy is regular hair care. We all wash our hair, but not doing it the right way can lead to further damage. You should not wash your hair more than thrice a day. This also changes depending on your everyday activities and hair type.
If you have dry hair, you should keep the hair wash minimal. If your hair is oily, washing hair once in two days also works.
Step 4: How To Use A Conditioner The Right Way
Conditioner is a must to keep your hair nourished and smooth. But, not using hair conditioner the right way will lead to an oily and dandruff-prone scalp.
Step 5: Scalp Massager
A scalp massager will help blood circulation and lead to healthier hair growth. You can do an occasional hot oil scalp massage to relax your scalp.
Step 6: Temperature Control
We often ignore our hair while enjoying a hot shower. It may be relaxing for your body, but it will make your hair shaft very dry. Even if you want to take a warm shower, keep your hair covered in a shower cap and then wash your hair with cooler water.
Step 7: Drying Hair
If you are using a hairdryer, use a protectant and then dry your hair from the roots. Once it gets dry, gently use the paddle brush to separate the hair strands. To make sure you don't lose extra moisture with a hairdryer, you need to use a microfiber towel to soak up excess water and fasten the drying process.
In addition to these, you can apply hair masks and serums to increase the shine and luster of your hair from time to time. You don't have to shop for them always; DIY homemade hair masks work best for pampering your hair. So, do you have any secrets when it comes to maintaining a healthy hair care routine? Let us know in the comments below!
The following two tabs change content below.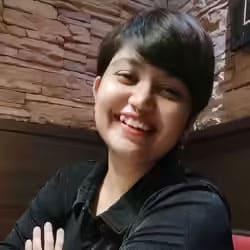 Indrani is a writer and artist who likes to add a dash of humor to everything she does. After graduating...
more