15 Best Celebrity Bangs For Every Face Type And Hair Experimenter Out There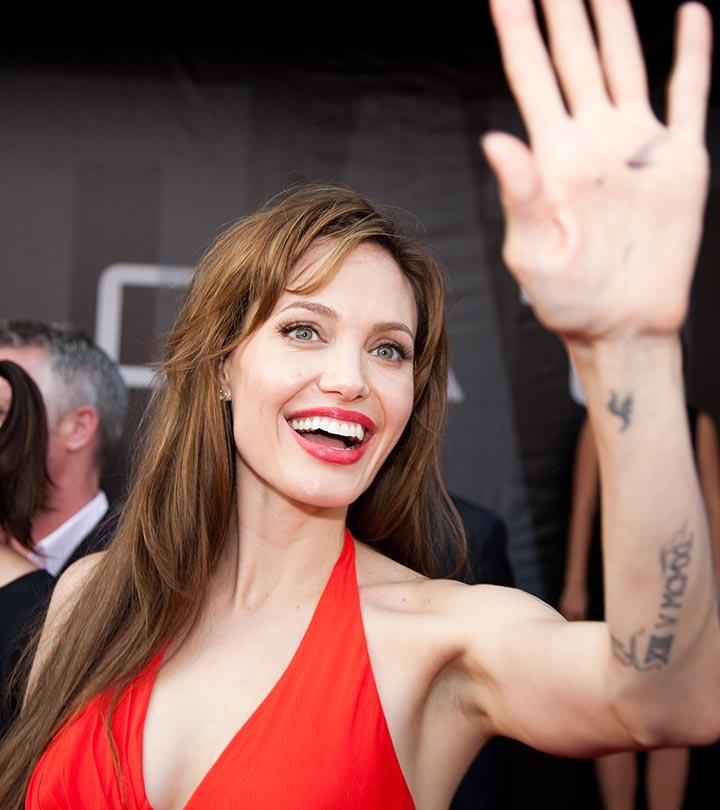 Many of us love to spice things up and experiment around this time of the year. There's a sudden itch in the pits of our stomachs that makes us want to get out there and try something different. And what better place to experiment than with our own hair? After all, hair grows back over time, but the style you rocked this summer, that's eternal. You're probably scared to take the plunge and opt for bangs. You've probably been told, "Bangs are childish", "Bangs won't go well on your face cut", and other such snarky comments, but we've got one thing to tell you — Go get those bangs! Whether you have a pear face, rectangular face, or you're a trapezoid shape yourself; bangs are for everyone! Don't let people with bland haircuts tell you what to do with your hair. If you're looking for some celebrity inspiration, we've got you covered:
1. Blunt Bangs
If not Taylor, who? Blunt bangs are perfect for people with long faces and a more prominent forehead. Not only do blunt bangs disguise your forehead, but they also add volume to the area. If you're worried about your receding hairline or feel like your forehead looks too large in proportion to your face, opt for the cut. Ask your hairdresser to lessen the volume, only at the tip of your hair, so that it doesn't cause an itch in your eye.
2. Choppy Bangs
Rihanna is known for experimenting with plenty of hairstyles, but we have got to say that our favorite hairstyles are the ones where she rocks bangs. Whether Rihanna is rocking short hair or long hair, you'll see her with some great bangs-related hairstyles. These choppy bangs also work for people who are worried about the size of their foreheads. Not to mention these bangs are easier to manage and can be styled with a serum to keep them static.
3. Layered Bangs
There's never a wrong time to get bangs, and Maisie Williams proves precisely why. Layered bangs work well on smaller and wider faces like Maisie's, and we love the unique shade of mauve that she has gone for. The medium-length falls right in the middle of your forehead and gives off cool nerd style. It is also very adorable and will make you look younger than your actual age.
4. Side-Swept Bangs
Jennifer Garner's side-swept bangs give us such girl-next-door vibes. We love the way her bangs framed her face and made it look softer. This is a hairstyle that would work perfectly for someone with more angular features, and you should definitely give this a try if you have sharp features.
5. Swept-Up Bangs
Scarlett Johannson is known for having long hair, but she's been seen rocking fantastic short hair these days, and we absolutely adore her swept-up bangs. These bangs need extra attention and care to keep that suave look intact. Use hair creams and hair gels to keep the hair sturdy. A few strands of hair that might fall forward will also give off the sexy siren.
6. Brow Grazing Bangs
Dakota Johnson should definitely be monikered, "The Queen of Bangs"! The 50 Shades Of Grey actress can pull off her brow grazing bangs with whichever hairstyle she chooses to rock. We have to say that if there's one thing we're hoping to learn from her, it's how to rock bangs with such confidence. These bangs are universal for every face shape.
7. Cascading Bangs
Kristen's cascading bangs are ideally suited for those with an oblong or long face type. If you have angular and sharp features, you should definitely consider this look. It's edgy, punkish, and most definitely flattering to the face. If you're going through a punk princess phase, opt for this look.
8. Side-Swept Chunky Bangs
If you're someone who has a smaller face like Emma Stone, don't fret. You can still opt for this hairstyle. Just make sure that you sweep your bangs to the side and reveal a little bit of your forehead, so your face doesn't look too covered up. These bangs should be kept longer to pull off this look.
9. Curtain Bangs
These long middle-parted bangs are a modern take on the classic Bridgette Bardot style. These bangs are lightweight, split down the middle, and wispy. Camilla's wispy and loose-flowing look is the perfect example of this style.
10. Micro Bangs
Now, this is definitely a bold look. Ursula Corbero stands out with her unique twist on the typical micro bangs. This look works with both oval faces and round faces and draws all the attention to the eyes. Just make sure that your brows are well done (wink).
11. Wispy Bangs
This retro look frames your face really well and works for women who have a smaller face. Unlike your signature curtain bangs which go well with straight hair, these wispy bangs make for a fashion statement in their own right. In order to avoid the strands becoming greasy, use dry shampoo to flare it up.
12. Flared Bangs
Jameela Jamil's flared curtain bangs suit her incredibly well and work for her square face type. Her bangs also bring out her deep brown eyes and complement her loose beach waves perfectly.
13. Curly Bangs
So what if you have curly hair? Many people with curly hair think that they cannot rock bangs, but Yara Shahidi proves exactly why they should dare to take the plunge. We love that she styled her hair to incorporate her ringlets and let them hang in loose spirals.
14. Heavy Bangs
Nelly Furtado's classic bangs from the 2000s were definitely a defining hairstyle for a lot of us. When you picture the word "bangs" this is probably what comes to mind. This haircut is perfect for those with poker-straight hair and works for women with round faces.
15. Shaggy Bangs
Sandra Oh proves that curly and shaggy bangs really work well for women with round faces. While we would advise you to keep the bangs short, we have to say that Sandra Oh's hairstyle is really convincing us to take the plunge ourselves.
Trying out a new hairstyle sure can be a risky business. However, since you're most likely still working from home and don't really have to show your face in public, this is the time to try out new things. Take risks with these bangs by following tutorials on a self-care Sunday.  Do let us know all of your thoughts in the comment section below!
The following two tabs change content below.