10 Best Hair Growth Oils To Buy In 2020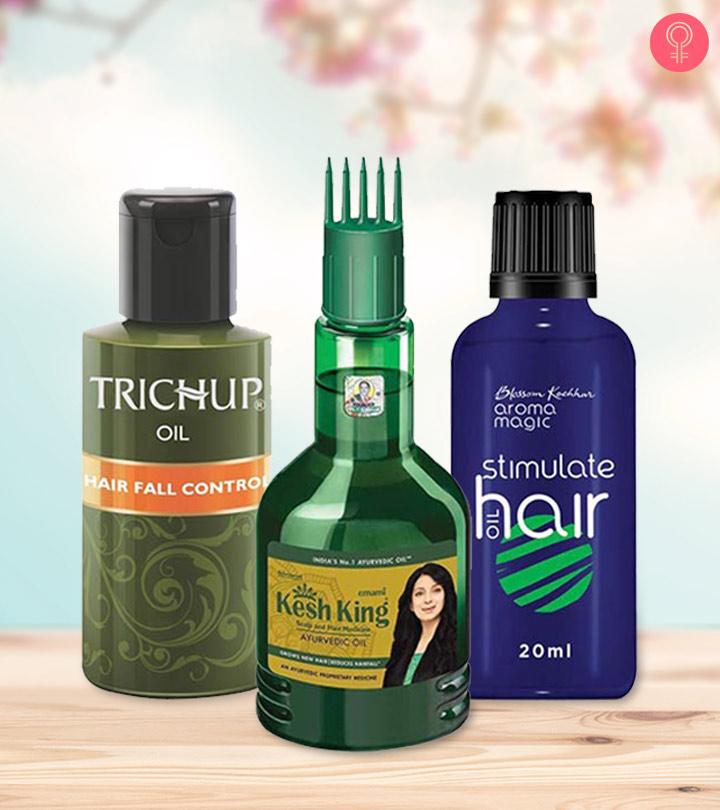 The idea of oiling your hair twice a week seems old school, right? Wrong! Turns out, your mom was right to slather oil on your hair regularly. Oiling is the best way to pamper your hair. It gives your hair the essential nutrients and proteins it needs to become stronger and shinier. One of the best ways to get healthy, long, and thick hair is to sit back and enjoy a nice hot oil massage. A good hair oil with high-quality ingredients promotes healthy hair growth, relieves your scalp of bacterial infections, and prevents premature graying of hair. In this article, I have compiled a list of the 15 best hair growth oils available in India. But first, let's talk about what you should be looking for in a hair growth oil.
Qualities Of A Good Hair Growth Oil
1. Promotes Faster Growth
This one's obvious. Any good hair growth oil will nourish your follicles and create the right scalp environment for maximized hair growth.
2. Stimulates Hair Regrowth
A good hair oil will not only boost hair growth but also stimulate the dormant follicles on your scalp to produce new hair strands. This quality helps improve hair volume and thickness.
3. Curbs Hair Fall
A lot of factors can lead to hair loss. A good hair growth oil will be able to curb the issue at its root (pun intended!) by ensuring that your scalp and follicles are in top shape.
4. Nourishes Follicles And Hair
Only a nourished follicle can produce healthy hair, and your hair needs constant nourishment to remain healthy.
5. Conditions Hair
Your hair needs optimum hydration to keep damage at bay. This is because dry hair is more susceptible to damage than conditioned hair. Dryness can lead to issues like split ends, breakage, frizz, and awful hair texture.
Now that you know how to pick out a good hair growth oil, let's check out the best ones available on the market.
10 Best Hair Growth Oils To Buy In 2020
St. Botanica Moroccan Argan Hair Oil is the bioactive oil for all hair types. It is enriched with Moroccan argan oil that acts as a natural emollient and promotes hair growth while moisturizing your hair. It is formulated for the restoration and strengthening of weak, damaged, and brittle hair. It is also infused with jojoba, almond, castor, olive, avocado, and rosemary oils that restore and nourish your hair. The natural ingredients in this hair oil help detangle wet hair and seal the hair cuticles to make your hair look naturally smooth, silky, and healthy. It protects your hair from heat damage and is recommended for both men and women.
Pros
Prevent hair loss
Adds shine
Moisturizes the hair
Fights dandruff
Soothes the scalp
Repairs split ends
Silicone-free
Sulfate-free
Paraben-free
Cruelty-free
No mineral oil
Cons
What's better than a brand that combines modern science with Ayurveda? This combination can give you the kind of hair you've always dreamt of! Biotique Bio Bhringraj Therapeutic Oil is formulated with a blend of potent herbs like pure bhringraj, tesu, amla, mulethi, coconut oil, and goat milk. These ingredients help treat alopecia and other scalp and hair concerns to give you clean, fresh, healthy, and gorgeous-looking hair. It improves the texture of your hair, nourishes your scalp, strengthens each hair strand, promotes new hair growth, and prevents graying. The best thing about this oil is that it makes your hair visibly silkier in just one use.
Pros
Light
Non-sticky
Treats dryness
Controls hair fall
Travel-friendly packaging
Affordable
Pleasant fragrance
Cons
None
An array of unique ingredients make up the glorious formula of Khadi Natural Henna & Rosemary Herbal Hair Oil that promises to give you long, thick, and healthy hair. This luxurious hair growth oil contains rosemary and henna that treat inflammation and soothe your scalp. It enhances new hair growth, restores your natural hair color, and imparts brilliant shine to dull hair. This oil prevents hair loss and promotes hair growth even on balding scalps. It also makes your hair soft, silky, lustrous, and more manageable. It acts as an antioxidant and kills bacteria to give you a healthy and clean scalp. This nourishing oil adds volume and improves the texture of thinning hair.
Pros
Non-sticky
Non-greasy
Prevents split ends and breakage
Conditions your hair
Free of parabens and mineral oils
Quick results
Cons
Not suitable for all hair types
This soothing yet powerful hair oil is a holy grail for those suffering from dry and limp hair. It moisturizes your scalp to promote healthy and strong hair growth. Its light and non-sticky formula does not weigh your hair down. This 100% virgin olive oil is prepared using the no-heat method to retain its therapeutic and healing properties without any side effects. It features a blend of vitamins E, K, and D3 that moisturizes even the driest parts of your hair. The rejuvenating effects of olive oil strengthen your hair while keeping your strands healthy and damage-free. The best thing about this oil is that it cures hair loss and revitalizes each hair strand to prevent split ends.
Pros
Adds shine to your hair
Stimulates healthy hair growth
Improves the texture of your hair
Prevents breakage
Affordable
Cons
[ Read: How To Use Soulflower Coldpressed Olive Carrier Oil? ]
To keep your hair from drying out during the winter, Parachute formulated this Ayurvedic Deep Conditioning Hot Oil. It reduces dryness and nourishes damaged hair and makes it soft, silky, and healthy. It contains rare deep conditioning herbs like white thyme, black pepper, hibiscus, and malkangani extracts. White thyme, in particular, helps in hair growth by increasing blood circulation in your scalp. This vitamin-rich oil contains flavonoids that have exceptional growth-stimulating and anti-dandruff properties. It also strengthens your hair, combats hair loss, and reduces itchiness on the scalp.
Pros
Contains special warming oils
Nourishes your hair from within
Relieves headache and stress
Reduces breakage
Makes your hair more manageable
Cons
[ Also Read – Parachute Advansed Ayurvedic Hot Oil Reviews ]
Want healthier and fuller-looking hair within weeks? Try Indus Valley Bio Organic Grow Out Hair Oil that is made from premium herbs, natural extracts, and essential oils like centella, nettle, bulb onion, false daisy, and clove oil. These ingredients work exceptionally well in promoting new hair growth and strengthening the hair cuticles. This innovative oil is designed for multipurpose uses like preventing hair loss, dandruff, breakage, and split ends. This oil enhances micro-circulation in the hair follicles to promote healthy hair growth. It provides vital nutrients to your scalp and roots while restoring your hair's natural balance. It increases the production of tyrosinase, which helps in the re-pigmentation of discolored hair.
Pros
Visible growth within weeks
Stimulates hair growth
Nourishes weak and limp hair
Prevents itchy scalp
Affordable
Cons
Needs to be tested for allergic reactions before use.
[ Read: Indus Valley Bio Organic Growout Hair Oil Reviews ]
Himalaya's Anti-Hair Fall Hair Oil is designed exclusively for dry, damaged, and falling hair. This lightweight formula is enriched with the goodness of bhringraj and Amalaki that strengthen your roots to promote healthy hair growth. It contains phytochemicals that are effective in treating hair loss and various other scalp conditions. This protein-rich hair oil treats balding spots and rebuilds the strength and vitality of limp and fragile hair strands. The natural extracts in this oil relieve the dryness and itchiness on your scalp without causing any side effects.
Pros
Adds shine to your hair
Prevents dryness and hair damage
Provides long-lasting moisture
Light
Non-sticky
Cons
[ Read: Himalaya Herbals Anti Hair Fall Hair Oil Reviews ]
Are you looking for a multipurpose oil that can curb all your hair concerns? Here's a product that might interest you! Trichup Hair Fall Control Oil is made of nature's finest herbs and Ayurvedic plants that help in promoting hair growth and revitalizing hair follicles from root to tip. It imparts essential nutrients to your roots through ingredients like bhringraj, Amalaki, neem, and gunja blended into sesame and coconut oils. These natural ingredients reduce hair fall and hair breakage. It strengthens your hair from the roots to give it a natural bounce. This herbal oil nourishes each hair strand from within to give you healthy, soft, silky, and flowing hair. With regular use, this herbal oil is guaranteed to improve the overall health of your hair and scalp.
Pros
Makes your hair soft and shiny
Suitable for all hair types
Quick results
Affordable
Cons
Pungent smell
Thick consistency
This herbal blend is created especially to treat an unhealthy scalp. It contains an active protein complex that penetrates deep into your scalp to nourish it. It increases the multiplication of cells, thus promoting rapid hair growth. It imparts vitality to each strand to return it to the normal growth cycle. It also improves the texture of your hair and adds shine to it. The rich essential ingredients in this oil replenish lost proteins to give you healthy, silky and thick hair. It claims to restore the health of your hair and scalp healthy in just 30 days.
Pros
Light and non-sticky
Reduces hair fall
Detangles your hair
Controls dandruff
Quick results
Cons
[ Read: Parachute Advansed Scalp Therapie Hair Fall Control Oil reviews ]
As its name suggests, Aroma Magic Stimulate Hair Oil truly works like magic to give you gorgeous hair. Its rich formula stimulates your roots and increases the blood circulation in your scalp to prevent hair loss. When applied, it creates a cooling sensation on your scalp that is very calming. It treats inflammation and scalp infection. It strengthens your hair follicles from within and increases your hair's elasticity. This light and non-sticky formula claims to cover grays and retain your natural hair color. This colorless hair oil needs to be diluted with water or another carrier oil because of its thick consistency.
Pros
Treats scalp infection
Adds shine
Improves hair growth
Does not weigh your hair down
A little product goes a long way
Cons
[ Read: Aroma Magic Stimulate Hair Oil Reviews ]
What Is The Right Way To Oil Your Hair?
Step 1
Brush your hair thoroughly to get rid of tangles and knots. This will helps make the application process easy.
Step 2
Part your hair down the middle and divide it into two sections.
Step 3
Take a spoonful of oil on your palm and rub your palms together. Slowly massage the oil into your scalp with your fingertips in a circular motion.
Step 4
After you've applied oil to all your hair, leave it on for 30 minutes. Comb your hair from root to tip to spread the oil evenly.
You can even leave the oil overnight, but make sure you wash your hair within 24 hours.
Oiling is a vital part of any hair care routine, especially if you are trying to grow out your hair. Keep in mind that everyone's hair is different, and it might take you a few tries to find the perfect hair oil. Have you tried any of these hair oils? Let us know about your experience in the comments section below.
Recommended Articles:
The following two tabs change content below.

Latest posts by Pooja Karkala (see all)

Pooja Karkala
Pooja is a Mass Communications and Psychology graduate. Her education has helped her develop the perfect balance between what the reader wants to know and what the reader has to know. As a classical dancer, she has long, black hair, and she knows the struggle that goes into maintaining it. She believes in home remedies and grandma's secrets for achieving beautiful, luscious hair. When she is not writing, she learns Kuchipudi, practices yoga, and creates doodles.