8 Of The Best Sarees You'll Look Gorgeous In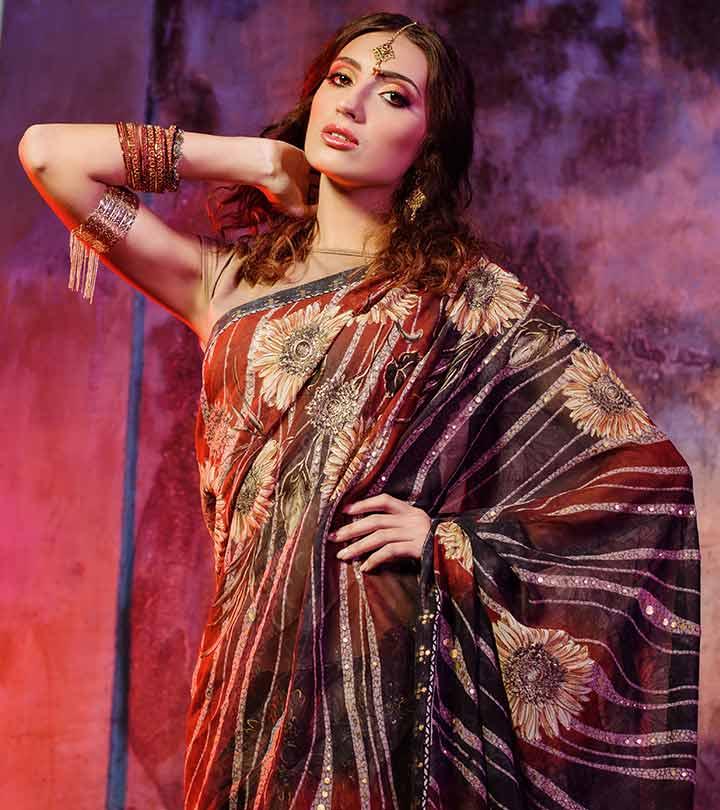 When in doubt, wear a saree. It's the best way to look elegant, classy and sexy all at the same time! And the best part about a saree is that you can wear it for any occasion – from a simple lunch with your SO's parents to your best friend's sangeet! Plus, the fact that there are six yards makes it so much easier to experiment with different draping styles, making the quintessential saree an impossible to resist choice.
However, if you haven't had a taste of the only attire on this planet that suits all body shapes, or if you don't know what to pick, we've got you covered! Here are eight inherently gorgeous sarees to get you started:
1. The Elegant Kerala Kasavu
The royal combination of white and gold is just one of the main good things about this saree! The best part about this is, despite its simplicity, it can still make you look like a million bucks. Generally, a cotton or silk weave, this saree is quite breathable, making it perfect for summer season. Besides, the golden zari embroidery gives it a rather festive charm. Doll this one up with some simple gold jewelry to look your very best!
2. The Rich Banarsi Saree
If lush fabrics matched with magical weaves is what you desire, look no further than the Banarsi sarees. The Banarsi saree comes in a multitude of colors, which means you can mix and match this one with a host of accessories. Its rich fabric and embroidery add a little weight to it, which might not make it perfect for daily wear, but surely make it more than ideal for occasional wear. Style it up with a high bun and pretty bangles to look traditionally beautiful.
3. The Glamorous Sheer Saree
Feeling a little adventurous? Then the sheer saree is the one for you! These six yards of pure boldness and glamour can keep you going from the day through the night, bringing out the inner diva in you! We suggest you pick pastel shades such as light green and peach to avoid looking OTT. As for accessorizing this saree, a stylish blouse with dangling earrings will be enough.
4. The Modern Color-Block Saree
This saree embodies the spirit of a modern woman who hasn't lost touch with her roots. Hence, we suggest you try out the color-block saree as your daily work wear or for occasions such as office Diwali parties and more! Open wavy tresses, chunky jewelry in tribal motifs, and sky-high heels are all you need with this saree to make heads turn your way. If you want to emphasize your traditional side, an oversized bindi would look great too with this saree!
5. The Delicate Embroidered Saree
Do it like the hottest glam queens of Tollywood and do the embroidered saree! The delicate embroidery is bound to make you the talk of the cocktail party as you make a grand entrance in this gorgeous piece. Don't be afraid to play with colors when it comes to this saree. Pick a jewel tone to look like royalty or a muted color to give off fairytale vibes! Keep the accessories simple and minimalistic and let the saree do all the talking.
6. The Dazzling Embellished Saree
Skip that dress the next time and rock the party in a dazzling embellished saree! Black is the sexiest color, so our recommendation is that you pick one in black. But if you're in the mood for bold, we won't stop you from painting the town red in a sequined saree of the same color! Talking about accessories, strappy heels, bold red lips and a cocktail ring on your finger will make you look no less than a celebrity.
7. The Rustic Kanjeevaram Saree
Bring out your Indian-ness in its full glory with the Kanjeevaram saree. Its ethnic appeal, beautiful colors, smooth silk fabric, and simply stunning gold embroidery will make you stand out from a crowd of kurtis and leggings. A backless choli-like blouse will amp up this saree's glam quotient. As for accessories, we suggest you keep it traditional with gold jewelry in rustic designs.
8. The Alluring Cotton Saree
Alluring might seem like an odd word for a cotton saree, but its conservative nature is what adds to its mysterious yet simple and elegant aura. This saree ranks the highest when it comes to comfort and the easiness of draping. Plus, versatility means you can experiment with androgynous drapes that make it look uber cool! Accessorizing this saree is very easy too. A pair of tribal, wooden jhumkas and a tight ponytail hairdo will make you look effortlessly stylish!
The above eight sarees are not just great for beginners or people who are confused about which saree to pick. These are wardrobe essentials and you must have each of them in your closet so you can flaunt your truly enviable saree collection.
The following two tabs change content below.