5 Techniques For Air-Drying Curly Hair Without Getting It Frizzy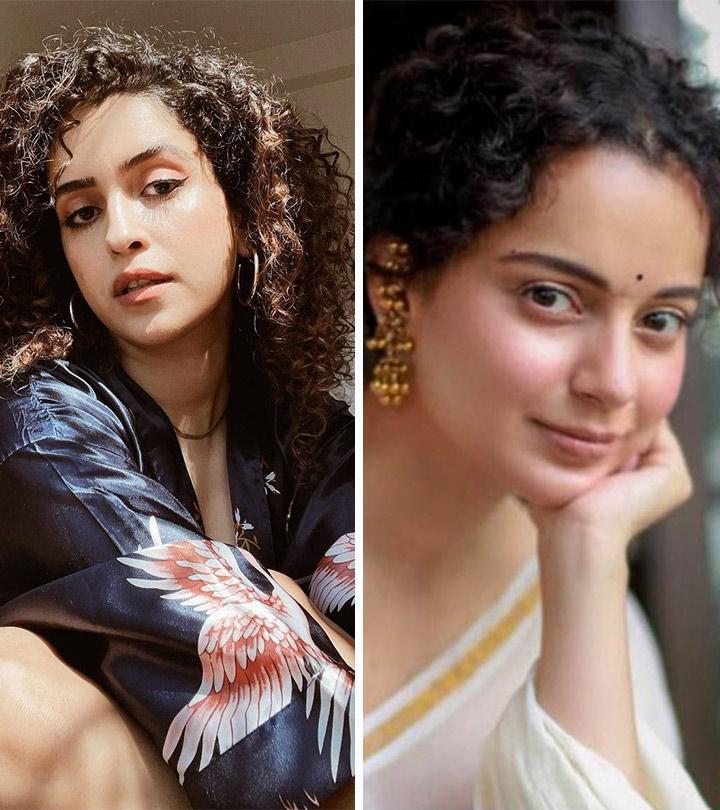 Curly natural hair is all fun and games till you need to wash it. One moment your hair is bouncy and ready to flaunt, and the next, you struggle to separate one wet strand from the other. Even though most experts suggest you air dry your hair to keep the problems of blowdry at bay, it does not free you from untamed and unruly hair. So to keep your hair frizz-free and bouncy, you need to follow some basic techniques. Read on to know them all.
1. Brush Your Hair While Conditioning It
You must have read in numerous hair care articles that combing wet hair is a big no-no, and we are not negating that. But waiting for your hair to dry out entirely before combing does not work well with curly hair either. So what should you do? Well, it's simple. Once you apply your conditioner, simply run your fingers through your hair and try to open all knots as you comb through. Then, you can brush through your hair with a wide-toothed comb once it is mainly detangled. This ensures that the whole length of your hair is evenly coated with the conditioner and keeps your hair frizz-free once it's air-dry..
2. Use Cold Water To Rinse Your Hair
When your hair is air-dried, the cuticles don't close properly, making your hair appear frizzy and untamed. If you want your cuticles to stay sealed after you get out of the shower, give them a quick rinsing with cold water. It doesn't have to be freezing water. A temperature lower than your bath water will help close the cuticles and make your hair shiny and bouncy.
3. Apply Proper Hair Products
Just because your hair dries naturally when you get out of the bath doesn't mean you should let it be. Leave-in treatments are essential for keeping the cuticles closed and locking the moisture in your hair. In addition, curly hair benefits significantly from Argan oil. You can also use homemade hair packs and masks to nourish your hair.
4. Set Your Hair
Beautiful hair does not come from nothing. You need to put your efforts into making them glossy and bouncy. Even with natural curls, once it is nearly dry, you need to set them by twirling your locks with your fingers. Since your hair is naturally curly, it will hold its shape throughout the day. Make sure you make smaller hair sections, so the locks stay bouncy.
5. Don't Smother Your Hair
The easiest and most effective guideline for smooth, frizz-free space hair is to avoid touching it after styling it. This means you can't play with your hair in any way, not even with your fingers. Doing so might damage your well-groomed cuticles. On top of that, the oils from your fingertips can weigh your hair down and make it seem greasy.
So now that you know how to keep your hair bouncy through air drying, some actresses flaunt natural curly hair like a pro.
1. Kangana Ranaut
Kangana Ranaut is one diva who has perfected the art of wearing curls. She wore her natural hair in the movie Gangster and has continued to do so for most of her film roles. It has become one of her most recognizable trademarks. It's great that she's not afraid to be herself by proudly displaying her natural curls.
2. Tappsee Pannu
Taapsee Pannu loves to show off her gorgeous locks whenever possible. The star of the movie Pink has expressed several times that she is grateful for her naturally curly hair.
3. Sanya Malhotra
The actress from Dangal wears her curly, natural hair with style and grace. She said that she had decided to receive chemical treatments to get rid of her natural curls, but thankfully she didn't. We believe Sanya's natural charismatic hair is one of the reasons why she looks like a goddess on the big screen.
4. Mithila Palkar
Mithila's lovely, bouncy curls are a natural gift. Her curls have a separate contribution to making her look absolutely gorgeous.
5. Nithya Menen
If your hair is shoulder-length or shorter, don't worry; Nitya Menon will tell you how to get the most out of what you have. The actor from Mission Mangal has always impressed us with her performances. And, her natural curls make her look even more stunning.
So, now that you know how to maintain your curls and keep them bouncy and pretty even after air-drying, flaunting gorgeous hair won't be a challenge anymore. Do you have any secrets to keeping your hair bouncy after a wash? Let us know in the comments section! Have a good hair day!
The following two tabs change content below.