6 Bizarre Maggi Recipes That Will Make You Say "WTF, How Does This Taste So Yummy?"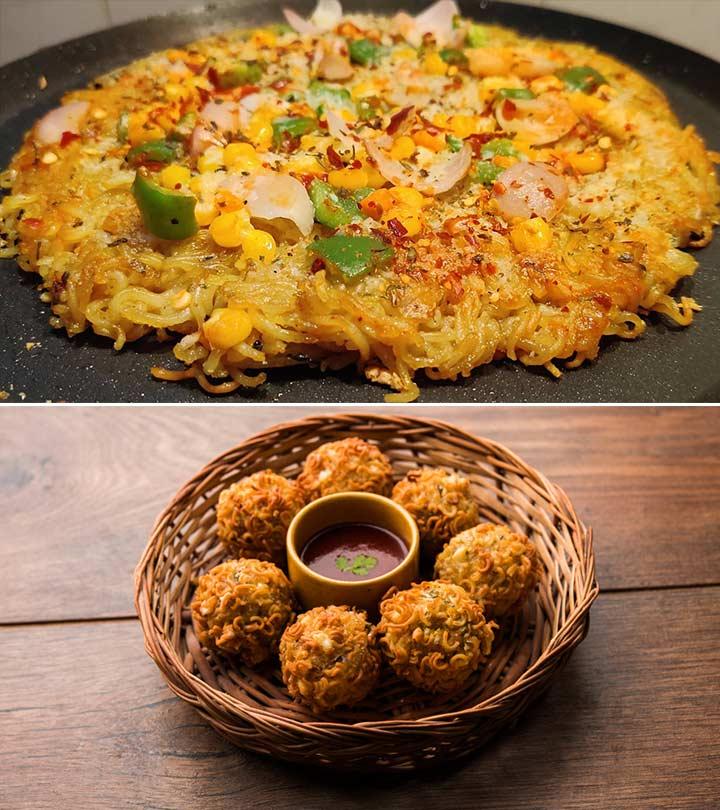 Masala Maggi has been a staple in all of our homes. The popular two-minute noodles made their first entry into the country in the year 1983 and became an instant hit among Indian households. Its affordability and incredible taste that was perfectly suited to Indian taste buds are what set it apart from others and made it an industry leader. In 2015, accusations of adulteration surfaced due to discovery of lead particles in packets leading to a complete ban on its sale. The brand image took a massive hit during this period. Even when the ban only lasted five months, many of us were left disheartened and had to go in search of alternative products. Well, now that the ban is ancient history and our beloved instant noodles have returned onto shelves, we can go back to relishing in its goodness. Here are seven wacky yet delicious Maggi recipes you have to try preparing at home:
1. Maggi Pizza
Right off the bat, this might sound like a drunk person's food combo, but the result is far more heavenly. It's not pizza topped with Maggi if that's what you were thinking. If we were to combine the best of both worlds, this recipe is the perfect proof of satisfying your foodgasm. Now, before you laugh at us or think we're weird, hear us out. This recipe is super easy to make and definitely worth giving a shot at. First, you need to pick out your favorite vegetables and minced or chopped meat if you're feeling adventurous. Then you need to cook your Maggi as usual. Once the Maggi has cooled and become sticky in texture you need to spread it evenly on a pre-greased pan. Fry the Maggi on both sides and sprinkle the chopped-up veggies on top of your pizza. Add cheese all over the pizza and cover the pan with a lid for five to six minutes. And voila, there you have it, your very own Maggi pizza.
2. Maggi Sandwich
You've probably come across many street food vendors who would boast about selling "Bread Maggi". But have you ever wanted to recreate some of their recipes and make it at home yourself? If you're a stuff-my-face till I drop foodie and you cannot live without gorging on Maggi, then this is definitely an easy recipe that you must try. Just cook your Maggi as per usual and add as much cheese, veggies, or even egg that you want. Just make sure that you add less water to this Maggi as you don't want your bread to be soaking. You can add sauce or Piri Piri masala as a topping to kick things up a notch!
3. Maggi Spring Rolls
Regular spring rolls are so drab and boring! Well, we'd advise you to ditch the plain old street food and instead opt for a Maggi version of it. While Maggi might be the last thing you would think of turning into a spring roll, it's actually a pretty great recipe. Cook your Maggi as per usual, mix together carrots, cabbage, bean sprouts, garlic, and oil, cut up the noodles into four centimeter long pieces, and add them to the mixture. Season the mixture of Maggi and spring roll filling with salt, ground black pepper, soy sauce, and a pinch of sugar, and gently beat the egg. Remove one spring roll sheet from the pile and place it on the work surface. Spread 30 ml of filling in the middle and start rolling up the spring roll like you regularly would. Once that is done, deep fry the spring rolls, and there you have it, Maggi spring roll.
4. Maggi Paratha
Nothing really beats the Maggi paratha you will find on the streets of Delhi, but if you don't live in the city and want to try making your own, we have a great recipe for you. Sure, it might take a little bit of effort to prepare, especially if you aren't a round-shaped roti making type of person, but that doesn't mean it's not worth the effort. All you need is flour, two packs of Maggi, water, yummy veggies, and olive oil. First, you need to finely chop the veggies you have chosen, then you need to saute the veggies and add Maggi plus water to the sauteed veggies. Once that is cooked, keep it aside and let it cool down. Then you need to prepare the dough and stuff the cooled Maggi into the dough balls. Once that is done, seal the dough and turn it into a round shape by just using the pressure of your hands, then fry the paratha in olive oil and serve it super hot.
5. Maggi Pakora
If you've ever wondered how to spice up regular deep-fried Maggi and give it a glamorous desi style twist, then we have the recipe for you. Start by making your regular pakora batter. Set that aside. Prepare the Maggi (make sure that it is dry) and stuff it into the pakora-sized balls. Deep fry the Maggi and serve it with chutney while it is still hot. This is the perfect evening snack to impress all your guests.
6. Maggi Cutlet
You might be wondering why we're asking you to make Maggi cutlets, right? Well, where there is a want, there is an answer. And we definitely do want some Maggi cutlets. So here is one way in which you can prepare this gastronomical marvel. First, prepare the Maggi as you usually would (but without the masala) and drain out any excess water. Add two mashed potatoes into the cooled Maggi, then add two tablespoons each of finely chopped onions, capsicum, carrots, and green peas along with one tablespoon of chili. Add the masala tastemaker into the mix and one teaspoon of chili powder, cumin, salt, and half a teaspoon of turmeric. Mix all of these ingredients together and roll them up into cutlets. Coat the cutlets with a beaten egg and cover them with bread crumbs. Deep fry the cutlets and serve them with sauce.
We understand that not everybody is a risk-taker when it comes to food. You might be comfortable enjoying your plain Maggi and that's okay. To switch things up, you can put on your cooking hat and serve it to your fam or friends at get-togethers. Even rookie cooks can nail these combos. As they say, don't knock out something until you've actually tried it. Next time a classmate tells you that they've eaten milk Maggi, maybe you'll judge them a little less. Do let us know if you've ever experimented with odd Maggi recipes, in the comment section below!
The following two tabs change content below.