9 Bollywood Movies We Are Guilty Of Watching On Repeat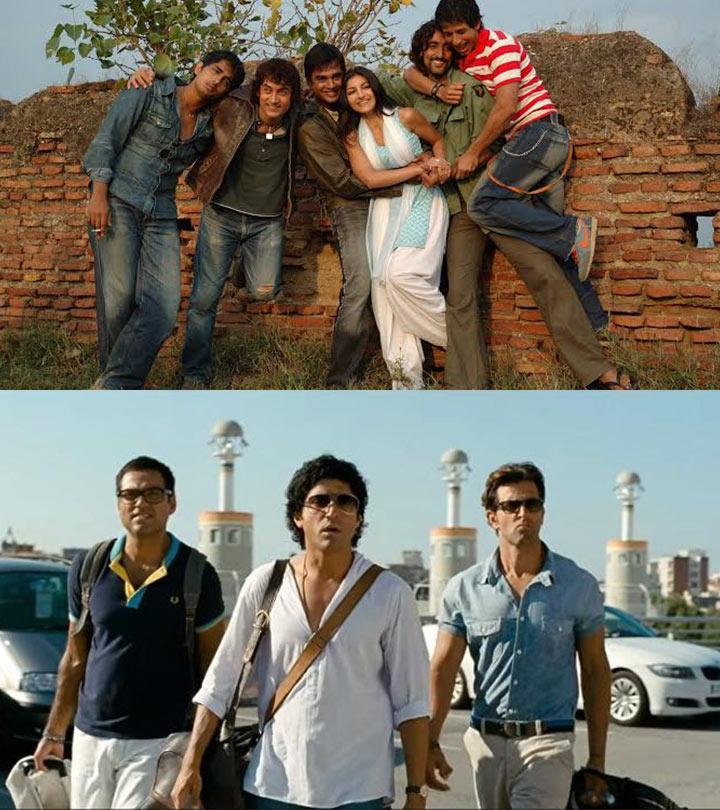 Bollywood is all about entertainment, entertainment, and entertainment. No matter what your taste in movies is, you will surely find that one film made to salvage your heart. We might have graduated from local cable to Netflix, but there will always be a string of attachments driving you back to these movies. So if you have been looking for the perfect list of nostalgia to watch on repeat, say no more. Here are some of the ever-favorite Bollywood movies that fans are guilty (not really) of watching a hundred times over. Go through the list to see which one deserves a place in your permanent movie collection. Also, if you haven't watched them till now, beware of some serious spoiler alerts!
1. Kabhi Khushi Kabhie Gham
This movie single handedly raised the bar for Indian cinemas. We love the characters, especially Poo. There are moments that are funny, amusing, relatable and super filmy too. This movie will keep your attention the entire way. If you are emotional, we suggest you keep a roll of tissues nearby! *Sob sob*
2. Jab We Met
This movie has it all: romance, comedy, tragedy, suspense, and seeing Geet almost marry Anshuman (horror!). However, you can watch the movie on repeat and still feel the same level of excitement when Geet finally realizes that she loves Aditya.
3. Nayak: The Real Hero
If you have cable TV, you can open it at any point, and one of the channels will be playing this movie. The unique story of a man who challenges the CM and gets the job for a day is something we all wish we could do. It shows the challenges a person faces in governing a state and how corruption seeps in from the lowest to the highest levels of society.
4. Hera Pheri
Hera Pheri is one of the most iconic movies India has ever produced. It's been over two decades since its release but it did not lose its appeal and never will. From the performance to dialogues, you will be brought to tears by laughter. With a strong core and amazing story, this movie makes any day a great day.
5. Chak De! India
This is one of those movies where even if we have watched the movie a million times over, we will still be anxious when team India plays the final match. India has always been obsessed with sports, but somehow athlete movies don't perform well by numbers in comparison to real matches. But again, Chak De was an exception. It is something that will trigger emotions in you that you didn't even know you had. So it should be the first pick when you sit down to download a movie.
6. Zindagi Na Milegi Dobara
We might not have saved as much to enjoy a Europe trip with our friends, but we sure can get all the fun of a bachelor's trip through this movie. The three characters from different backgrounds and backstories make the best trio ever. From the dialogues to the incidents, we couldn't find anything more relatable. So even if you have watched it the 5th time, there is always a possibility of rewatching it and feeling the same excitement all over again.
7. Chupke Chupke
This movie is based on Chhadobeshi, a story written by Upendranath Ganguly. Chupke Chupke has to be one of the best rom-coms in India. From songs to the story of secret love, you will love the timeless movie thoroughly.
8. Welcome
Welcome wasn't a sweeping hit when it was released, but you can pick that film any day at any time, and it will tickle your funny bone . From the cast to the dialogues, this movie is made to make your day better. It's something you can choose when you are in the mood for something light and cheerful.
9. Rang De Basanti
Directed by Rakeysh Omprakash Mehra, Rang De Basanti became a sensation the moment it was released in the movie halls. It is a film that will keep you glued to your seat for the whole length of the film. It starts with carefree college students, but just when you think it's all fun and games, the movie takes a grim turn. We love the movie and can watch it repeatedly, but we will need tissues even for the 100th time!
So, now that you got the list of movies you can binge-watch, what's keeping you from having a movie night with your buddies? For one thing, you can recommend any of these movies to your friends, and they won't let you down! So, do you have a movie you have watched so many times that you know the dialogs by heart? Let us know in the comments section!
The following two tabs change content below.