SPONSORED
Bridal Trend Alert! Regional Indian Jewellery Styles That Are Here To Stay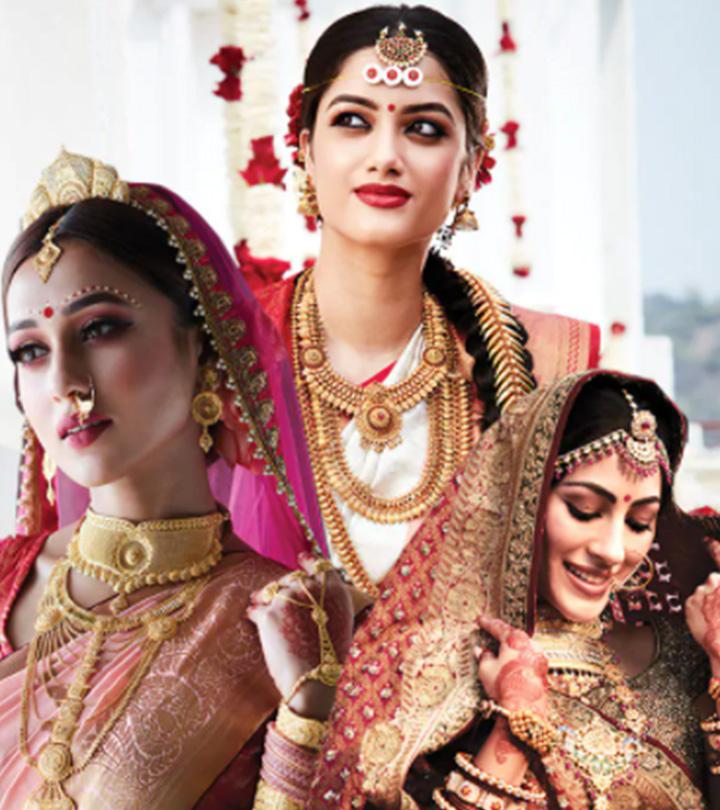 Indian weddings are known to be as dreamy as a Bollywood movie. They represent a beautiful amalgamation of colors, emotions, entertainment, trends, and sparkles. There are several elements to be considered while planning an Indian wedding— deciding the venue, the guest list, decor and themes, to name a few. Yet, the real showstopper of weddings will always be the bride's trousseau. Be it a couture lehenga defying all norms or a conventional pick that celebrates traditions, when it comes to Indian bridal jewellery, the options are seemingly endless.
Instead of binding with her own traditions, the modern-day bride looks to explore jewellery trends from different regions and cultures that perfectly balance her entire ensemble. A lot of the recent trends in bridal jewellery have been inspired by high-profile weddings that were celebrated on social media. Recent celebrity weddings have also set a benchmark for bridal jewellery trends for the coming years. Here's a glimpse of the most popular regional bridal jewellery trends that make Indian weddings spectacular and memorable!
Oversized Nose Rings
Nose rings or nath is one of the oldest jewellery trends in India. It was almost on the verge of fading until Deepika Padukone and Priyanka Chopra walked in wearing an oversized nose ring on their wedding day. Moreover, Bollywood movies like Padmavat had a huge influence in bringing this trend back to life. These elaborately designed nose rings add a regal touch to the overall look of a bride. They are stylish, yet very traditional and ethnic. Worn by almost all celebrity brides, this ornamental piece is now a favorite of every bride and a trend that is here to stay.
Statement Headpiece
We saw many celebrities recently paying homage to this style on their wedding day. Commonly known as a maatha patti, this elegant piece of jewellery is worn along the hairline. It is an elaborate version of a maang tikka. Although it was formerly worn as a traditional piece of jewellery, maatha pattis have now become more of a style statement. From oversized and multi-layered designs to dainty and lightweight ones, there are endless designs that brides can choose from. These statement headpieces truly compliment a bride's look and have become an integral part of the bridal trousseau.
Bejewelled Waist Belt
Commonly known as Vaddanam or an Oddiyanam, the bejewelled waist belt is worn over a saree by the brides of South India. This waist belt features designs of Indian deities, and motifs inspired by nature like the peacock, elephant, or lotus designs. This regal jewellery piece is intricately carved in gold, and features precious stones like rubies, emeralds, and diamonds. This versatile jewellery piece keeps the bridal saree intact and allows the bride to show off their features and waistline. The waist belt has recently gained a lot of traction among modern brides. Its popularity is no longer restricted to the Southern parts of India. It is a well-liked accessory by every modern-day bride who wears this style in her own personalized way to suit her wedding ensemble.
Jewelled Chokers
Jewelled chokers are widely popular among millennial brides. They are grand, intricately designed, eye-catching, and has every reason to become a must-have accessory in every bride's jewellery collection. This versatile piece of jewellery has both modern and traditional variations and is a popular choice at celebrity weddings too. Their flawless metalwork and innovative designs add a royal touch to bridal looks. This elegant jewellery piece is an essential item for modern brides as well as those who celebrate tradition.
Statement Regional Bangles
Intricately patterned regional bangles are another trend that stood out this year. The craftsmanship of these pieces would undoubtedly steal the show on any occasion you may choose to wear them. If you are looking for a more contemporary look, then we suggest you try signature regional bangles to accessorize your bridal outfit. You can choose between a plain gold bangle or one studded with precious and semi-precious jewels that match your wedding look. Statement regional bangles have been worn by many celebrities on their big day and can even be styled to suit your attire during pre-wedding ceremonies.
In every region and culture, bridal jewellery stands for pride, joy, and religious values. While this was only a brief outline of the recent trends and shifts in regional bridal jewellery, more and more age-old jewellery designs are now being revisited. Modern brides love to explore and discover designs and jewellery pieces that suit their preferences and match their overall wedding ensemble. If you are on the lookout for elegant and versatile jewellery pieces to celebrate your special day, take a look at the exceptional jewellery collection from Rivaah by Tanishq. The intricate jewellery pieces from this collection are the epitome of creativity and match perfectly with the preferences of the modern-day Indian bride.
The following two tabs change content below.

Latest posts by Sudeshna Chakravarti (see all)