9 Celebrities That Got Tattoos For A Reason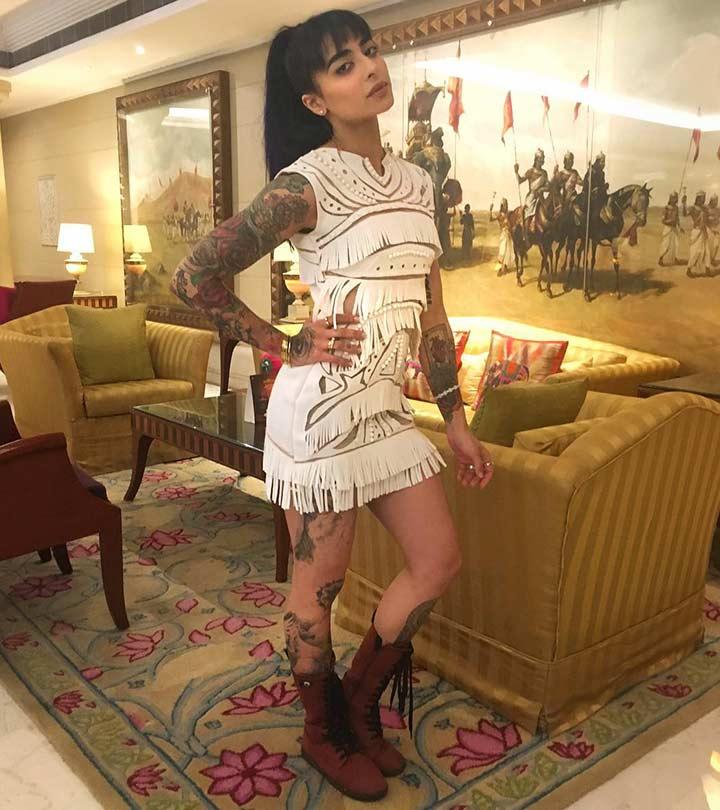 When it comes to expressing emotions on your body in the form of art, tattoos have become the first choice for many people out there. People consider their tattoos to be a symbol of who they are, or who they have come to be, after facing several storms in life.
Our bodies are like a canvas, and the tattoos that we get inked on them are those memories which we've decided to document on our bodies. Even Hollywood and Bollywood's famous personalities have chosen tattoos as a means of self-expression. Every tattoo has a story or a reason behind it. Here we've put down a list of 9 such celebrities and their tattoo tales which will help us understand that a tattoo is more than just mere body-art. Let's read together now.
1. Priyanka Chopra Jonas
She sure is winning hearts worldwide with her cool attitude and making headlines for achieving great success in her career. She has also been working continuously for the welfare of mankind under the ambit of the United Nations. But if there's one thing that perfectly captures the essence of her personality, it has to be the tattoo inked on her forearm that says—"Daddy's Lil Girl." It's her way of showing her love for her late father and you know what's more heartwarming about this tattoo? The words are inked in her father's handwriting.
2. Lady Gaga
Her tattoo sure gives us siblings goals! Lady Gaga inked a cute mouse on her arm which is dedicated to her little sister Natali. She says that she had nicknamed her as "mouse" when they were young. Also, the details of the mouse tattoo are so meaningful. The mouse is seen holding a needle that depicts Natali's love for designing clothes and there's a thread twirled around the mouse's legs which forms the word "Nat."
3. Sonakshi Sinha
The Dabangg girl has one of the simplest tattoos compared to ones sported by her B-town buddies. She has a tiny star tattooed on her collarbone. Often times, when the paparazzi have asked about its significance, the actor has been heard saying that it's a star that guides her and will always be with her.
4. Megan Fox
Her tattoo is quite interesting. The tattoo which is inked on her back says, "We will all laugh at gilded butterflies". This particular phrase is taken from the Shakespearean play, The Tragedy of King Lear. She says this tattoo reminds her that she needs to make sure she remains grounded, no matter how many heights she reaches in the Hollywood industry.
5. Sushmita Sen
This former Miss Universe has got quite a number of tattoos inked on herself. The most noticeable one is on her wrist that says, "Aut Viam Inveniam Aut Faciam." It translates to "I will find a way or make my own." Isn't this one strong message coming from an even stronger woman? It's truly a very inspiring tattoo.
6. Angelina Jolie
Angelina Jolie has a lot of tattoos which reflect some of the most important things in life. But the tattoo we totally loved is the one on her shoulders which has a collection of the coordinates of all those places where her closed ones were born. The coordinates signify the following geographic locales:
Her oldest son Maddox's birthplace in Cambodia.
Her Daughter Zahara's birthplace in Ethiopia.
Her other daughter Shiloh's birthplace in Namibia.
Her son Pax's birthplace in Vietnam.
Her twins, Knox and Vivienne's birthplace in France.
And this might be a surprise for most of you. She even has the coordinates of her ex-husband Brad Pitt's birthplace in Oklahoma.
7. Saif Ali Khan
When it comes to tattoos, how can we forget the Nawab of Pataudi? He caught everybody's attention with his bold tattoo of the name "Kareena" inked on his arm. He set the standards for other actors by publicly confessing his infinite love for his wife whom people lovingly call Bebo.
8. Emma Stone
Emma Stone's tattoo can be called an emotional one. Both, she and her brother, got the same tattoos, a tattoo of bird's feet to celebrate their mother's win against the deadly breast cancer. Another, less known, fact is that this tattoo was made by Paul McCartney himself, taking inspiration from Emma's mother's fondness for the song "Blackbird," which was composed by Paul a long time ago.
9. Ajay Devgn
The Singham star is not just known for the insane pranks he pulls off so effortlessly on his film sets, he is also known for his love for tattoos and his devotion for Lord Shiva. He took his love for Shiva to another level by getting Shiva's image inked on his chest. It's a tattoo where Lord Shiva can be seen meditating.
These were our picks of tattoos from the celebrity world. Is there any other celeb tattoo that has inspired you to get inked? Let us know in the comments below.
The following two tabs change content below.

Latest posts by Shivani K (see all)