International Chefs Day 2020: Indian Celebrities Who Are Also Great Home Chefs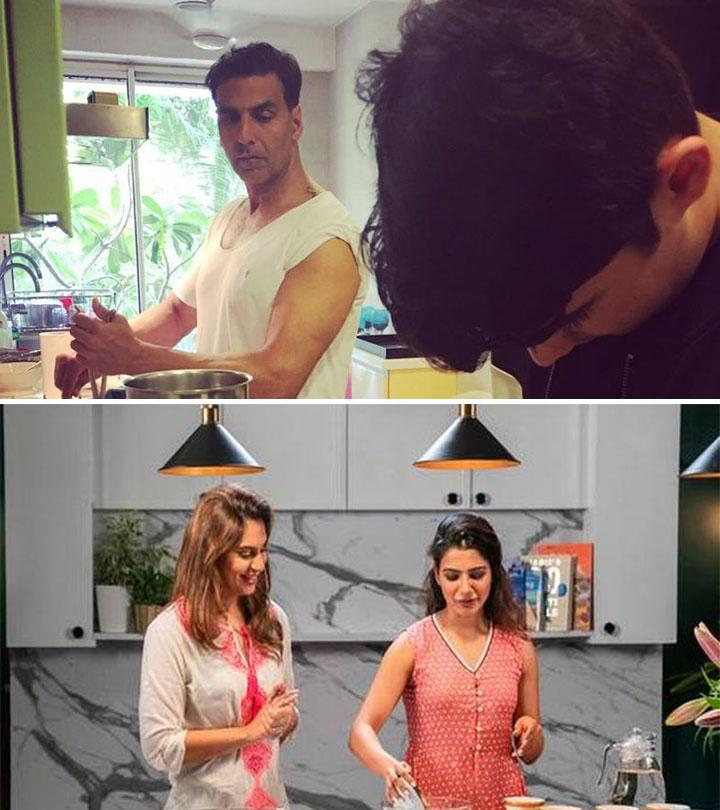 Image Credits: Deccan Chronicle / The Hindu
Ever since the pandemic started, many of us have had to stay home and occasionally indulge in our favorite restaurant treats. During this time, everyone from celebrities to children have started learning how to cook and bake, and spread the love of food. Did you know that there are some Indian celebrities who are known not just for their famed status but also for their impressive cooking skills? Let's take a look at some cool celebrity home chefs and any dishes that they may have shared on social media:
1. Deepika Padukone
Ever the perfectionist, Deepika decided to treat herself and her actor hubby, Ranveer to some delicious home-cooked Thai food. The Piku actress prepared a full four course meal for them and Ranveer even shared yummy glimpses of his wife's delicious cooking in his stories. And what's more, he even helped her prepare dessert! Deepika cooked Tom Yum soup, Thai Green Curry and Chopped Thai Salad with Sesame Garlic Dressing. Not only did the dishes look absolutely mouth watering, but both actors definitely slept with deliciously full tummies that night.
2. Abhishek Bachchan
Besides being the scion of the Bachchan family and an incredible and witty actor in his own right, Abhishek Bachchan is an incredibly talented chef. He has been open about his love for food and loves trying out different cuisines. Abhishek had appeared on Farah Khan's cooking show, Farah Ki Daawat. He has also spoken about how he is the designated chef on family holidays and that everyone in his family looks forward to eating the meals prepared by him. On the show he showcased his easy signature chicken curry dish and won praises from Farah.
3. Akshay Kumar
Talk about flipping the script! Twinkle Khanna shared an adorable picture of Akshay Kumar and their older son Aarav taking the reins in the kitchen. Before Akshay ventured into the world of Bollywood and became the superstar that he is today, he used to be a waiter and a chef. The actor had been open about having to work odd jobs in the past to make a living for himself. Twinkle Khanna often jokes about how Akshay is the better chef in the house. Although, judging by the posts she shares on Instagram, she's probably a great chef as well.
4. Samantha Akkineni
Those who follow Super Deluxe actress Samantha Akkineni on Instagram know that she has pure love for cooking. The actress recently joined the Vice President of Apollo Life, Upasana Kamineni, to cook some healthy and delicious South Indian dishes. The pair took some signature Chennai dishes and cooked them with a health twist. Instead of making regular idlis that are low in nutritional content, the pair switched to making them out of oats, millets and even carrots. They spoke about how people have started taking their health very seriously because of the pandemic.
5. Shilpa Shetty Kundra
This should come as no surprise since the actress is very fitness conscious and watches her diet well. The leading lady recently launched her own YouTube channel that features her favorite recipes with a healthy twist. She had earlier appeared as a celebrity guest on Farah Khan's show during an Eid special episode and showcased her incredible cooking skills. The actress even turned cooking into a family affair by inviting her son and her husband to cook with her once. Talk about breaking stereotypes!
6. Alia Bhatt
Alia showcased her newbie baking skills on Instagram during the coronavirus lockdown. She spoke about how she was learning something new everyday and that lockdown had both her and her older sister, Shaheen Bhatt experimenting with different cuisines in their kitchen. Alia has also shared a few cooking videos of herself experimenting with vegetarian cuisine on YouTube. She had earlier shared a picture of the delicious banana bread that her and Shaheen had baked together with her Instagram followers.
7. Sonam Kapoor
The Aisha actress has been taking on cooking duties while she stays with her husband Anand Ahuja and his parents in Delhi. She had started cooking super healthy and delicious meals during lockdown and even joked that her mother-in-law was worried about gaining weight after eating so much of Sonam's delicious baked food. She shared a picture of herself baking chocolate walnut cake on her Instagram account a few weeks ago.
It's super cool to see so many celebrities sharing their food secrets and recipes with their Instagram followers. While many might think that they have it easier due to their celebrity status, it doesn't hurt to know a thing or two in the kitchen. In fact we should all be inspired by them and give cooking a shot for ourselves. Tell us which of the celebrity chefs on our list came as a surprise to you in the comment section below.
The following two tabs change content below.

Latest posts by Niharika Nayak (see all)

Niharika Nayak
Niharika has a passion for all things art, music and travel. During her spare time she likes experimenting in the kitchen, painting pop culture icons and chasing after random street cats. Her dream is to one day own an amusement park so she can ride roller coasters for free.