10 Celebrities Who Regret Their Tattoos Big Time!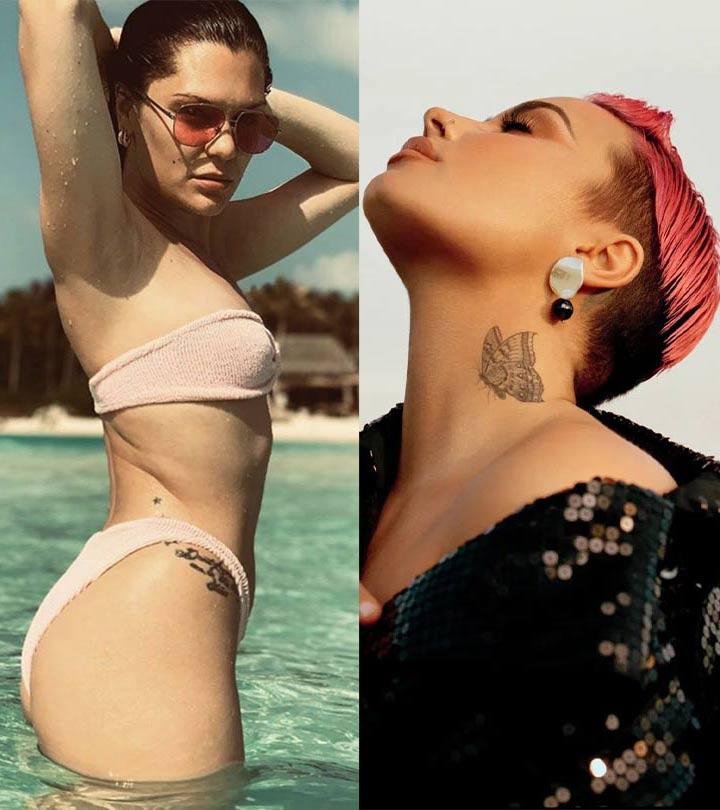 Getting inked is one of the most common wishes everyone has on their bucket list. Some even have that perfect design in mind and the place they want it etched on. However, what holds most of us back is, what if you don't like it or get over it? Fortunately or unfortunately, tattoos are permanent, and once you get them done, you are left with cover-ups and a laser to alter them, which is not as simple as it sounds. However, that doesn't stop people from living their life, does it? Here are some famous celebrities who were brave enough to get inked and change their design when they had to. Read on to know them all!
1. Melanie Griffith
After 18 years of marriage, Melanie Griffith and Antonio Bandera decided to get divorced. Melanie has her ex-husband's name tattooed on her right arm. Her decision to cover up the tattoo makes sense. She first tried to hide it with cosmetics and clothing but had to have laser therapy to remove the permanent ink off her skin.
2. Deepika Padukone
Deepika Padukone's 'RK' tattoo in honor of ex-boyfriend Ranbir Kapoor has become a point of discussion over the years. However, you might not have noted that she has a few other tattoos other than that one. She adorns a beautiful vine that wraps around the left ankle and culminates in a tattoo of her initials, DP, at the top of her foot. However, she also said this was her most painful tattoo!
3. Demi Lovato
Once, the singer got a tattoo of her best friend's pouty lips on her wrist. Demi claims she got it for kicks. Later, she covered it up with a flower tattoo, a design Demi particularly admires.
4. Jessica Alba
The actress says she has two tattoos she wishes she never had. A bow in the middle of her lower spine and a flower in the back of her neck. She got the flowers inked when she was just 17 and has been annoyed ever since. But no matter how often she tries to eliminate it with lasers, it refuses to go. A big lesson for us all, eh?
5. Iggy Azalea
When dating Rakim Mayers, Iggy had the words "Live Love A$AP" tattooed on her three fingers. She chose to get rid of a tattoo when she and her boyfriend broke up. She first covered it up with another tattoo but later had it removed.
6. Ariana Grande
Ariana Grande's tattoo sparked intense debates on the internet. The artist received a tattoo of Japanese characters meant to mean "7 Rings" to commemorate the debut of her song. However, Ariana's devoted fan base quickly spotted an error in the tattoo. The characters translated to "a little BBQ grill" in Japanese! Since Ariana had previously studied Japanese, she understood how she had made a mistake. But no matter how hard she tried, no one could fix her botched tattoo. Sorry, Ariana!
7. Kaley Cuoco
Kaley Cuoco got a tattoo of the Roman numerals representing the date of her wedding to Ryan Sweeting. But after getting divorced, she opted to have a moth cover the tattoo. This date tattoo was something the actress came to regret. She laughed and said that the moth tattoo was the first she chose at the parlor. She also mentioned that the fact that insects are attracted to light serves as a metaphor for her, which she found appealing.
8. Nicole Richie
At 19, Nicole got a cross inked on her spine and the name "Richie" on her neck, which she now deeply regrets. The actress claims that she has just had her cross tattoo covered up.
9. Nicki Minaj
The pop singer received a tattoo of six Chinese characters when she was young, a decision she now deeply regrets. Nicki even said people should not be allowed to make tattoo decisions till they are at least 21!
10. Jessie J
Jessie wears a lot of high-wasted garments to hide the tattoo across her side, something she deeply regrets. The truth is that a woman got a misspelled lyric from her song permanently inked on her body. Something we should all learn from! She misheard the words and ended up with, "Don't lose who you are in the blur of the stars." So the 'lose' instead of loose is what stops her from flaunting her tattoo.
Like every decision in your life that has a lasting effect, you must choose your tattoos carefully too. If you feel you just need to get a design to look fabulous for an event, you can try a temporary tattoo and spray hairspray on it to make it long-lasting. So, which celebs inspire you the most with their body art? Let us know in the comments section!
The following two tabs change content below.