7 Celebrity Dads Over 40 Who Give Us Total #FitnessGoals With Their Incredible Bodies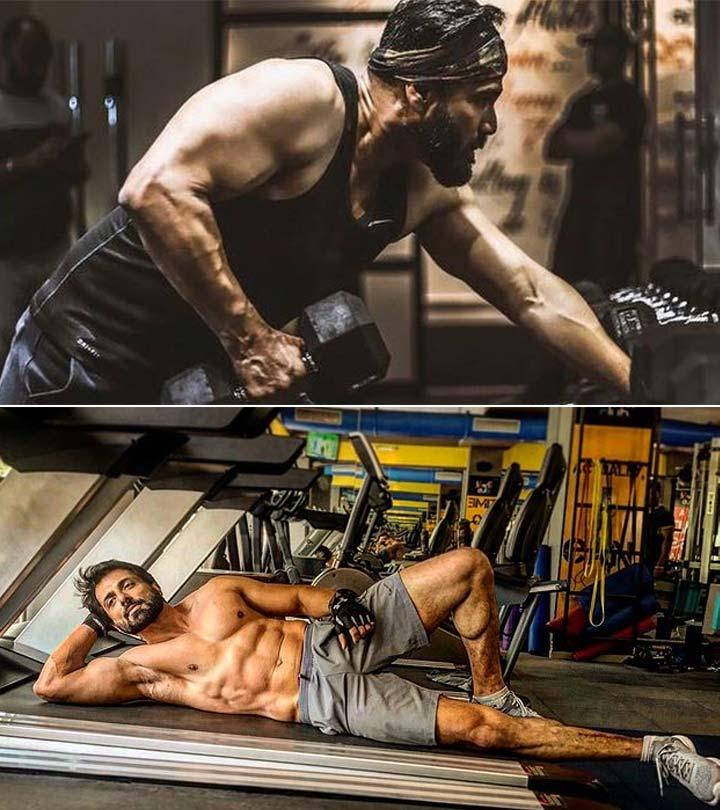 The only way you can achieve your fitness goals is to have a single-minded devotion to reaching them. Many of us tend to let go of our fitness routines as we grow older, have kids, and end up more focused on raising them and providing a good life for them. However, this shouldn't be the case. We need to all indulge in a little bit of self-care every now and then, and exercising and staying fit is one of the best ways to do that. It will help improve both your physical state and your mental state as you will start to feel more confident in your skin. Of course, not all of us have the time, money, or even energy to train as hard as actors and actresses. After all, they have access to celebrity trainers and dieticians that the common person might not be able to afford. But that doesn't mean that we can't take a few tips from their social media accounts and trainers. So here's a list of Bollywood dads above 40 whose incredible fitness levels want to make us hit the gym asap:
1. Arjun Rampal
Before Arjun took to acting, he spent many years as an accomplished model. Even at the age of 47, Arjun is at his level best, and we have to say, he looks like a million bucks! His incredibly ripped body is one of the reasons he tops our list. The handsome actor keeps fit by practicing tonnes of outdoor activities like swimming, karate, running and even playing sports such as football. Talk about being an all-rounder. Arjun has also stated in past interviews that thanks to the fact that he has a fast metabolism, it's easy for him to get rid of any unwanted fat that piles on.
1. Sonu Sood
While most of us know Sonu Sood for his incredible acting skills and extraordinary charitable acts, the actor is also a well-known fitness enthusiast. Many of his fans look up to him for his motivational posts on maintaining fitness, and on his birthday, the actor even gave away gym memberships for free in certain parts of the country. During an interview, he stated that he felt overjoyed when many of his fans sent him pictures of themselves working on their fitness and added that many of their health problems went away after they started their fitness journeys. Talk about inspiring!
3. Farhan Akhtar
Farhan Akhtar is one of those actors who gets fully devoted to his roles. Although he has an incredible figure, he goes through intense training for many of his films to achieve his maximum fitness levels. For films like Bhaag Milkha Bhaag and Toofan, the actor went through months of training and rocked incredible biceps. He states that fitness was a way of life and not something that was just a part of his routine. He said that regardless of his movie roles, he chooses to lead a disciplined and healthy lifestyle and avoids indulging in any vices that may adversely affect his body.
4. Hrithik Roshan
Of course, we cannot speak about a fitness list without giving due credit to one of Bollywood's leading fitness enthusiasts, Hrithik Roshan. From his debut in Kaho Naa Pyaar Hai to his later films, the actor has rocked an incredible body and has worked incredibly hard to keep it that way. Although Hrithik is now 47 years old, he looks nowhere close to his age thanks to his discipline and dedication towards his fitness goals. The actor's regime includes a mix of weight training, high-intensity cardio, and eating small meals regularly to keep any hunger pangs away.
5. Shahid Kapoor
Although Shahid is new to the 40-club as he just turned 40 this year, we have to admit that he is on the right track when it comes to staying fit. When he started his career in acting, he was always described as a fresh-faced "chocolate boy". However, he has quickly moved on from that phase and transitioned into a handsome hunk in his later roles. When it comes to maintaining his fitness, he loves to experiment with his workout routine. His fitness regime includes deadlifts, weight training, push-ups, cardio, and planks. The actor works out for at least two hours a day and six times every week. Talk about being dedicated!.
6. Anil Kapoor
Anil Kapoor may be 64 years old, but he keeps as fit today as he was at the age of 34. He can be seen hitting the gym multiple times a week and loves updating his fans and motivating them with his fitness pictures. It's hard to believe that he is the dad of three, and many have even joked that he looks younger than his son-in-law, Anand Ahuja. If you're someone who is looking for inspiration to get fit, there's no better place than Anil Kapoor's Instagram account.
7. Suneil Shetty
Suneil Shetty is another fitness enthusiast who, despite being 59, looks his absolute best. Suneil has always been open about how he makes fitness and his health his number one priority. The actor's regime includes everything from weight training, yoga, and cardio to indulging in plenty of outdoor activities. He has also encouraged his fans to continue staying fit and improving their lifestyles while staying at home.
It's not always easy to maintain a fitness routine when you are at home. While most of us have been working from home, it's easy to lose sight of things and get distracted by all the other things that have become a part of our daily routine. However, if you start by doing something small like taking a walk or going jogging daily, we guarantee that you will see massive improvements in your fitness levels. Do let us know all of your thoughts in the comment section below!
The following two tabs change content below.

Niharika has a passion for all things art, music and travel. During her spare time she likes experimenting in the kitchen, painting pop culture icons and chasing after random street cats. Her dream is to one day own an amusement park so she can ride roller coasters for free.