10 Celebrity Makeup Secrets That Make Them Look Flawless In Real Life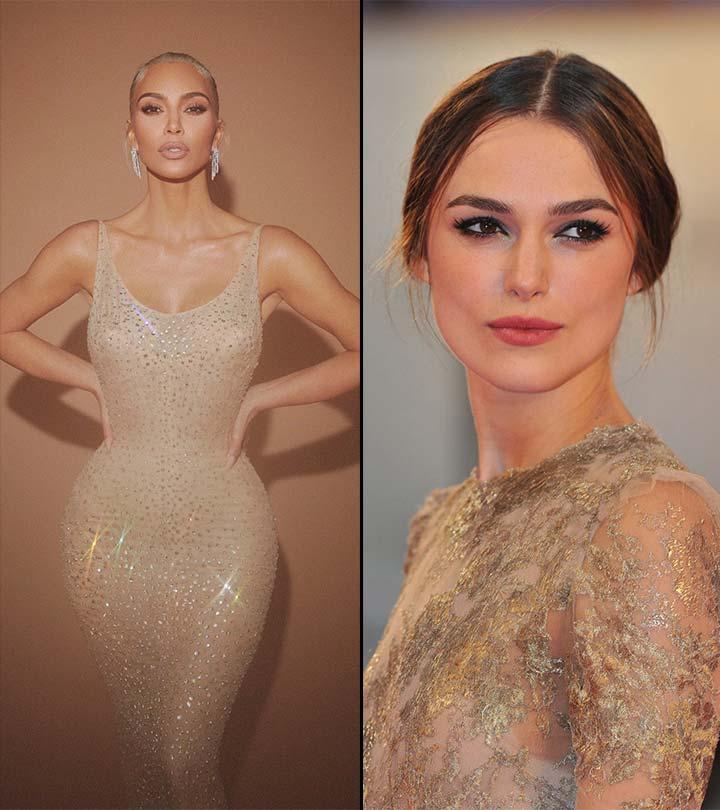 For the longest time, we chose to believe that it was CGI and Photoshop that made celebs look flawless on screen. But those who got the chance to see these stars in person, only to realize they look spotless just the same! But, how? Well, they certainly have the best makeup products and professionals to guide them, but maintaining a flawless look round the clock can't be done without knowing exactly how it is to be done! From the book of celebrity stylists and makeup artists, here are some makeup tricks to help you get an edge over your makeup. Read on to know them all!
1. Use A Highlighter Before Your Foundation
It may sound absurd, but the highlighter should be used before the foundation. Who doesn't desire glowing skin that looks absolutely natural? All of us, yay! So, before applying your usual foundation, apply a small amount of your favorite highlighter to the bridge of your nose, around the high points of your cheekbones, and even on the forehead. This will help you understand which areas need to be concealed and which to leave out for another dab of highlighter.
2. Make Those Pores Smaller
Finding a foundation that works for your skin type can be a little tricky. But you have so many choices to choose from now. However,with huge pores, getting an even surface for makeup may seem impossible. The solution is chilled rosewater. How? Take a blender and dip it in frozen rosewater. Large pores are reduced and tightened by this method, and it also refreshes the skin.
3. Remove The Redness With Eye Drops
You can use doctor-prescribed eye drops to reduce the redness in your eyes. They include substances that constrict the blood vessels and reduce redness. Drops are recommended as a strategy to reduce redness on the skin as well by some stylists (1). If you put a small quantity of the eye drop on a pimple or any irritation on your face, the redness goes away.
4. Use A Translucent Powder Between Primer And Foundation
This may seem like a radical departure from the tried-and-true makeup process, but it is an effective strategy for ensuring that your look lasts throughout the day. Set your primer with a thin coating of powder. To avoid looking cakey, apply a slight dusting of translucent powder. It keeps the primer in place so it won't move and ruin your foundation.
5. Apply Eyelash Powder
What's the secret to thicker and fluffier lashes? A little amount of clear powder. After applying your initial layer of mascara, apply a little dusting of loose powder on your lashes to make them appear fuller. You'll notice a difference if you apply a second layer of mascara to cover up any traces of dust.
6. Make A Triangle With Your Concealer
You may use an upside-down triangle instead of dots of concealer to lighten dark circles and direct attention up to your eyes. This creates a better blend and ensures even application of your makeup.
7. Apply Eyeliner To Compliment The Shape Of Your Eyes
Every person has a different eye shape, so drawing eyeliner should be done to compliment it. The first step is to know what your eye shape is. There are downturned eyes, hooded eyes, round eyes, and monolid eyes. Once you know your shape, it will be easier to do the research.
8. Ditch Eyeliner For Eyeshadow
Wait till you try this! Eyeshadow works as an amazing eyeliner if done correctly. You need a good brush to hold the powder for you while you swipe it on your eyelid. Invest in a good Q-tip brush and moisturize it with water before dipping it in the eyeshadow. It will also give you a wide range of colors to experiment with.
9. Don't Frame Your Eyes With A Dark Liner
Don't frame your eyes completely in liner or kajal if you want your eyes to look bigger. Unless you want to carry a smokey eye look, stick to the upper lid and make a wing to give it a distinct shape. You can also try a dab of color at the corners to accentuate your eye makeup.
10. Apply A White Liner Under Your Eyes
Using a nude or white liner on the waterline of your eyes will widen your eyes and make your eyes look brighter. While most people rub a black liner or kajal under their eyes, it will only frame the eyes and make them look small. Look for a liner a few shades lighter than your skin and enjoy gorgeous and brighter eyes.
So now that you know the secrets to looking picture-perfect in real life, nothing can stop you from being flawless. Make sure you choose your products carefully and do a few test runs before applying them for an event. So, which of these techniques will you experiment with first? Let us know in the comments section!
The following two tabs change content below.