11 Celebrities Who Are Completely Unrecognizable Without Makeup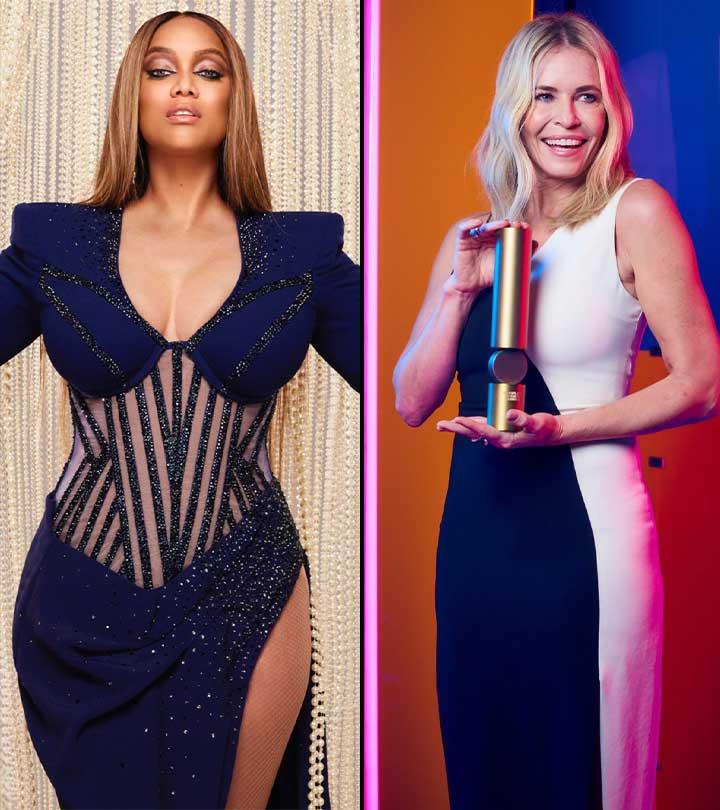 Remember when #NoMakeup selfies were a trend? Before we could squeeze our guts to post a photo without filters, many celebs jumped aboard on the trend real quick! While we are used to seeing these Hollywood divas clad in flawless makeup, catching them without it can surprise (and for some shock) us to the core! When we say makeup, we don't mean the regular eyeliner and gloss; we mean serious stuff done by a professional makeup artist. So, if you have been waiting to see what famous celebs look like without makeup and filter, you are at the right place! We at Stylecraze made a list of 11 famous celebs who rocked the no-makeup look. Read on to be dazed!
1. Chelsea Handler
Chelsea Handler is famous for her bold stand-up comedy, no-punches-pulled talk show, and uncensored autobiographical books. She has a name for posting bold pictures on her social media, and it's no surprise that she would experiment with the no-makeup look too. Her picture without makeup looks all-natural with the wrinkles and fine lines visible, and yet she doesn't stop to dazzle us when she wears makeup like a pro.
2. Demi Lovato
Demi Lovato is perhaps the no-makeup selfie queen. She posts pictures constantly and has reinforced body positivity for other women. While she looks gorgeous and bold with makeup, we can't get over how simple and young she looks without it.
3. Tyra Banks
The naturally gorgeous Tyra Banks does not need makeup to make her stand out; but when she does, we can't take our eyes off her! She is talented, quirky, and definitely rules both the no makeup and deck-up looks.
4. Sharon Stone
Sharon Stone definitely surprised us with her collage of makeup and no makeup pictures. Honestly, it gives us hope that we are not ugly; we are just poor! (Just kidding!) We appreciate natural beauty, and we are proud of her for putting up a picture and not shying away from her natural look.
5. Katy Perry
Some people look gorgeous even at their worst, and Katy is the 'some people'. Her pillow selfie talks loud of how cute she is even in pajamas and with all her makeup removed. We love her for her talent and for not being afraid to be real on her social media. Though we wish we could see her without her eyebrows trimmed and skin so spotless, this is good enough for a transformation.
6. Jessica Alba
This one can make you fall from your chair, so hold tight! The difference in the picture is big enough to make you believe they are two different people. Jessica Alba is of the category who knows when to be ravishing and when to look like a hot mess. We can't deny we are highly inspired by her transformation.
7. AnnaLynne McCord
Wait, is that really her! Yes, celebs can look like THAT too, you know, you are not the only one who looks homeless after 3 days of not showering. It may be hard to swallow, but actress and model, AnnaLynne McCord does not always walk out like a diva. She is very much like us; only when she wants to look pretty, she transforms into a goddess.
8. Kylie Jenner
This selfie of Kylie Jenner with the tag of 'no makeup' was definitely controversial as we can't swallow the fact that anyone can look this pretty without makeup. The flawless skin doesn't look natural (she has freckles around her cheeks naturally), but we still appreciate that she did not put on anything other than a foundation!
9. Lady Gaga
Lady Gaga has set the bar really high when it comes to being bold with her dress and makeup. We have seen a lot of Gaga when it comes to rocking galas, but we are really overwhelmed to see her no-makeup selfie with a cake. We really wish to see more of her no-makeup look.
10. Eva Longoria
Eva Longoria is one of the most gorgeous people in Hollywood who doesn't shy away from going makeup-less in her social media pictures. Her picture in a car where she, like a normal person brushing hair away from her teeth, is so homely that she immediately feels more approachable.
11. Zoe Saldana
Zoe Saldana owns her own prominent spot in the universe, including the Star Trek, Avatar franchises, and Guardians of the Galaxy. Her selfie without makeup is beyond adorable! Just makes us believe in how beautiful you can be even without applying any makeup.
So, now that you know celebs are very much like you and me, does that make you feel good about yourself? Also, it is not just about the makeup. Looking beautiful requires a lot of self-care that includes eating healthy and taking care of skin and hair. So who among these was your favorite celebrity? Mention them in the comments!
The following two tabs change content below.