7 Celebs Who Slay In Animal Print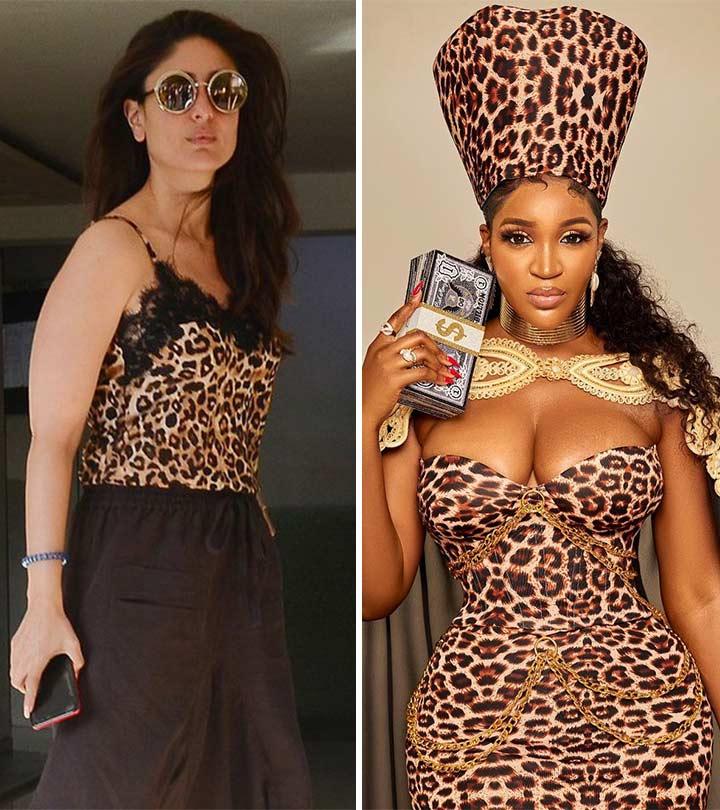 When it comes to animal print, honestly, it never runs out of style. Since the late '60s, it has ruled the ramps and red carpet, and even today, its lingering charm makes everyone want to own it. Even though it's really bold and will make heads turn towards you, we think it's definitely worth the attention! And the best part is, there is no one way to wear it. Celebrities worldwide have spread the sensation of animal prints, and it's time you get your first spotted dress too. Need some inspiration on what to look for? We at Stylecraze have made a list of the classiest animal prints worn by famous celebs that will definitely make heads turn. Go through them all to know which one is made for you!
Bebo looks like a star when she goes casual about it! On her way to visit her makeup artist Mallika Bhat, Kareena Kapoor Khan paired a leopard print singlet top with brown palazzos, and we wish we could own the same! The dainty yet audacious look is what we drool over. If you own a top like this, you can also pair it with an A-line skirt or slit skirt to make your look unique every time you step out of the house.
Vidya Balan is a sensation when it comes to bringing change to the portrayal of women in female-led films. Not only does she teach us to be proud of our bodies, but she is also a role model for not shying away when it comes to following the latest trends. Vidya wore a white leopard print dress to one of the promotions of her films, and we can't get over how elegant it looked on her. The combination of a pretty flowy maxi dress with a powerful leopard print portrays her personality at best.
Ranveer has set the bar of looking unique, real high. When it comes to being in trend, Ranveer sure is the best! He paired his leopard-print suit with a shirt that has more prominent spot prints, and we think that is really striking. He also wore oversized box shades and golden boots to complete the look. If you ever want to stand out at a party, we feel you should definitely borrow the blazer from Ranveer!
With over 2.9 million followers on Instagram, this Indian actress and model sure knows how to look the best in what she dresses in. Even though she looks ravishing in whatever she wears, the leopard print dress that she wore to the screening of Dhamaka looked phenomenal on her. What we like the most about her dress is, the leopard print creates a camouflage, so even if you are not in the perfect shape right now, this will help you wear a fitted dress without showcasing your love handles.
Haillie Sumney is a Canadian-born actress and brand influencer with over 576k followers on Instagram. Her catsuit in tiger print is something we can never walk past without appreciating. The tiger print instead of leopard spots catches the eye instantly and is a power move in itself.
The television host, actress, philanthropist, and model, Idia Aisien, is what can be called a jack of all trades and master of all. She has over 400 thousand followers on Instagram, and when it comes to pulling off animal prints, she absolutely rules! In the premiere of her movie, Coming To America 2, she stunned the red carpet in a sweetheart neck leopard print slit dress. She also had headgear and a cape to match her dramatic look. We just can't get over how wonderful she looked and how well her curves emerged in the dress.
Vasundhara Kashyap is a model and actress with over four thousand followers on Instagram. Her post in the A-line animal dress cannot go without notice. What we like best is that the cheetah print gives a lot of vibrancy to her dress, giving an overall bond image. Even though she has cute facial features, the dress adds the – 'hotness quotient' to her look.
Chika Ike is a Nigerian actress, producer, television personality, businesswoman, and philanthropist. She was seen outdoors in a cute puffy cheetah print top and had a matching handbag to go with her outfit. We really like how she teamed it up with black three-quarter pants and pumps. Owning an animal print top like this can help you match it with palazzo, slim-fit pants, and even skirts.
Now that you know how cool animal print looks, what's stopping you from ordering one right away?! Make sure you choose the one that fits you perfectly, as animal prints look best when it hugs your figure right. The bright contrast makes every skin tone look gorgeous in it. So which looks among these is your favorite? Let us know in the comments below.
The following two tabs change content below.