Why I Wash And Style My Hair With Champagne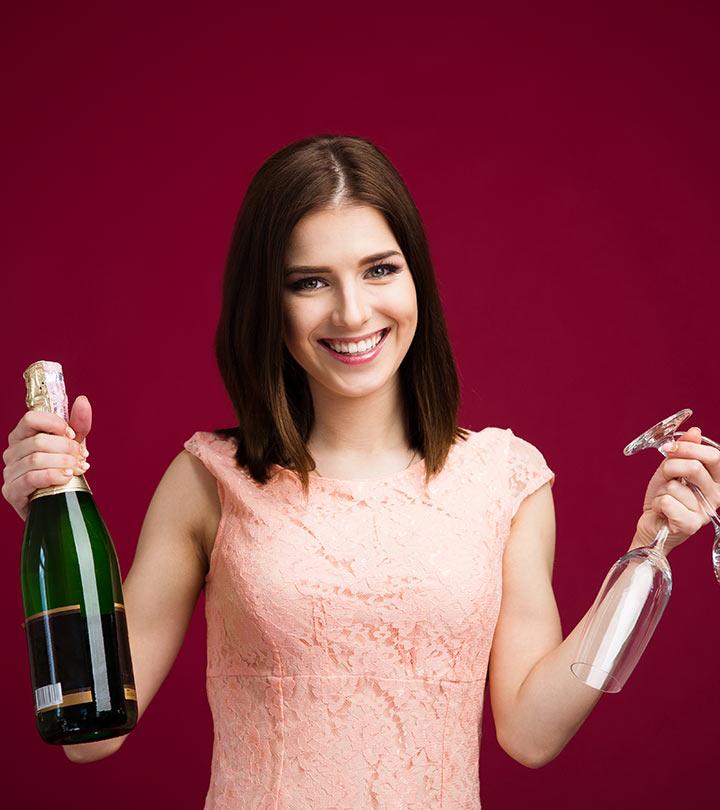 Hair care is something that all of us love to indulge in. From using hair serums that cost a whopping $100 to experimenting with the latest shampoos available at the nearest grocery store, we do it all, taking the expensive route. And not just that, we even look for natural remedies. We use fruits, greens, nuts, raw eggs, and of course, the various types of oils as well on our hair (greasy memories).
But, do you know what's the latest haircare rage on all social media channels now? It's got to do with alcohol! Turns out, you can address your hair concerns with alcohol! Well, it's not entirely new, as the famous Hollywood actress, Catherine Zeta-Jones is known for washing her hair with beer regularly. She says that doing so adds shine to her hair.
Forget about raw beer, we have beer shampoo these days, right? And not only that, people say that spirits like gin and vodka can make your hair ridiculously smooth. Some claim that it even boosts your hair growth. Now, let's talk about the latest tipple that can be added to your bathroom shelf – champagne.
How Did I Get To Know About It?
A colleague of mine introduced this to me. During an office party, when I'd tied my hair up owing to its frizziness, she went on to ask me why I was doing it as everybody around me was sporting blow-dried and styled hair. I told her my problem and she pointed to the bar counter. I thought she was pointing at beer, therefore, I told her ruefully, "Yes, I've done the Corona thing." She laughed off my I-know-it-all attitude and was nice enough to correct my mistake by saying that she was pointing to the champagne and not the beer. Apparently, champagne was the "It" haircare hack that everyone was raving about.
She went on to explain about how a sought-after Instagram influencer or rather a star, Madina Shreinzada had been promoting the use of champagne to wash hair. She showed me Madina's Instagram feed where she'd put up a video of her washing her hair with the bubbly drink. In her video, she can be seen pouring the champagne over the lengths of her hair and then dipping the ends of her hair into a bowl of champagne. She gave a score of 8/10 to this hair hack and spoke about how her hair felt frizz-free, and extremely smooth and shiny after using it.
I thanked my friend for sharing this incredible trick with me. Although, in the back of my head I was thinking, "But, the bubbly drink is expensive, right?"
I guess, she got to know this by the look on my face. She answered my query by saying that she'd tried it too. She told me that any bubbly champagne bottle would do. I don't have to shell out a fortune to buy the most expensive one.
My Research Results Looked Like This
This isn't new to us, I mean we all know about the benefits of other bubbly drinks like beer. Therefore, it shouldn't come as a surprise that a bottle of champagne, which is usually had to mark a celebration, has some beautifying benefits too.
I did some research online just to feel even more convinced about this new beauty hack. Turns out that a sparkling bottle of champagne contains antioxidants and polyphenols which makes our hair softer and shinier. It also protects our hair from any radical damage from the damaging effects of the environment. It also protects our tresses from harmful factors like the UV rays as well. Champagne can also be considered as the best remedy to hydrate and detoxify your hair.
So, if the first-best thing about champagne is that it makes for a delicious drink. Then, the second-best thing is that it even offers you solutions for all your hair woes.
How To Wash Your Hair With Champagne
Directions: This is really easy. All you have to do is use freshly opened champagne. Either you can soak your hair in it by pouring it along the length of your hair or use your fingers to run it over your strands. Leave the champagne on for 5 minutes, if the need be. Otherwise, you can quickly rinse it off with water. If you can't stand the smell of champagne, then you can even use a mild shampoo or conditioner. Otherwise, you can just go ahead, and blow dry your hair straightaway.
This wash will undoubtedly add volume and shine to your hair. Apart from that, it is going to help in bringing out those golden tones in your highlights (if you have any).
You are bound to find various hair care tips out there on the Internet. But, trust me, this one worked wonders for me. You might as well sip some champagne while washing your hair. That sounds like the best hair care ritual, right? If you think you don't want to use champagne directly, you can look for hair care products that have champagne in them, on the Internet. So are you going to try it? Let me know in the comments below.
The following two tabs change content below.

Latest posts by Shivani K (see all)