7 CHINJABI Dishes That Always Satisfy Us (Chinese + Punjabi)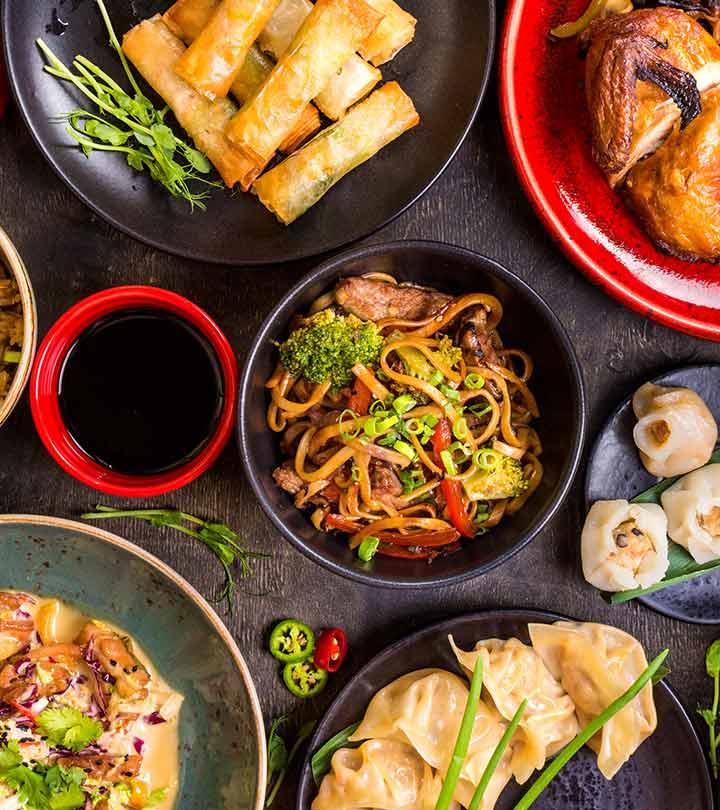 India is a diverse country and its vivid culture sets it apart! And, if you ask any random soul in this world as to what Indians love the most, you'll get this one common answer— food! It's definitely no secret as to how much Indians love their food, isn't it? You visit any Indian home and you'll understand that to welcome you with their food is regarded as the best way to welcome a guest home.
Earlier people used to nag Indians for their spicy food. However, now, in every corner of the world, you'll find at least one Indian restaurant that serves their authentic Indian food. The culinary world loves the importance that Indians give to their spices. Chefs abroad take inspiration from the Indian way of including spices in their dishes. And, while the entire world is taking inspiration from Indians, there's one cuisine that Indians have woven with theirs and has become the favorite comfort food for Indians — the Chinjabi food!
Chinjabi here refers to the amalgamation of Indian and Chinese food. This comfort food has such a wide array and the sheer capacity that Chinjabi food possesses, makes most of us start on a binge eating journey. Chinjabi dishes are loved by Indians, you'll find Chinese dishes picked up and given a dash of the desi twist to make it taste like our own. Here's a quick guide to understanding some of the most sought-after Chinjabi dishes in India.
1. Gobi Manchurian
This dish defines the love Indians have for all things gobi (meaning, cauliflower) and also the greasy Manchurian sauce which forms the base of most of the Chinese dishes. The preparation of this dish starts with making gobi pakoras with a maida base of course and keeping it aside. Then you need to take a wok, add some desi oil, a handful of chopped garlic, onions, bell peppers. Toss the mixture well on high flame and then, add the staple soy sauce, tomato ketchup, and chili sauce (Indians cannot do without chili, you know). Garnish with freshly chopped spring onions and you're ready to go.
You can find a zillion street carts serving gobi Manchurian and you'll find many more people relishing it with a smile.
2. Honey Chili Potatoes
This is one Chinjabi dish that everybody loves, as it defines the taste buds of Indians — the blend of spice, sweet, and crunchy texture. Indians don't like French fries as much owing to its bland taste. So, they picked a Chinese dish and gave it a twist, by naming it Honey Chili Potatoes. This dish looks stunning with a glaze coat because of honey and the garnish of sesame seeds adds on to that flavor.
3. Chili Chicken
Those who've had this dish will know that on a monsoon evening, nothing tastes better than some chili chicken with some herbed rice, right? Chinese dishes have enough flavors of their own, but Indians always love giving a little extra, don't they? And, this dish is all about that, with loads of veggies and chicken soaked in aromatic gravy, oh, and there are peanuts too! There's no doubt that it's a wholesome meal on its own.
4. Chilli Paneer
If you're a vegetarian and love paneer, then this is "the" Chinjabi dish for you. Some buttery smooth paneer in delicious schezwan gravy with a good portion of garden fresh vegetables is the apt description for this dish. It's also a very good bar snack if you're planning to grab a drink(wink wink).
5. Chowmein
Well, well, well — if there's an icon for Chinese food among Indians, then chowmein, it is! From having bowl-fulls of them at a street-side cart to having them at birthday parties, and then, making some healthier versions for ourselves back at home, chowmein never fails to make our tongues and tummy happy. And, we Indians have gone beyond anybody else's imagination by creating chowmein filled samosas. Yep! You read that right.
6. Fried Wontons
Fried wontons are a very popular appetizer; they are usually stuffed with chicken or vegetables. It is served with a sauce that is made up of garlic, hot red chilies, and all things spicy. What's so Indian about this? Garam masala goes into the fillings. We sure add our touch everywhere.
7. Garlic Noodles
The sheen of this fried garlic noodles is unbeatable. Pink onions, spring onions, scallions, garlic, sesame seeds, soy sauce, and SO MUCH SPICE. You'll probably die eating this dish, nevertheless, you'll still order it every single time you head to a food outlet serving Chinjabi dishes.
Pop into any restaurant at any place—be it a beach shack in Goa or a French-influenced eatery in Pondicherry—you're sure to find a section called Chinese food in their menus. Preparations vary from "dry to the gravy." So, what's your favorite Chinjabi dish to date? Let us know in the comments below.
The following two tabs change content below.

Latest posts by Shivani K (see all)