13 Christmas Themed Movies To Watch While Home Quarantining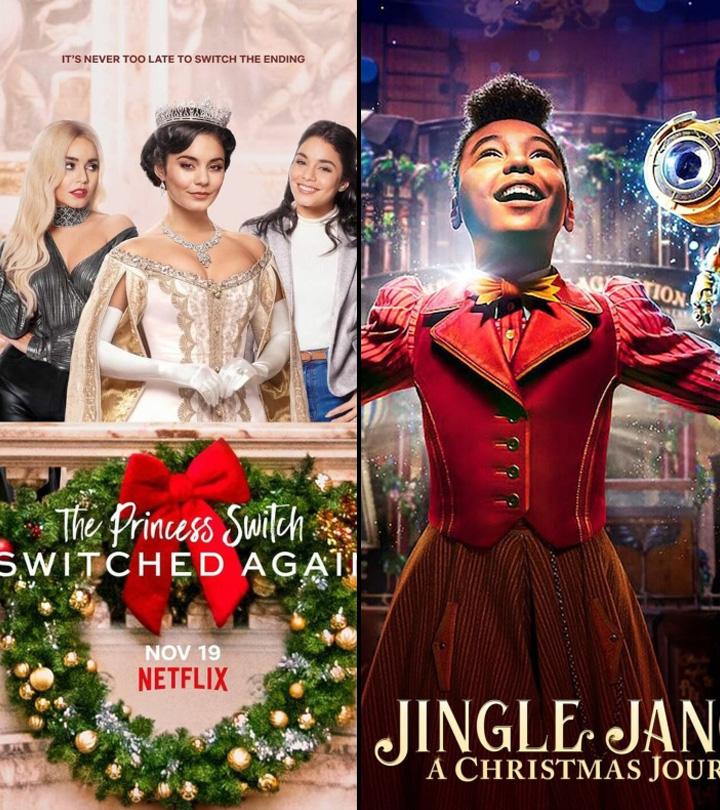 The most wonderful and magical time of the year is here, but things are going to go differently this time. While many of us would wait with bated breath for the onslaught of Christmas movies to hit theatres, the reality is that we'll most likely have to spend the holiday season social distancing alone or with our loved ones. No worries, though! There are tonnes of really cool Christmas movies on online streaming platforms that are totally going to help us occupy those chilly winter nights. So wear your warm cozy clothes, don your Santa hats and cuddle up with a glass of wine. Here are a few that will definitely keep you hooked:
1. Holidate
For those who believe in celebrating all holidays with much aplomb, this is the movie for you. Holidate follows two single people who make a pact to spend the holidays with one another and decide to rely on each other for company during those days. Everything comes to a head in December when they decide to spend Christmas together.
2. The Princess Switch: Switched Again
The Princess Switch: Switched Again is a sequel to the famous 2018, popular film Princess Switch film and takes off from the lives of the commoner turned Queen by marriage, Stacey De Novo, and the royal Princess, Lady Margaret, who is set to be crowned the Queen of Montenaro. However, things take a twisted turn when Margaret's ditzy first cousin, Fiona, comes into the picture.
3. Operation Christmas Drop
Operation Christmas Drop is about a young woman named Emma who works as a congressional aide and is sent to a tropical air force base to investigate and shut down their pricey "gift Christmas drop" plans. Along the way, she gets acquainted with a handsome air force officer who tries to change her mind by showing her true holiday spirit.
4. Jingle Jangle: A Christmas Journey
Jingle Jangle: A Christmas Journey is the story of Jeronicus Jangle, a toymaker who is let down and betrayed by his then-apprentice. Luckily for Jeronicus, his granddaughter Journey appears at the last minute to save the day and Christmas.
5. The Christmas Chronicles: Part Two
The Christmas Chronicles: Part Two is a sequel to the 2018 film and features real-life couple, Kurt Russell and Goldie Hawn, in the role of Santa and Mrs. Klaus. The pair have to race against time to protect their home from the outside world with the help of two runaway kids.
6. A New York Christmas Wedding
A New York Christmas Wedding is a progressive film about an engaged woman who has been devastated by the loss of those close to her and can't seem to enjoy her upcoming nuptials. She loses her father as well as her best friend during her younger years. One fine night she encounters her guardian angel, who gives her the option to have an alternate reality where she has her father and her best friend.
7. Arthur Christmas
The animated film, which is set on the night of Christmas, relays the story of Arthur Christmas, a klutzy but kind-hearted child of Father Christmas who goes on to embark on a mission to save a little girl's Christmas before it's too late.
8. Klaus
Klaus is the story of a postman who performs terribly at his training academy and is then stationed in a cold town in the middle of nowhere. While there, he discovers that this town is the hiding spot of none other than Santa Claus.
9. It's A Wonderful Life
This is an old Christmas classic that follows the tale of a kind-hearted man who has been driven to the brink of suicide. Right before he plans to end it all, he encounters his guardian angel, who shows him what his town would have been like if he hadn't performed good deeds all these years.
10. Noelle
Noelle is about two siblings, Nick and Noelle, whose father happens to be Santa Claus. After Santa's untimely death, it is up to his underprepared son Nick to take over his responsibilities. Unfortunately, Nick is not cut out for the job and, after taking a break on his sister Noelle's advice, disappears. It is up to Noelle to find him and save Christmas.
11. Last Christmas
Last Christmas is a romantic film about a frustrated Christmas store employee who seems just about fed up with the holiday season. Until a handsome stranger walks into her life and the rest, as they say, is history. Check this film out if you're in the mood for a lighthearted rom-com.
12. The Knight Before Christmas
Source: Twitter
Another Christmas style romantic film, The Knight Before Christmas, is about a handsome medieval knight who gets accidentally transported to the modern era. While there, he falls head over heels in love with a high school teacher who has lost all hope of ever finding her true love.
13. A Bad Moms Christmas
A Bad Moms Christmas takes off from its prequel, the 2016 film, Bad Moms. The storyline follows three moms who have just had it. The three women have to now deal with the upcoming season of Christmas and their own moms who decided to drop by. This is a must-watch if you're quarantining with your best gal pals.
Sure, it's a pity that Christmas can't be as splendid as it was the years before, but that doesn't mean that you can't have a great time by yourself, right? Please do let us know all of your thoughts in the comment section down below.
The following two tabs change content below.

Latest posts by Niharika Nayak (see all)

Niharika Nayak
Niharika has a passion for all things art, music and travel. During her spare time she likes experimenting in the kitchen, painting pop culture icons and chasing after random street cats. Her dream is to one day own an amusement park so she can ride roller coasters for free.