14 Clothing Items That Won't Do Justice To Your Figure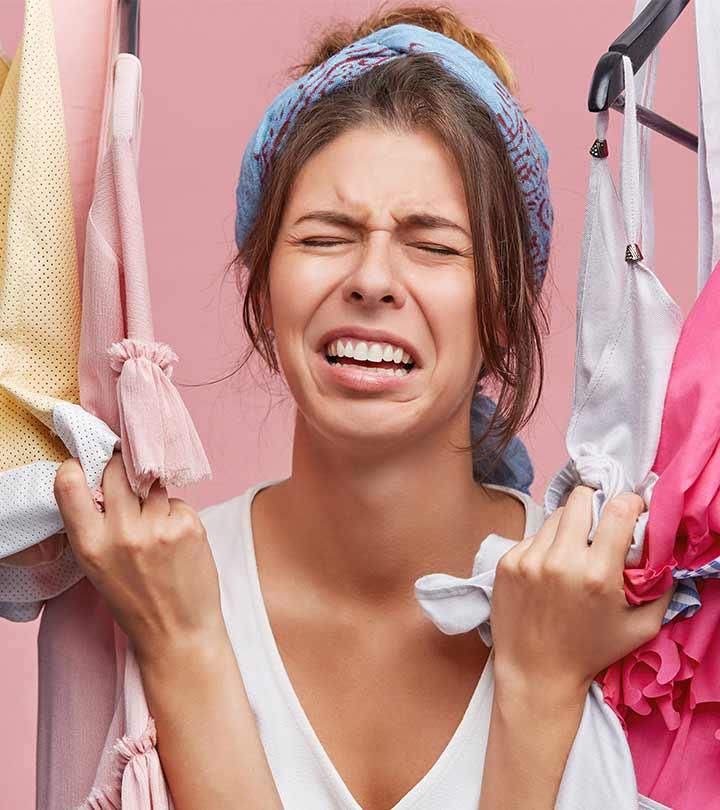 Sift through your wardrobe and you'll find some clothes you love, some you hate, and some you don't fit into anymore. But apart from these piles, you'll also find another set of clothes – one that you should avoid.
These are the clothes you probably purchased on an impulse, thinking they were the latest fads and you absolutely needed to own them! Well, to tell you the truth, you absolutely did not need to own them.
Clothes are meant to hide your imperfections and highlight your assets, but the pile of clothes you should avoid does not serve this purpose at all.
Here are fourteen clothing items that can disfigure you and need to be on your blacklist right now!
1. Ankle Length Culottes
These are quite the rage right now but they do not look good! These pants divide your shape into two awkward halves, giving you a triangular silhouette. They also make your legs look shorter. Opt for slim fit trousers instead to look smart.
2. Shift Dresses
Shift dresses and other similar types of dress, which do not have a clearly defined silhouette give you the appearance of a sack of potatoes! This kind of dress adds volume everywhere, making you look puffy. Avoid this one and, instead, opt for dresses with well-defined waistlines to flaunt your figure.
3. Cropped Tops
Another fashion fad that has taken the world by storm, crop tops may look great on the runway but not so much in real. Let's face it, not all of us have well-defined abs that are worth showing off. Besides, when you sit down such tops can make your belly fat roll up and look awful. Go for full-length tops and maybe slip on a crop jacket if you want in on this trend.
4. Pants With Stripes
Nautical is kind of cool but striped pants are best avoided due to their tricky nature. Striped pants can give the illusion of very wide hips and bottom as the pattern tends to stretch in these areas. If you want to wear printed pants, choose those that have tiny prints. Otherwise pick the plain ones.
5. Shimmery Clothes
A little bit of embellishment can jazz up your outfit, and give it that zing. But clothes with sequins all over makes it hard to differentiate between you and a disco ball! Shimmery clothes also highlight imperfections. If you want to make a bold statement, choose tops with bold prints and matching colors as your bottom wear.
6. Ill-Fitting Pantsuits
Pantsuits are typically business meeting attire. They have to fit well or you can create a very bad impression. If even an inch of your pantsuit seems looser than it should be, get it altered. Your pantsuit should look like second skin; and should also be color coordinated to create a harmonious look.
7. Pants With Big Prints
Pants with very big prints give your legs the appearance of being larger and wider, which is inevitable unless you're super skinny. The safe way to carry off printed pants is to choose those with colorful inserts as these make your legs looks shapely.
8. Widely Contrasting Shades
Colors that contrast way too much can divide your body up into two rectangular halves, making you look blocky. While mixing and matching your outfits, make sure you choose complementary colors. These do not create a jarring effect and can even help hide problem zones.
9. Oversized Clothes
Oversized clothing was a huge hit during the 90s, and that's exactly where you should let it be – in the 90s! These clothes add extra weight to your body, giving you a bulky appearance. To look good, you should choose well-fitting clothes according to your size and body shape.
10. Faded jeans
Apart from looking worn out, faded jeans do much else. They add width to your hips and not to your legs, giving you a weird shape. If you want to look slimmer and shapelier, try jeans with a single solid tone.
11. Horizontally Striped Clothing
These add unwanted extra volume to your body. That said, the way to carry off this print is to opt for contrast stripes on a V-neck top as it will highlight your bust and collarbones.
12. Tops With Large Prints
Tops with large prints can give you a square-ish, top-heavy appearance. Solid colored tops as well as tops with tiny prints, on the other hand, hide your flaws and make you seem slimmer.
13. Maxi Skirts
Unless you have legs that don't end and a willowy profile, don't go for the maxi skirt. These can make short and plump women appear rounder. Moreover, the key to styling skirts right is to pair short sleeved blouses with long skirts and long-sleeved blouses with short skirts.
14. Shapeless Cardigans
Cardigans with no particular size or shape might feel cozy but they can make you look like a ghost made out of two eyeholes in a bedsheet! Well-fitting cardigans that match your size are the way to go.
Do yourself a favor and empty your closet of the above clothing items so you don't even get the chance to wear these by mistake! Avoiding such faux pas will help you look good always.
The following two tabs change content below.