Coconut Oil And Lemon For Dark Knees And Elbows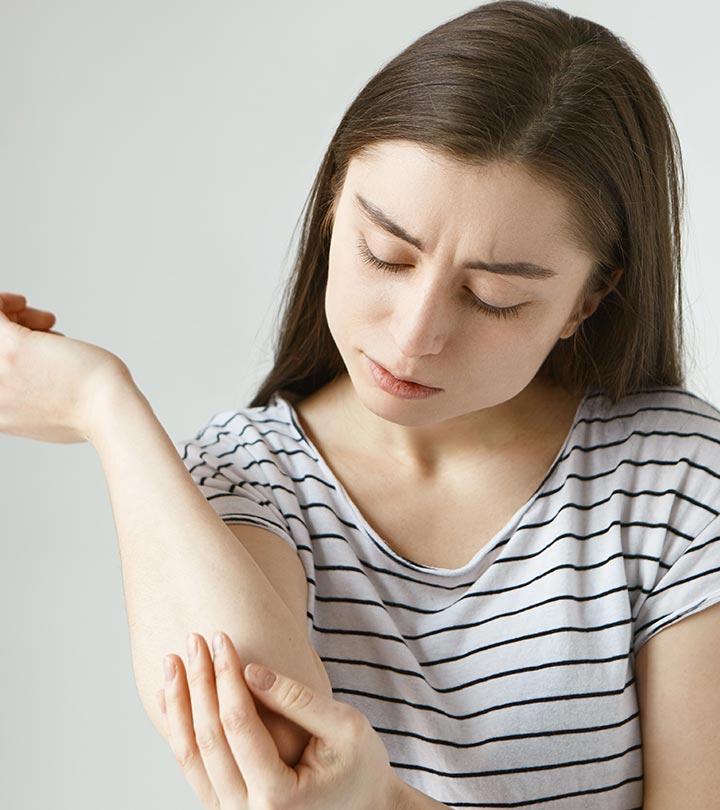 We always put in extra efforts to take care of our skin. We moisturize it, we keep it hydrated so that it's soft, supple, and we smile every time we slide our hands over it. But has the thought of moisturizing your knees and elbows ever occurred to you? Most of us tend to ignore them, right? This is because we don't often see them ourselves. They are the parts of the body where are not apparent easily. We need to twist our hand slightly to look at our elbow and bend down to have a glance at our knees.
If you're thinking why should we moisturize these joints, our answer is why shouldn't you? The elbows and the knees have lesser oil-secreting glands on their surface. This makes the skin around these areas extremely dry and rough. It makes it dry to such an extent that you can notice white powdery layers on their surface. This makes our knees and elbows look unhygienic and unsightly. We begin to think twice before wearing shorts or sleeveless tops because of our dark knees and elbows.
If you're thinking of lightening your dark knees and elbows the natural way we suggest two perfect ingredients for this work — lemon and coconut oil.
Why Coconut Oil?
Coconut oil is considered by many as a very powerful natural emollient which can keep our elbows and knees smooth by moisturizing them(1). It's the lack of moisture that actually causes the knees and elbows to darken and become dry. Applying coconut oil will treat the dry skin and also lighten it up. You can use the normal coconut hair oil, cooking oil or even the all-natural, virgin coconut oil.
Why Lemons?
Lemons, because they have skin-lightening properties (2). The juice of a lemon will not only help in getting rid of the dark skin, but it will also mildly exfoliate the skin. It does this with the help of acidic content in it, which very safely, peels off the topmost layer of the skin. And if you observe the ingredients of skin brightening creams, the lemon extract will definitely be a part of that list.
Here are a few home remedies for treating dark elbows and knees which make use of coconut oil and lemon.
Let's take a look.
Yogurt Remedy
You'll Need:
1 tablespoon of yogurt
2 tablespoons of coconut oil
1 tablespoon of apple cider vinegar
1 cotton pad
Steps:
Mix yogurt, coconut oil, apple cider vinegar, and lemon juice in a bowl. Mix all the ingredients well.
Take the cotton pad and soak it in this mixture.
Rub the soaked cotton pad over your dark elbows and knees in a circular motion.
Continue to rub for the next 10 minutes and let it dry for the next 10 minutes.
Now, you can rinse your elbows and knees with some normal water and then pat them dry.
Make use of this remedy every day for at least two weeks and you'll find your elbows and knees become lighter by a shade or two.
Here, the yogurt, which has lactic acid, cleanses the skin from deep within and removes the impurities. Coconut oil, on the other hand, moisturizes and nourishes the skin. Apple cider vinegar will eliminate the dead cells of the skin, and lemon which contains vitamin C will lighten the skin (3).
Gram Flour Remedy
You'll Need:
½ tablespoon of gram flour
1 tablespoon of coconut oil
1 tablespoon of lemon
2 tablespoon of rose water
Steps:
Take the gram flour in a bowl. To this, add the lemon juice and coconut oil. Also, add the rose water.
Mix the ingredients well to obtain a lump-free mixture.
Take some of this mixture on your fingertips and apply it on your knees and elbows. Massage it in circular motions.
Let the pack sit on the knees and elbows for about 15 minutes.
Rinse it off with some water and pat dry.
Apply a moisturizer after this.
You can do this every alternate day for the next 3 weeks and watch your skin heal.
Here, the gram flour contains certain skin whitening agents (4). Coconut oil, as we know, helps moisturize the skin, and lemon cleanses the skin around elbows and knees.
Aloe Vera Remedy
You'll Need:
2 leaves of the aloe plant
1 tablespoon of coconut oil
1 tablespoon of lemon juice
Steps:
Extract the gel out of the aloe leaves by slitting them open.
Mix the gel well with lemon juice and honey.
Apply it on your knees and elbows. Massage this for five minutes.
You can leave this overnight on your knees and elbows.
Rinse it with normal water in the morning and pat the skin dry.
Do this every alternate day for the next two weeks and you'll notice the skin become lighter and healthier.
Here, aloe gel nourishes and treats the dry skin of the knees and elbows.
These were just some of the home remedies to lighten up your knee and elbow joints. Do you know of any other spectacular remedy? Let us know in the comments section below.
The following two tabs change content below.

Latest posts by Shivani K (see all)