10 Common Mistakes Women Make With Lingerie And How To Avoid Them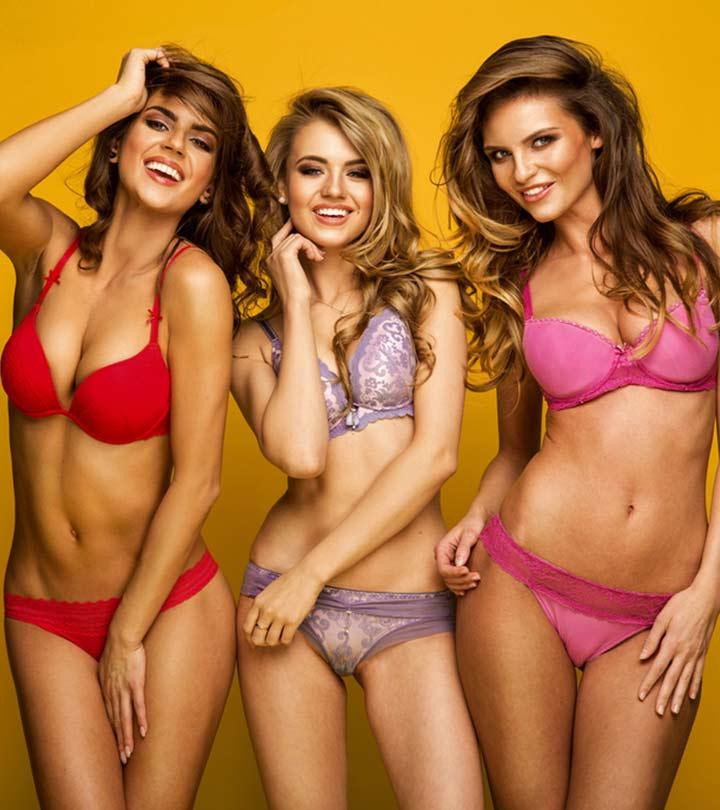 When you walk into a store and find that perfect lingerie that looks really good, you often think to yourself, "Ooh! Let me get that real quick."
But hold on a second. Make sure you're aware of these common mistakes so that you end up buying the one that looks good and fits well too.
1. Fabric
Lacy underwear ends up showing when you are wearing turtlenecks made out of thin fabric or even pants that are a tad too tight. If you don't want people to notice the kind of bra you're wearing, make sure to avoid bras made from lacy fabric. They end up disturbing the beauty of your complete look by making the surface uneven.
Instead, choose underwear that is smooth in texture. You can also look for bras that come without a wire.
2. Shape
You want the lingerie to fit you, not show your bulges. Advertisements delude us into thinking that small sizes work for everyone. They are wrong. You know your body type, so choose the right size of shapewear to let the bras fit you seamlessly. In any case, the wrong size not only fits incorrectly but also harms your body by hampering your blood flow. You start feeling discomfort in less than 6 hours.
Make sure to select gentle shapewear in the right size.
3. Size
If you wear a bra that's bigger than your actual size, you will end up hurting your back. With a bra that's smaller than what you need, the subsequently constricted blood flow will harm your body.
What you want to notice is that the straps don't slip and the shape doesn't create a bulge. In case you want your breasts to appear bigger, you can always purchase a padded bra.
4. Colour
A bright-coloured bra under a light coloured shirt is no longer trendy. People look at it as bad taste. Find a bra that matches the colour of your skin to go with transparent blouses and shirts.
5. Home Wear
People tend to be under the impression that wearing a bra is not necessary at home. This may hold some truth for women with small-sized breasts, but it doesn't work for those on the larger spectrum. Not wearing one tends to get your ligaments stretched out.
Wear a sports bra at home. It allows your skin to breathe, keeps your breasts perky, and is no concern for comfort.
6. Material
100% cotton may not always work out. It may be comfortable and safe, but the material tends to get stretched in a short span of time and often tears too soon.
Shop for underwear that's 80% cotton and 20% elastane instead.
7. Style Of Panties
Thongs are not for everyone. They may work for those who don't want their underwear line to show and are focused on looking seamless. But watch out for the fabric. It tends to irritate your skin, especially if its sensitive, and can even lead to bacterial growth and irritation.
Try not to wear thongs on a daily basis. You can mix it up with wearing panties that are comfortable and made of good fabric.
8. Complementary Top And Bottom
When you get a lingerie set, you are likely to notice two good things: the same fabric is used for both the top and bottom and they go together wonderfully. The pattern similarly offers a fresh and elegant look!
9. Daily Underwear
If you want to wear panties on a daily basis, you want to avoid getting shapewear or silk panties. The latter on the regular can cause negative consequences when it comes to body shape and health.
Instead, go for sleep panties. They fit just the right way, involve fabric that's high quality, and go with almost all types of women's bodies.
10. Underwear That Complement Body Type
Most of the weight in a pear-shaped body tends to fall to the bottom. In that case, go for shorts that are simple and lacy. Your tush would like its shape.
High-rise panties work great for women with curves or hour-glass shapes. They make you feel comfortable without rolling up too much.
In case you like your legs to look skinny and longer, find yourself some boxers or Brazilian-cut bikinis. Women with short legs should choose string bikini panties and ignore boxers.
So the next time you head out to buy lingerie, you know exactly what works and doesn't work. Pretty underwear is useless if it doesn't fit. After all, you spend all your day in them. Make sure to look for the right size, shape, and colour when you're choosing bras and panties for your body. Remember your body shape and the clothes you wear on top of your lingerie before deciding on a piece. We all want to look good, but in compromising on the fitting we make terrible mistakes that not only hurt our looks, but also our health. Hence, shop smart.
The following two tabs change content below.