Effective DIY Recipes Using Cloves For Healthy Body, Skin, And Hair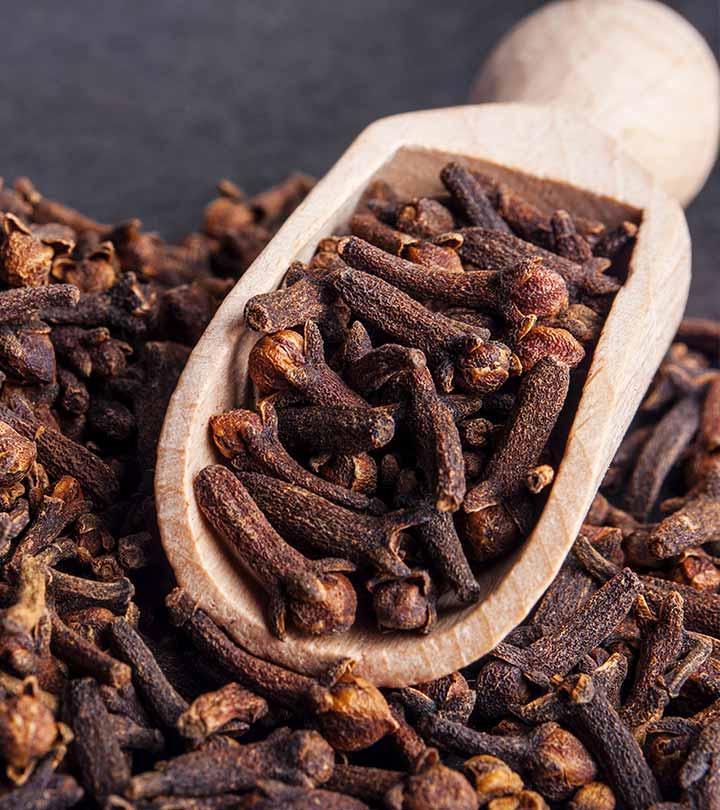 Remember the spice concoction which your grandmother made you drink every time you were down with flu? It worked wonders when even the doctor's medicines couldn't do anything, right?
Well, just like that, we are here to discuss one such spice which is also known to provide us with a host of benefits — clove. This spice can provide benefits to us in areas pertaining to our health, skin, and even our hair. We pored over the internet and compiled a list of the health benefits promised by this spice and also found the various ways in which we can incorporate them in our daily diet. Curious? Read on to find out more.
Let's Start With The Health Benefits
We usually use clove in dishes to add a distinct flavor and aroma to them. But, very few of us are aware that this teeny little spice is loaded with antioxidants and is a rich source of various vitamins like vitamin A, K, and C (1). It also helps in keeping our body well-hydrated and protects us from critical diseases like diabetes, asthma, and insomnia (2). Upon consumption, cloves have a very cooling effect on our body that keeps it fresh and energized. And during the flu season, when everybody around you is sneezing and coughing — you can avoid contracting the flu by having clove-infused drinks or by chewing one or two cloves. Here are some DIY recipes for using cloves in your drinks:
If you are feeling sick or low on energy, then make this drink. Crush some cloves, ginger, and basil leaves in a pestle. Now add this mixture to your drinking water. Keep it aside for half an hour so that the juices of these spices are infused in the water. Strain the water and drink it all day long.
You can also add three to four cloves to your tea and reap the benefits of this spice.
You can add it to your coffee too. Just add a pinch of clove powder to the coffee. Mix thoroughly and drink.
For Oral Care
We've all seen our grandmother use clove as a mouth freshener just like we use mint fresheners these days. If you struggle with oral hygiene issues such as bad breath or gum problems, then clove is the perfect solution for you. It is an amazing antiseptic and its strong smell will keep your mouth fresh. Having a sensitive tooth is a pain. And clove oil is said to provide relief to a sensitive tooth (3). All you have to do is use some clove oil in your toothpaste and then brush your teeth with that. It will solve your gum problem and also make your teeth strong.
Skincare Benefits Of Clove
The strong nature of clove helps in eliminating pimples and acne. It has all the properties of a natural antiseptic. Clove can be used on cuts and even for curing infections. The antioxidant properties of the clove help to kill the bacteria breeding on our skin and keep it clear and smooth (4). On application, if you feel a tingling sensation, then it's an indication that the spice has begun to work on your skin. The essential oil made from clove has anti-blemish properties too. It can reduce the dark spots on the skin and make it look light and blemish-free. However, you need to keep in mind that clove is very strong in nature, so use it cautiously. Here are a few DIY skin remedies that you can use:
For pimples, mix mint juice with 2 drops of clove oil and apply it directly to the affected areas.
For a face pack, grind 2–3 cloves along with an inch of cinnamon into a smooth paste. Add a spoon of honey to it and apply the paste on your face. Rinse it after 10–15 minutes.
Hair Care Benefits Of Clove
Clove is one spice that is very beneficial for hair growth, it even nourishes your scalp (5). The cooling sensation of the clove and its antioxidant properties make it an amazing conditioner for your hair. Your hair becomes smooth, manageable, and shiny. Here are a few DIY remedies for using clove on your hair:
Massage your head with a mixture of clove oil and coconut oil. It will keep your hair smelling fresh, and also reduce your stress levels.
You can also add a few drops of essential oil of clove to your shampoo and reap its benefits.
For a hair mask, mix two tablespoons of yogurt, a spoon of oil, and half a tablespoon of clove powder together. Also, add a tablespoon of honey to it. Apply the mask on your hair and keep it on for 30–40 minutes. Rinse it off thoroughly.
Isn't it amazing how a tiny spice can benefit us in so many ways? Have you ever tried using clove to improve your health? Let us know in the comments below.
The following two tabs change content below.

Latest posts by Shivani K (see all)