7 Effective Ways To Lighten Dark Underarm Skin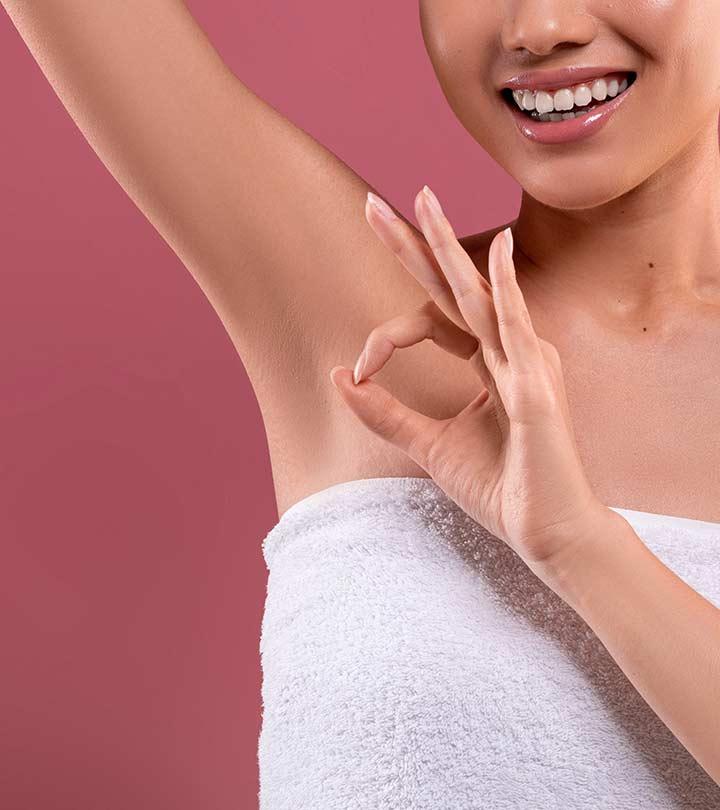 Have you ever picked trendy sleeveless clothes but then put them back because you didn't want to expose your underarms? Well, you are not alone. Dark underarms haunt a bigger population than you can imagine. This is why people cling on to a shrug or jacket even on a hot day. The beautiful pictures that flaunt flawless underarms don't come without effort. It is the result of hours of skincare and treatment. However, fret not, for we bring a mix of natural and DIY tricks to help you remove the dark skin patch resulting from years of shaving. Read on to know them all!
1. Use Natural Bleaches
The mention of bleach might scare you, considering how it burns your skin and hair, but that is only if you use chemical bleach. Bleach found in nature doesn't corrode your skin and can be used for skin lightening purposes. You can try mild natural bleach like cucumber juice or potato juice. Gently apply the juice to your underarm with the help of a cotton swab. Let it soak for about 20 minutes, and then wash it away. Regular use will show you satisfying results in a week.
Many use citrus products like orange peel and lemon juice to bleach their underarms. However, it is not something we would recommend. They might have bleaching properties, but they also can irritate your skin and leave you with uncomfortable rashes.
2. Use Alcohol-Free Deodorant
Once you start using blades on your skin for hair removal, there will be minor cuts even with your best efforts. Sometimes it is so tiny that you may not even realize it until you spray on perfume or deo, and it starts to burn. Skin is always more sensitive after a shave, and using harsh deo only darkens and irritates the area. To make sure your skin doesn't face the wrath of alcohol burns by opting for a skin-friendly deo. Many brands are pooling in alcohol-free deodorants that are ideal for your skin.
3. Exfoliate And Moisturize
Your underarm skin is sensitive and needs to be taken care of with a good skin care routine. Like other body parts, your underarms need proper exfoliation and moisture. You need to exfoliate the skin gently thrice a week to make sure there is no ingrown hair that causes rashes and itching. You can go for a natural whitening exfoliator like sugar and coffee and gently scrub the dead skin away before using a razor on your skin. Also, make sure you moisturize your skin after each shave. You can use a whitening cream to soften your underarm and remove the dark pigment from the skin.
4. Toothpaste
This may sound weird, but people have used this DIY underarm whitening technique and received impressive results. Toothpaste has bleaching properties, and using non-colored toothpaste for 5-10 minutes can help eliminate the darkened skin. However, each toothpaste composition varies with the brand, and if you feel your skin burning, you need to wash it away and apply soothing gel or ice immediately.
5. Opt For Retinol-Based Products
Home remedies are our first choice, but sometimes they are not as effective as we wish. This is when you need to seek the advice of a dermatologist or professional. For example, doctors prescribe retinol creams to get rid of the dark skin patch for most skin darkening problems. However, extended use can damage the skin, so it is essential to use it only with a doctor's prescription. Another problem with retinol is that it makes your skin sensitive to sunlight. So, wait for the cream to dry and apply sunscreen before leaving your home.
6. Baking Soda
Baking soda might be your best try if you want to go all-natural with your underarm whitening treatment. First, mix about one-fourth of baking soda with water to form a smooth paste. Then, apply it evenly to the dark areas of your underarm and let it sit for 10 minutes. Once it hardens, wipe it away with a wet cloth. You can try this twice a week to see the difference in skin tone.
7. Resort To Regular Waxing
Yes, it's painful, expensive, time-consuming, and messy, but it also saves you from prickly underarm hair and dark patches. Waxing makes the hair grow slower, so once you are regular with it, you won't have to take frequent trips to the salon. Waxing clears off your dead skin and leaves no dark skin patch. Make sure you stick to waxing and don't use a razor for your underarms.
An even tone underarm is everyone's dream, but maintaining it is not as easy as it looks on screen. Shaving is the most effortless resort to removing the underarm hair, but it comes with a price. Continuous shaving can lead to ingrown hair and can burn your skin to make it look darker than the other parts of your skin. Practicing these above tricks will help reduce skin darkening and flaunt an even tone underarm. So which among these tricks is the one you will try first? Let us know in the comments section!
The following two tabs change content below.