11 Genius Halloween Face Mask Ideas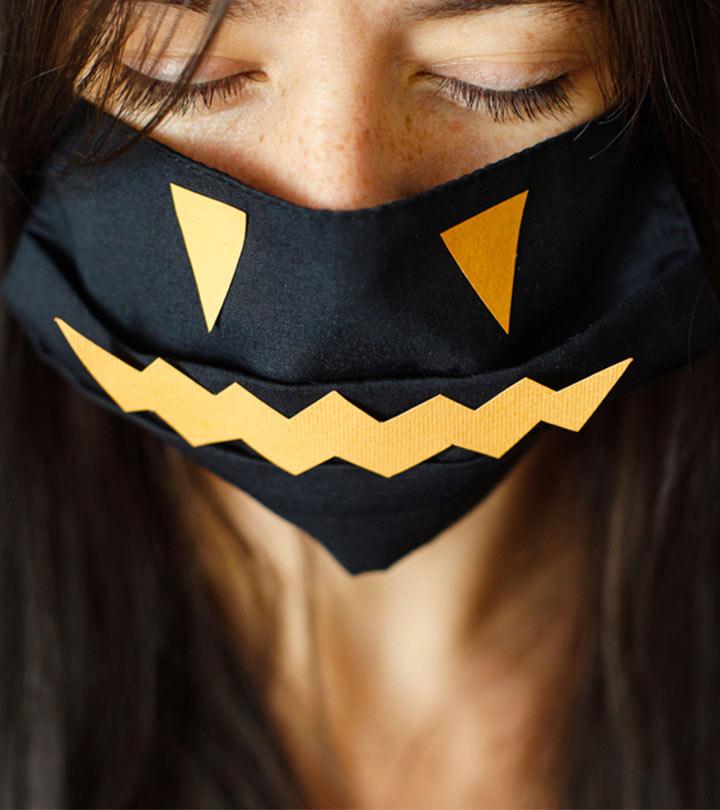 What do we like best about Halloween? The theme parties! This funky festival explores the creative person in us. Even if you are not a heavy designer costume kind of person, a simple themed mask is enough to do the talking. When we say mask, we don't mean surgical masks (for a change). We are more interested in getting on the innovative side of it. Can't think of anything brilliant yet? Don't you worry, we at Stylecraze have saved the best designs for you to stand out in your Halloween party!
1. Bane Mask
No Batman fan can resist wearing this mask. The best part is, this 3D printed mask is lightweight, and you can be rest assured about your virus protection. Even if you wear this mask over a plain T-Shirt, you will steal the show just by the looks of it.
2. Darth Vader Mask
Want a Star Wars mask? We have just what you need. What'sbest is, the mask makes its point without you having to wear the eye mask and helmet. Simply pair it with a cool T-shirt and trousers, and you are good to go!
3. Mortal Kombat Mask
If you are a die hard fan of the Mortal Kombat franchise, you definitely need to own this mask! You can either get it 3D printed or make it on your own with paper Mache. This enclosed mask lets you wear a surgical mask inside without showing it.
Pro Tip: If you decide to spray paint it, make sure you get it done a week before Halloween, so the smell of the paint goes away before you cover your nose with it.
4. The Lace Mask
Need something horrifying? Say no more! This fake lace mask is enough to keep people screaming and running away from you! (Psycho screech music playing in the background!). Anyone who has a good hold over crocheting can make a mask of their size and wear it over a mask that matches your skin tone. It gives an illusion that you are wearing a netted mask, which is the scariest thing that can happen now!
5. The Deity Mask
You must have seen big wooden masks of different colors adorning traditional homes. They are believed to watch over your homes from evil eyes. How about wearing a colorful mask on your own! You can get it 3D printed to your size and flaunt the mask over your surgical mask.
6. The Creepy Smile Mask!
If you are looking for a mask that tickles your funny bone, this is the perfect one to get. All you have to do is select a funny smile to be pasted on your regular cotton mask using a digital printer. Once you place it on your face, it looks hilarious and is perfect for lightening the party's mood.
7. Trick Or Treat Mask
Not every mask has to be hard to get. Sometimes simplicity is the key to making things stand out! You can just buy yourself a Halloween-printed mask or use your creativity to paint some jack-o' lanterns on your black mask. It is easy to carry, and looks super cute.
8. The Zombie Mask
Literally, any mask that you would not wear on an ordinary day is perfect for Halloween! You must have come across mask prints with the scary mouth printed on them. While it looks super creepy, it will fit the theme well. You can even order them in bulk and have the entire squad wear the same zombie mask!
9. The Anime Mask
Anime characters can be pretty scary if they want to. Having a mask with a creepy sharp tooth smile is something that sends shivers down ones spine. But then again, what could suit the Halloween theme better than this! You can choose any creepy smile to be printed on your mask, but the monochrome white teeth on black background scares us the most!
10. The Goth Mask
If you take Halloween really seriously and want to look your best, we have something that can be an excellent project to get involved with right before Halloween. It might call for some welding and DIY skills, but the end results are absolutely fantastic. You can either prepare it over a surgical mask or make sure the mask is fitted enough to protect you for real. Once you have all the parts in place, spray it with bronze spray paint, and your classic Goth mask is ready!
11. The Pumpkin Smile
Now say you have entirely run out of ideas, and Halloween is just around the corner. Well, we have one for the last-minute saves as well. Simply take the black marker out and draw a jack-o' lantern smile on your surgical mask. It is cute, creative and will keep you in the theme!
So this was the list of the most creative Halloween masks to make. While the clock is ticking, make sure you get yours made soon! Before you finalize your mask, make sure you check that the mask is actually safe to protect you against the virus. Do you have an idea that is perfect for the occasion? Let us know in the comments section. Happy Halloween!
The following two tabs change content below.