What Your Engagement Ring Says About Your Relationship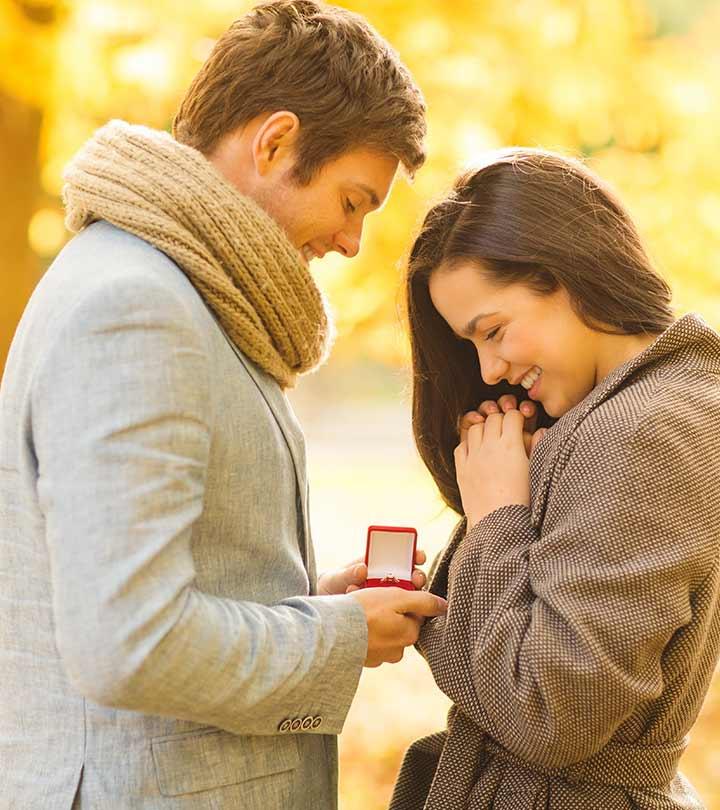 Getting engaged to a person with whom you want to spend the rest of life is, of course, a beautiful feeling. Proposals are memorable events for every couple and they are filled with heightened emotions and a strong sense of responsibility. The way your partner proposes to you can say a lot about you, him/her, and your relationship. Also, the engagement ring can hint a lot more than you think about your love life. To find out the truth, we dug into the matter a little deeper and found out that everything about your engagement ring has a bigger meaning! The stone, the cut, the shape, and the design of your engagement ring can say a lot about your relationship with your bae.
Your engagement ring is something that's very special to you and you're definitely going to treasure it for the rest of your life. Hence we feel that every person who chooses or wears an engagement ring should know more about the meaning of their ring. In this article, we will differentiate the different types of engagement rings based on their cut and tell you what they represent.
1. Classic Round Cut
This cut is a timeless and classic one. Couples who love to stick to their roots and follow their culture often go for the classic round cut engagement ring. These are the people who have deep faith in each other and are truly loyal.
Worn by: Mila Kunis, Emily Blunt, Lauren Conrad, and Amy Adams
2. Emerald Cut
This is again a classic design that is loved by many couples all over the world. These couples are often tempted by shiny things (just like this ring) and they don't mind spending their money on them. These couples like to have adventure and fun and are very kind to others.
Worn by: Angelina Jolie, Jennifer Lopez, Beyoncé, Elizabeth Taylor, Grace Kelly, Amal Clooney, and Liz Taylor
3. Princess Cut
The groom who purchases this ring for his beloved "princess" is deeply caring and very thoughtful when it comes to his relationship. He is willing to do anything and everything to make his partner happy and might even spoil her a little with all the pampering. Every girl who is wearing a princess cut ring is lucky beyond words to have a partner who loves them so intensely.
Worn by: Hilary Duff, Kate Bosworth, Sherri Shepherd, Snooki, and Star Jones
4. Pear Cut
The pear cut makes the stone look like a tear-drop. It is a beautiful cut and yet, it is one of the least popular ones. This is probably because the people who wear this ring are quite unique and they love to walk in the path that they've made rather than follow someone else's trails. These women have high standards and are very ambitious in nature.
Worn by: Victoria Beckham, Jessica Simpson, Princess Charlene of Monaco, Elisha Cuthbert, and Katherine Heigl
5. Marquise Cut
Also known as the "navette" cut (which means "little boat" in French), this is a very attractive cut. It gives the stone an almost oval shape with two pointy ends. The couple who choose this ring like an elegant and fancy life. They like unique things and have a very different taste when it comes to decorating their place and choosing activities to do together.
Worn by: Christina Milian, Catherine Zeta-Jones, Portia de Rossi, and Ashlee Simpson
6. Heart Cut
This is one of the most unique cuts there are and people who wear these rings are as unique as the cut itself. Couples who go for this unique ring are really sweet, caring, and romantic. They want to scream out to the world that their love is beyond limits. Also, these couples enjoy being different rather than worry if they'd be seen as the odd ones.
Worn by: Lady Gaga, Nicki Minaj, Rochelle Wiseman, Gwen Stefani, Katie Price
7. Cushion Cut
This is an age-old design that has been popular for centuries. It looks soft, simple, yet stylish. Women who wear these rings have a classy and royal taste in things. Even so, they like to be noticed and with their natural charisma, they do get noticed.
Worn by: Kim Kardashian, Sofia Vergara, Rachel Zoe, Bar Refaeli, and Leighton Meester
8. Oval Cut
Oval cut is classy yet modern — just like the couple who choose these rings. They like to be unique and stand out among the crowd. However, they don't want to take it too far because they also have a soft spot for the regular things in life.
Worn by: Jennifer Aniston, Blake Lively, Kate Middleton, Miranda Kerr, Christina Aguilera, and Amber Rose
9. Radiant Cut
This cut is pretty similar to the princess cut and the emerald cut. However, they are all different. Couples who choose this cut are very outgoing, love to talk, and to be under the spotlight.
Worn by: Megan Fox, Drew Barrymore, Hilary Duff
10. Asscher Cut
The Asscher cut is very artistic and retro. It suits the best for couples who take great interest in art and vintage fashion.
Worn by: Jessica Alba, Elizabeth Taylor, Ashlee Simpson, Kate Hudson, and Zooey Deschanel
No matter what ring you choose, there's nothing that can judge or evaluate the depth and intensity of your relationship. So, it's important that you take this article with a pinch of salt and go for the cut and design that you and your partner like the most. If you're planning a surprise proposal, make sure you know what kind of cut your girl likes beforehand.
Which is the cut that you liked the most? Let us know in the comments below.
The following two tabs change content below.