7 Secrets Your Hair Is Telling You About Your Body!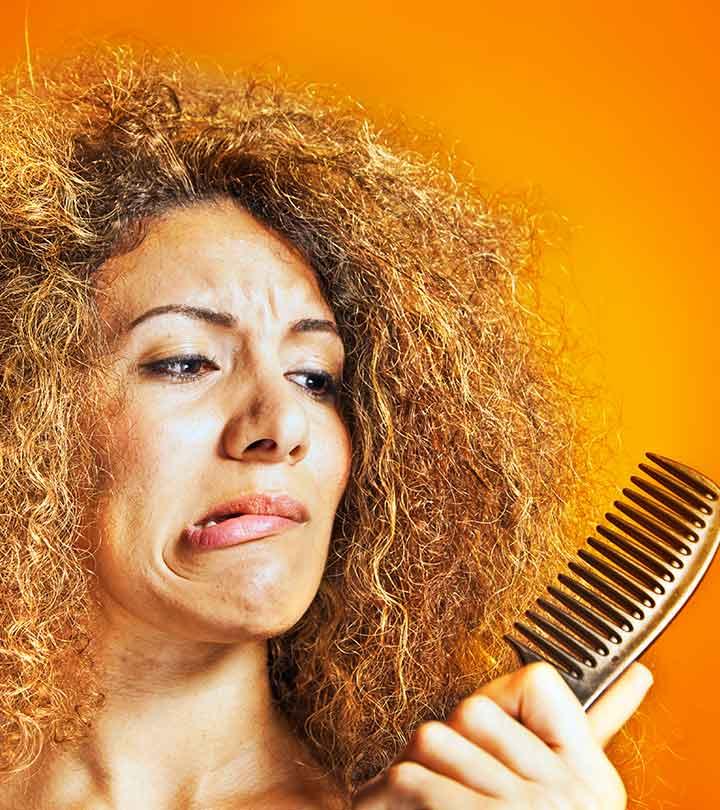 You may not know this, but your hair is a window to your health. Sure, dry and damaged hair means that you have styled it too much and that it's time to put those heating tools away and start taking better care of your hair. But that is not the only thing it indicates. Your locks are always desperately trying to tell you what is wrong with your body and it is time you listened to them. And if you don't understand what they're saying, we are here to help you decipher those messages. Here are 7 things your tresses are saying about your body.
1. If you're suffering from hair fall
Then it's likely that you may be suffering from PCOS, which is short for polycystic ovary syndrome. While a little bit of hair loss is quite normal (you can lose up to 50 to 100 strands a day), anything beyond that is an alarming sign you need to pay attention to. Hormone fluctuations caused by menopause, pregnancy, thyroid or diabetes and even flu can be responsible. So can be stress. Take multivitamins to cure this.
2. If you have scaly patches on your scalp
Psoriasis is the reason why you have those annoying scaly patches. It is an autoimmune disease in which your skin cells multiply way more than the normal rate, giving rise to patches. As a result, you may experience itchiness and may even be more susceptible to other skin diseases such as Crohn's disease and Lupus. If it the situation worsens and you're sure it's not dandruff, you must contact your dermatologist immediately and have it rectified.
3. If your hair is dull and lifeless
You might be dehydrated, which is why your hair lacks the shine and moisture. You may want to consider increasing your water intake to fix this. Another reason why your hair seems lackluster and brittle is because you are not eating right. What's on your plate can show on your hair, so you need to stay away from processed foods and instead choose fresh organic fruits and vegetables.
4. If you have yellow flakes in your hair
You may think this is dandruff but what it actually is – seborrheic dermatitis. Seborrheic dermatitis is a skin condition in which yellow, scaly flakes form in the greasier regions of your hair. The scaly patches can become loose overtime and leave yellow flakes all over your strands. Seborrheic dermatitis does not take place in isolation and may coexist with fungal infection of the scalp, which is caused by the overproduction of yeast in your hair. Quite a few creams and shampoos can fix this but make sure you consult your dermatologist before you use them.
5. If you have premature gray hair
Premature graying can be blamed on genetics but one of the other causes behind them is stress. Several types of research have established a direct link between gray hair and stress, suggesting that when you are stressed out, your hair follicles may not get the signal to absorb melanin (a pigment that is responsible for imparting color to your hair). Stress can be the result of traumatic incidences, which can consequently cause graying. Moreover, vitamin deficiencies can also be blamed.
6. If you're losing hair in circular patches…
That means you are battling another type of an autoimmune disease, which is known as alopecia areata. Risk factors for this disease include both stress and diabetes, which can trigger hair loss. The best way to treat this disorder is to get Cortisone shots in the areas in which you are losing hair. It is best to get this condition treated as soon as possible, and it can worsen and spread to your eyebrows.
7. If your hair is weak and thinning
Your diet lacks in protein in all probability, which is why your hair has become brittle, drier and thinner. Your hair is mostly made up of protein, so if your dietary intake of protein is lower than it should be, your mane is bound to be affected. You need to increase protein intake, which means gorging on a healthy dose of eggs, chicken, lentils, and cheese. And we're sure you won't mind gulping these down as most of them are healthy as well as tasty options.
So, these are the things that your hair has been screaming at you, and you have been ignoring for so long, hoping that your condition will improve with just a change of shampoo. The key to having healthy tresses is not only using the right products but also eating right and not taking the warning signs lightly. Make sure you get a full body check-up from time to time to rule out the possibility of internal diseases that may be affecting your hair.
The following two tabs change content below.