10 Fashion Trends That Will Define Your Winter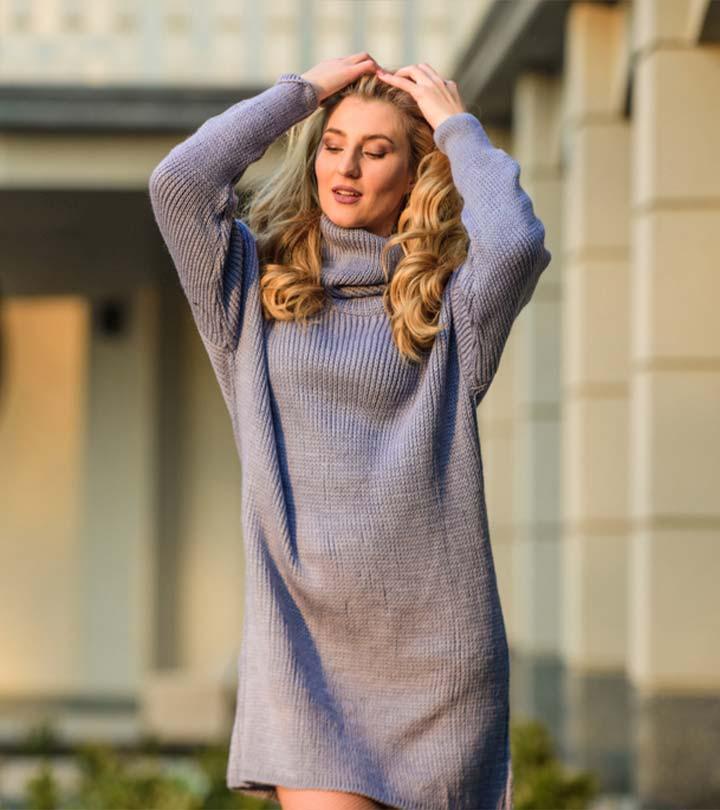 What are the signs that remind you 'winter is coming'? Well, for starters, it is the change in advertisements from prickly heat powder to cold creams, second is the apparent soothing temperature, and third is trying to remember where you stocked all your woolens last year! We all have that favorite jacket or sweater that we can't let go of, but other than that, if everything else feels outdated, we know exactly what you need to shop for.
If you are a fashion enthusiast looking for something trendier than a pullover to define your style statement, you are at the right place. We at Stylecraze made a list of winter trends that will make you look stylish through the season. Read on to know what they are.
1. Woolen Bodycon
Throughout summers, we enjoyed bodycon dresses that flaunted our curves the right way, and now it's time to get them in woolens too. The best part is, if you don't want to buy them, you can always get them knitted! It's time to revive the lacework and add the vintage buttons to your dress and make your look more winter-friendly. Also, you can knit yourself a matching woolen mask and stitch it to your surgical mask for making it the perfect winter party dress.
2. Fringing Dress
If you owned a fringe dress or bag, now is the time to show it off! Be it pencil skirts, cowboy pants, or even jackets, everything with fringes is so in this season. If you are looking for party gowns, make sure you get the one with tassels! It is an excellent contrast to all the simple monochrome dresses you have been wearing in the summers. You can also try different color variants with the fringes to add a unique look to it.
3. The Tie On Dress
Did you really think formals were out of fashion? Paris Fashion Week paved the way for collared shirts with feminine ties to make you look perfectly winter-ready. And not just shirts, you can even team it with an oversized jacket and skirt and see for yourself how amazing it looks on you.
4. Oversized Knitted Gown
Oversized is not just for your jackets and pullovers; it is for dresses too! You can either knit the dress yourself or get it from the store, and the best part is, it is the epitome of comfort! Just make sure you pair it with skinny jeans and let it flow way below your knee.
5. Balloon Dress
Remember a decade back balloon tops were in trend? Well, now it's time to revive that with dress sleeves. You can get yourself a really cute bodycon with balloon sleeves and a frilled skirt. You may think it's retro, but it is just what you need this season. Be it a Christmas party or just a winter picnic, this balloon dress is what looks best.
6. A-Line Dress
How about a dress tailored according to your shape? Classy, isn't it? Not only is it super comfortable to wear in winter, but it will also keep you warm without hunting for a jacket. The best part is, it is very cost-effective. All you need to do is get a woolen cloth and get it stitched according to your size.
7. Peekaboo Dress
Yes, winter is cold, but not cold enough to be out of fashion! Behold the coolest of all, the peekaboo dress! It has a small slit opening ideal for flaunting your necklace. Not only does it look trendy, but it also gives a curvier illusion, and that's exactly what we need!
8. Skirts With Suits
Even though it's not the first time you are seeing this, but somewhere down the line, it did get out of our minds. Instead of trying jeans and jackets all the time, how about picking your favorite A-line skirt and teaming it with a matching blazer. You can try skirts of different lengths and even get similar blazers stitched for them. The best part is, you can wear it to more than just formal events.
9. Cape Dressing
We believe only heroes wear capes, and you are among them! There is nothing as perfect as winter to help you flaunt your cape in style. If you feel it's too medieval, you can always customize it according to your liking. It can be as dramatic as you like with a bold collar or as simple as with sleeves.
10. Leather Jacket
It does not necessarily have to be genuine leather when we say leather. Faux leather is way more affordable and looks the same. Even though it's relatively common, a leather jacket never goes out of style. It is that thing that can stay in your cupboard for years, and you can wear it every winter without hesitation.
So now that you know what's trending this winter, are you ready to shop till you drop? Make sure you get really comfortable woolens that does not cause rash or discomfort of any kind. Also, store them really well and let them soak in the sun to get the unwanted moisture out. Happy winter styling!
The following two tabs change content below.