11 Fashion Trends You Need To Follow If You Want To Keep Up With iGen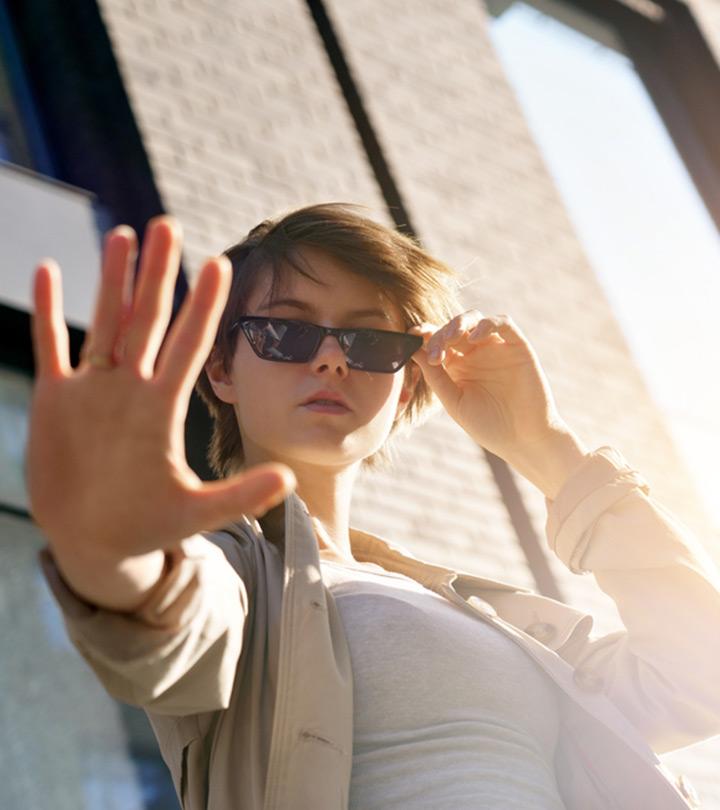 Every generation brings with it a new set of fashion standards that constitutes what is trendy in society. Naturally, this necessitates a shift to a newer, cooler wardrobe. People born after 1996 are classified as members of Generation Z (also known as Centennials) and have brought with them a bold fashion sense that sets them apart from their older Millennial counterparts. We can see a shift in current trends that are borrowing pieces from iGen. Read on to know them all!
1. Middle Parting
The distinguishing characteristic of the iGeneration is a perfect sleek middle parting. Middle parts are now all the rage amongst the TikTok stars since they are seen as youthful and help create a more symmetrical face, in contrast to the Millennials' preference for the side part.
2. Small Sunglasses
Small glass sunglasses, which were highly popular in the 1990s, are making a comeback. Gigi and Bella Hadid, are among other young fashionistas, who have made these sunglasses a signature part of their everyday street style. The best part is that it can be made to work with a wide variety of styles, from a gritty urban vibe to a more authoritative air.
3. Bucket Hats
Even though the bucket hat was widely panned as an unattractive summer staple just a few years ago, styles change quickly. As a matter of fact, this style of hat is now trending. Danna Paola, an iGen musician, and Netflix actor is just one celebrity fan of this laid-back, stylish summer accessory.
4. Cutouts
Cutouts are such a major part of the next summer of 2022's fashion that we had to bring it up. They can be in anything from a tank top, or swimsuit to a little dress. These days, cutouts on the side are all the rage. The iGen influencers are already rocking their own versions of the many cutout ensembles available.
5. Corsets
The corset is a garment that hasn't been worn for hundreds of years but is making a comeback. Corsets may now be worn with clothes as diverse as loose-fitting trousers and floor-length skirts thanks to iGen fashion. Simply pick the clothes that suit you best, and you are good to go.
6. Knitted Fabric
Centennials believe that knitwear is versatile enough to be worn all year round, not simply in the winter. The trendy girls of the iGeneration choose dresses with cutouts, shirts made of crochet, and trendy shorts. You may also use bright colors and patterns.
7. Baggy Denims
Skinny jeans are a staple in the Millennial wardrobe because they elongate the legs and slim the body. The iGen think skinny jeans are so last decade, despite their popularity for almost a decade. They have a penchant for slouchy, loose-fitting, and flared denim styles, such as mom jeans and slacks.
8. Baguette Bags
While shoulder bags have been around for a while, baguettes in every size, color, or material are currently all the rage. Instagram stars like Elite series breakout starlet Valentina Zenere, who often accessories her outfits with one of these bags, are among the many who have popularized this trend.
9. Platform Shoes
It would appear like platform flip-flops are making a comeback. They gained notoriety in the new millennium, but you may still look stylish while wearing updated versions. In addition, numerous fashion icons of the iGen, including Bella Hadid & Kendall Jenner, are sporting them.
10. Anything Y2K
iGen's fashion bible of choice, if we were to sum it up in a single word, would be Y2K, shorthand for a style popular in the late '90s. The iGen is responsible for the resurgence of Y2K fashion because they have a deep and abiding love for all things retro. You can see what's popular in terms of clothing on TikTok, such as velvet tracksuits and scarf tops. Fashions popularized by pop icons from the Millennials' formative years, such as Britney Spears & Paris Hilton, are once again making a comeback.
11. Recycled Clothes
The majority of iGeneration agree that major corporations should take responsibility for addressing societal and environmental concerns. These consumers are sending powerful statements via their own purchasing habits, which typically include the selection of sustainable textiles manufactured from recycled materials and the support of social justice-oriented companies. A lot of them choose to shop secondhand and avoid buying anything made of nonbiodegradable materials. It makes perfect sense since we're discussing a curious generation that came of age during the rise of social media and is accustomed to exchanging ideas and information casually and immediately.
So now that you know all the things that are coming into trend again, the bell-bottom jeans you had packed away can finally be worn again! Make sure you choose clothes that make you feel good and not spend more on what seems trendy. So what is your favorite iGen trend that is making a comeback? Let us know in the comments section!
The following two tabs change content below.