5 Foods That Will Soothe Headaches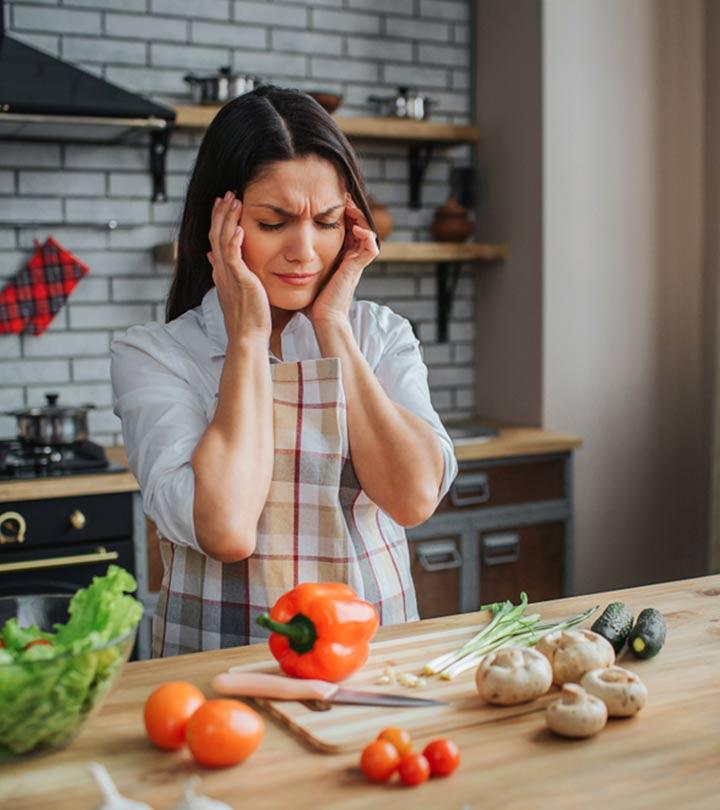 Another word for a headache would be discomfort. Ideally, a headache can be described as a pain which is felt right beneath the forehead or scalp, behind the upper neck or the eyes (1). We also know that just about anything can trigger headaches —weather changes, stress, inadequate sleep, changes in the estrogen levels, dehydration, not eating at regular intervals, exposure to direct sunlight, staring at the screen for a long time at work — all this and more (2).
And what do we do when the headache nightmare strikes us? We usually go about our usual routine: we eat something light, pop in a pain killer pill, switch off the lights, and lie down. But do you know that there are certain foods that can actually help suppress these headaches? Eating these foods can actually curb down the migraines and also restrict the factors that are causing it. Here, have a look at these Holy Grail foods that can provide you relief from headache:
1. Watermelon
One of the major causes of headaches is dehydration. What happens is that dehydration leads to a drop in your blood volume, and this reduces the oxygen availability in the brain, which in turn, affects the pain receptors (3). Therefore, it's always important to keep yourself hydrated by drinking lots of water and eating water-rich foods like watermelon. And if you can't get your hands on the melons, you can consider other water-rich foods like cucumber, carrots, celery, etc.
In fact, pack in your H2O every day by including this watermelon smoothie in your breakfast:
To prepare this smoothie, you'll need 2 cups of seeded watermelon, a cup of ice, a ½ cup of yogurt, a ½ teaspoon of shredded ginger, and a teaspoon of honey. Blend them all together and enjoy the drink.
2. Coffee
The java beans have been used to treat headaches for centuries. So, does consuming coffee actually help alleviate a headache? Turns out that yes, it definitely does. It's useful in treating the headaches that are induced by alcohol consumption (4). Consuming alcohol results in expansion of the blood vessels in our body which can cause exasperating headaches. The Caffeine present in coffee is a vasoconstrictor and helps alleviate the headache by reducing the size of the blood vessels back to normal.
However, please note that just one cup of coffee should be enough. Drinking coffee all day long will lead to dehydration because coffee is also a diuretic (5).
3. Spinach
Popeye's favorite food is actually a superfood! This green leafy vegetable is loaded with nutrients and also has a low calorific value. Just one cup of spinach provides you with 25 milligrams of magnesium. Studies have shown that regular intake of magnesium has the effect of reducing the problem of migraines by nearly 42 percent (6). It also has this pain-relieving property which helps fight the problem of headaches.
We understand that it's going to be tough for you to eat it in its raw form, which is why we suggest that you toss these leaves in a container, along with some pomegranate seeds, nuts, and cover them with a nice lemon dressing to create a magnesium-rich salad, or just throw them all in the blender along with a banana and have it in the smoothie way.
4. Plain Yogurt
We all know that the brain relies on calcium to function properly. If you find your head pounding, then it may be your body asking you to increase your calcium intake. For that, we suggest that you include yogurt in one of your meals, every day. Not only does yogurt have calcium, but it is also rich in riboflavin, a nutrient which is a part of the vitamin B complex family, that helps to reduce the number of migraines (7). It even helps the migraine medication work better. Have it in any form — plain, in the form of a yogurt smoothie or a parfait. All we know is that it's going to help you with your headache problems.
5. Ginger
This spice root which is a staple in every household in India is known to have high levels of anti-inflammatory and antioxidant properties. This spice blocks prostaglandins, a neurotransmitter that boosts inflammation (8). All these properties make it an ideal food for fighting headache. It even helps battle nausea issues which pretty much go hand-in-hand with the headache problem. Obviously, it's a spice and has a strong pungent taste and smell which makes it difficult for us to eat it in its raw form. Therefore, you should infuse the dishes you cook with it or use grated ginger as a topping on salads. Carrot ginger soup is our favorite way of having it.
Now you know that even foods can help you fight your headaches. It's all about eating right so that your body works in the right manner for you. Refrain from popping pills and hitting the sheet. Instead, include the above foods in your diet and stay away from the migraines and headaches. Is there any other food you'd want to add to this list? Let us know in the comment section below.
The following two tabs change content below.