Spectacular Galaxy Hair Ideas That Are Straight Out Of The Cosmos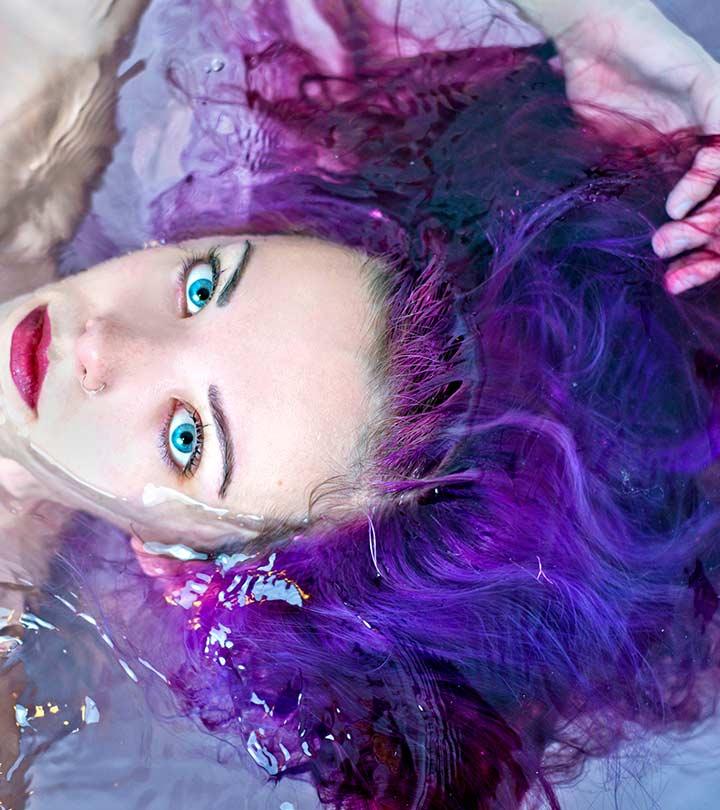 The sky never ceases to amaze any of us. We can't help but be overcome with wonder when we look at the beautiful warm colors at dawn and dusk or the dark colors and sparkling lights in the night sky. It would be an understatement to say that we are completely obsessed with the outer space.
It's no surprise then that anything to do with the outer space is almost always trending, both in art and fashion. From the galaxy print tights, dresses, backpacks, and snapback hats to the watercolor paintings and photoshopped images with a Galaxy overlay. But some people have gone one step further, combining art and fashion, to paint their hair in beautiful tones inspired by the planets, stars, galaxies, and nebulas in the cosmos.
These 20 stellar, galaxy-themed hair paintings will leave you in complete awe.
1. Blue Orion
This beautiful combination of blues and purples remind me of the night sky on a cold winter day. The dark roots create a beautiful shadow effect that reinforces the space theme. The artist has meticulously added some purple-pink streaks in the lower layers to make all the colors pop.
2. Galactic Locks
This chic bob is a perfect mix of galactic colors. If your natural hair is dark, there is no way you can go wrong with Galaxy hair because once your roots start to grow out, they will just complement the look with a shadow effect.
3. Twilight Fusion
Twilight skies never fail to disappoint. This mesmerizing combination of twilight-inspired colors can leave anyone awestruck. The roots are a dark purple and take on warmer tones of pink as you move down the length of the hair. This style is perfect for anyone who appreciates a good galaxy root melt.
4. Blue Galaxy
Blue-based galaxy styles are on top of our favorites list. This A-line bob incorporates a blue base and smooth transitions into purple and lighter shades of blue. This amazing look is perfect for anyone who has straight or fine hair. The style adds dimension, making the hair look more voluminous.
5. Interstellar Nebula
If you love blue as much as we do, there is no way you won't love this gorgeous root melt. The purple roots transition smoothly into a deeply pigmented blue. This amazing color can look just as spectacular on curly hair as it does on straight hair.
6. Cosmic Rainbow
Under coloring is one of our favorite techniques when it comes to dye-jobs. If you want to spruce up your dark hair, this might be the perfect way to do it. We also love when artists incorporate shades of green in galaxy 'dos. If you fell in love with the oil-slick trend, but are leaning more toward galaxy hair, this style seems like the perfect compromise.
7. Carina Colorburst
Who said galaxy hair was only for those who have cool tones? This berry-toned galaxy style can look amazing on cool and warm skin tones alike. The dark purple roots seamlessly transition into a gorgeous shade of magenta, adding depth to fine hair. The colors in this look are great for pulling together winter looks.
8. Intergalactic Space Buns
How adorable is this look? Space buns and galaxy hair go hand-in-hand, and this is the best combination of the two that we've seen so far. If you have light hair, purple roots make for the best base when you want to try out the galaxy look.
9. Spectral Prism
This look is straight out of Pink Floyd's cover art. It is sleek, flawless, and all things chic. The A-line bob creates the prism effect that has us falling completely in love with the look. This is the perfect Galaxy 'do for those who have fine, sleek hair.
10. Galactic Twists
If you wanted to get the space look but don't want to go beyond highlighting your hair, this is the perfect look for you. The teal blue combined with a black base come together to create a perfect rendition of the starry night in hair form.
11. Magenta Flare
Here's another one for those of you who love warm tones. The red tones in this look make it look so much like a nebula in flare state. The artist has meticulously added deep purple tones at the roots to create depth and dimension.
12. Cosmic Arc
While most purple and magenta combinations incorporate root melt techniques, this one uses highlighting to create the space effect that we so crave. The deep purple base is highlighted with light magenta to create a dimensional short style that is simple, yet dynamic.
13. Cosmic Aqua
This beautiful blend of colors looks like water in space. The look incorporates varying shades of blue and aqua. The layers and colors are perfect for fine hair because of how meticulously it adds volume and depth.
14. Black Hole
We are huge fans of hidden under colors. This look is perfect for those of you who love to be subtle. The space colors are completely hidden when the hair is worn down. Something about this style reminds us of the mysterious nature of black holes.
15. Purple Whirlpool
This purple style incorporates a subtle ombre, starting off with a deep purple that transitions into a deep violet. The simple style with the vibrant color is sure to have heads spinning all the time.
16. Midnight Poem
Is there any winter look out there that is better than this one? We think not! The dark roots gorgeously blend into a deep purple. The curls add volume and mystery. This color is more than capable of pulling together any winter look.
17. Meteor Shower
Here's another one for women who love simplicity. The fine electric blue streaks in jet black hair look like meteor showers at night. The cool colors and the a-line bob come together to create a look that is cute and chic.
18. Stormy Night
We love how these galaxy styles seem to fit perfectly with winter fashion. This look incorporates shades of blue, gray, and black, all of which remind us of the stark winters. Let the storm rage on, because the cold never bothered us anyway.
19. Lavender Dream
Lavender is one color that can never fail to get us swooning. This beautiful combination of black roots fading into lavender and then aqua took our breath away as soon as we laid eyes on it. This is definitely a style that can be rocked all year round.
20. Pastel Supernova
We all know someone who loves pink! This pretty root melt starts off with a deep purple and fades into one of the most beautiful shades of pastel pink. There are added tones of periwinkle to add dimension and volume.
Feeling inspired yet? If this didn't get you hopping onto the galaxy hair train, we don't know what will. Tell us about your next big hair adventure (or space adventure) in the comments section below.
The following two tabs change content below.