5 Ways Ginger May Be Able To Help With Your Weight Loss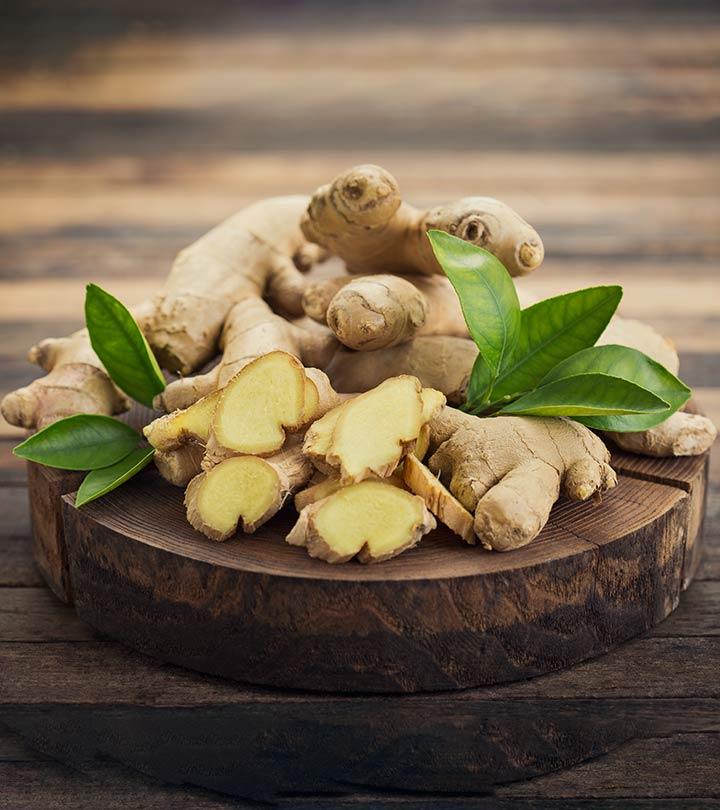 We have tried every diet under the sun to burn the fat in our body and lose weight, but it all goes in vain. Well, that's the story of our lives, right? Following the herd that picks up the newest diet fad on the block to shed some kilos and burn fat isn't always a good idea. Sometimes, the answer lies in simple things. And in this case, it lies in the roots — we are talking about ginger.
Since the beginning of the Ayurvedic time, ginger has been regarded as a miraculous root that has a myriad of health benefits (1). If there was any panacea in medicine, ginger root would be it. Its healing and anti-inflammatory properties make it a great home remedy to treat several health ailments (2), (3). And to add to that, the ginger root has the potential to burn the stubborn fat in your body to help you lose weight. So, we are quite gingered to know how to burn that fat! Here's how ginger root can be your best friend in your journey of weight loss:
1. Ginger Water Helps One Detox
Let's begin the weight loss with a detox. Ginger has the power to get rid of the toxins from your body. It doesn't happen overnight, but over time, ginger does work wonderfully to fight germs, inflammation, and other cancer-causing molecules. You can either mix ginger with lemon and water or you can try the basic ginger and water concoction. To make the ginger water, take a chunk of ginger root and add it to boiling water. Let the mixture boil for a while till you obtain a ginger tea. Drink this every day. Studies show that ginger has the ability to suppress hunger and keep you feeling full for longer (4). But remember not to consume more than 4 grams of ginger in a day.
2. Ginger Busts Belly Fat
In addition to general weight management, ginger also actively works to burn the pesky belly fat. Unlike the rigid core workouts, ginger treats the primary cause of belly fat — hormonal changes, overeating, indulging in junk food, and low physical activity. As a natural appetite suppressant, ginger curbs the urge to binge eat. So, you'll really not crave that burger anymore. Another factor that increases the fat in our body is stress. Increased stress levels lead to an elevated level of blood cortisol, which, in turn, leads to weight gain, making it hard to lose belly fat. So, ginger becomes your knight in shining armor and brings back this hormonal imbalance in tune (5).
3. Ginger Lowers Cholesterol Levels
This root has a remarkable ability to lower the cholesterol levels in the body. It acts upon the hepatic and serum cholesterol levels. It not only prevents the absorption of cholesterol but also converts the already present cholesterol to bile acids. This spice also increases the secretion of bile juice, which is great to break down the fat (6).
4. Increases Gastric Mobility
For your body to be free of bloating and constipation, it is of utmost importance for your gastrointestinal tract to function smoothly. Studies have shown that ginger catalyzes the rippling movement in the gastrointestinal tract to help in the movement of the food. Therefore, it aids the process of digestion (7).
5. Boosts Energy Levels
The more you move, the more you burn. If you think you can melt away your belly fat miraculously by just sitting, then enlighten us about this superpower you have. One of the main reasons that fat accumulates in our midriffs is because there isn't any physical activity to keep the fat burning. Ginger stimulates the energy levels in our body, making us less lethargic and more active. That doesn't mean you drink ginger tea all day. Limit your consumption to 4 grams a day. Also, be wary of ginger consumption if you are pregnant.
How To Add Ginger To Your Diet
• Ginger Infused Water:
There are a lot of infusions that work great for weight loss. All you need to do is add some ginger, a slice or two of lemon, and some mint to water. Boil the concoction to derive the flavor. Cool and sip on this drink all day.
• Ginger Biscuits:
We all love some biscuits and cookies with a cup of tea. So, why not take the healthier option of ginger biscuits? Make ginger biscuits with natural sweeteners like honey and you will be inching closer to your weight loss goals.
• Ginger Chutneys:
Ginger is a herb that is used in most Indian dishes. Add some chunks of ginger to your chutneys or curries. Mix it up with rice or bread. The subtle yet refreshing taste of ginger will do wonders for your body.
• Ginger And Meat:
Ginger compliments almost all meat preparations. Sprinkle it on broiled fish or brew it in the chicken curry, it's your call. It not only aids digestion but also adds flavor.
We're all decked up to incorporate ginger in our diets to burn that belly fat away. How do you plan on using ginger to lose fat? Tell us in the comments below.
The following two tabs change content below.

Latest posts by Anjala Farahath (see all)

Anjala Farahath
Anjala Farahath is a 23-year-old tall mess under a hijab, trying to fit into the world of crop top while traveling nonstop, converting her passions into her job, and occasionally soaking in the raindrop. Do you think she needs to stop?