10 Hair Hacks You Wish You Knew Sooner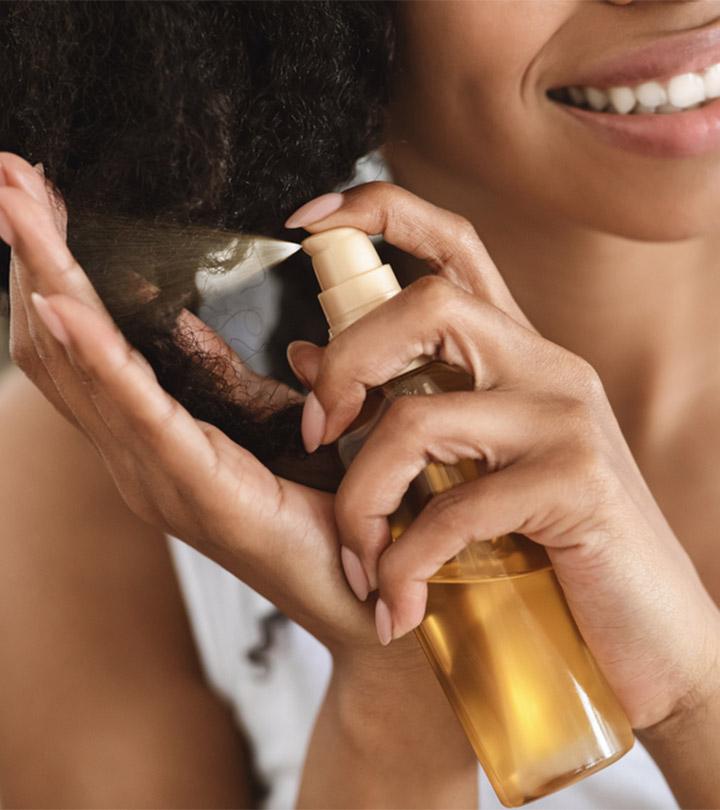 How important is your hair for you? Well, we know there are very few things in a person's life that they love more than her hair. When we say hair, it does not have to be long and sweeping the hallway like Rapunzel. Any length, texture, and color that you have nurtured carefully is the one you could never bargain for. When it comes to taking care of those lovely locks, we do the compulsory combing, shampooing, and conditioning and manage to keep our hair just presentable. However, even after all these, your hair can be a mess when you step out wanting to look your best. To keep such unforeseen disasters at bay, we at Stylecraze made a list of some helpful hair hacks that work perfectly for every kind of hair. Knowing these, you can transform any kind of day into a good hair day! Read on to know them all.
1. Dry Shampoo For Oily Fine Hair
Fine hair comes with lots and lots of greasy problems. You can shampoo your hair in the afternoon and find it sloping down by evening. If you have an event to attend to and shampooing your hair immediately is not an option, you can always reside to dry shampoo instead. It will give volume to your hair and take away the excess oil from your roots.
Pro Tip: If you run out of the spray and have to rush; you can count on baby powder instead. Simply take a pinch of powder and brush it on your scalp with the help of a soft bristle toothbrush. Make sure it does not create white dabs on your hair. Once the oil is soaked, brush it off gently while keeping your hair down.
2. Don't Use Conditioner In Hair Ends
Did you know there's a proper method to apply conditioner? When applying conditioner, concentrate on your hair ends only. You have to avoid the scalp area at all costs as it may be the root cause of dandruff accumulation.
3. Brush Right
There is also a proper way of brushing your hair! For starters, get in the habit of cleaning your hairbrush regularly. While you comb your hair, do not pull on tangled hair. Use a serum to make the detangling process more accessible. Also, once it's smooth and silky, brush your hair while keeping your head down. It will give a natural bounce once you flip your hair back.
4. A Fuller Ponytail
If you have appreciated the Ariana Grande look, you couldn't have resisted trying a high ponytail for yourself. If you are not satisfied with the volume, the secret is to tie two, one on top of the other. It works like magic in making your hair look more voluminous.
5. Save Bobby Pins
You must have owned millions of them by now, but when the time comes, they disappear in thin air! Bobby pins work perfectly in keeping your hair in place. Be it holding your ponytail or keeping your hair bun intact, nothing comes close to the perfection of a bobby pin.
6. Brush Your Hair In Sections
If you have been missing the volume, the one thing you can try to do is make a few sections of your hair and then start brushing them out. Not only does it preserve the volume, but it will also help you detangle it easily.
7. Eyeshadow Trick
It's true coloring your hair gives depth to it and makes it look more voluminous, but if you are looking for something more temporary, your eyeshadow can do the trick. Simply match the shade nearest to your hair and apply it to the area where it creates a shine.
8. Blow Dry Your Hair Roots
Instead of starting at your tips, blow dry from your hair roots. The best way to dry your hair is, gently rub a cotton t-shirt and soak the water from your roots. Then shift to the roots and soak the extra water. After the water stops dripping, use the hairdryer to dry from the roots to your tips.
9. Use Lukewarm Water For Your Hair
A steamy shower might feel comfortable on a cold day, but they're really not that great for your hair. Hot water can strip vital oils off your hair, leaving it dull and dry. Using lower-temperature water will keep your hair healthy without giving you shivers.
10. Use Toothbrush For Flyaways
Flyaways have always been a bane for good hair days, and even though this trick is old, combined with hairspray, it works wonders. Simply brush away all hair from your face and spray it with hair spray to make sure it does not move, even with the strongest gush of wind.
So now that you know what you need to flaunt perfect-looking hair, walking out without needing a touch-up from saloon won't be a problem anymore. Make sure you take proper supplements and protect your hair from direct sunlight and pollution. So who is in for trying all these tricks to give a glamorous look to your hair?
The following two tabs change content below.