14 Hair Styling Terms To Know Before You Hit The Saloon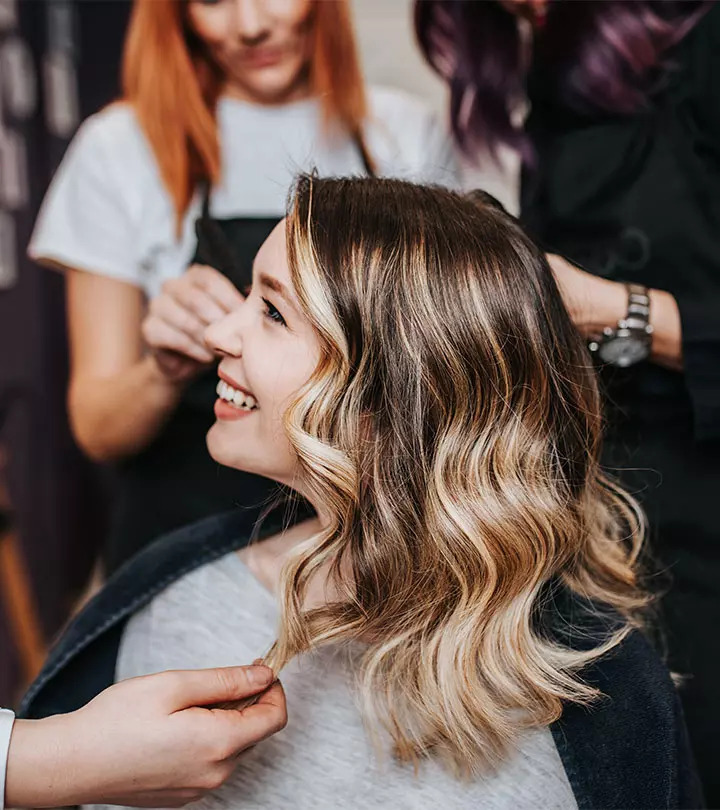 Have you ever been totally clueless about a hairstyling expression that was said to you in a salon? Hairdressers have their own terminology to explain simple words, but honestly, we commoners sometimes we just don't get them. We nod anyway, and get something totally different from the one we asked for! Salons are a whole new world when it comes to hairstyling words. While we make easy understanding of words, they have a posh and elite way of defining each thing. Now, before you say yes to something you are unsure of, we at Stylecraze made a list of some important hair stylist terms and their meanings. Now, not only will you know exactly what your hairdresser is referring to, but you will also impress the people around with your knowledge of hairstyle and fashion!
1. Base Color
You must have guessed this right. The base color is the tone of your hair that makes a base for the other hue to be painted on. If you are getting platinum and purple highlights, platinum is your base color, and purple is your highlight. The base color can also be your natural hair color if you don't have to apply bleach on it. Coloring your base makes your visit to the salon quicker as hair grows faster from your base and needs to be color corrected in weeks.
2. Balayage
The French word means to paint in a sweeping motion. Your hairstylist basically sweeps the highlights on your hair to give it a more natural finishing. The results look way more sun-kissed than the obvious streaks. One advantage of balayage is that the regrowth lines are less noticeable, and you can delay your trip to the saloon without any stress. This technique is to make your hair color look smoother and natural instead of popping out too much on the eyes. Next time, ask for one yourself before you walk out of the salon post a bomb hair dye.
3. Ombre
This is kind of similar to the gradient monochrome or color blocking trend in fashion. It's a play of shades of the same color where the color shades vary from light to dark or dark to light for an edgy yet classic look. This is highly trending, and you must have caught a glimpse of it without knowing what it is called. You must have seen gorgeous dark hair on the roots and blends into a lighter shade towards the tips. The more refined version is sombre, where the color contrast is less severe.
4. Babylights
Babylights are very delicate thin highlights that are applied to the hair strands in small sections. It adds a shine to your hair without attracting much attention and gives a natural look to it.
Pro Tip: As simple as it sounds, get a professional to do it as the highlights' placement has to be very strategic to look natural and blend in your hair.
5. Blunt Cut
Did you admire the flawless cut where the lair falls straight in a line? That is called a blunt cut. It mostly suits straight poker hair, so if you want to get the feel of it, you can straighten your hair and then get the haircut along with cute bangs.
6. Chunky
It is called chunks instead of taking the hair in delicate strands if you get random uneven strands. It can be used for highlights or coloring the whole hair. It creates a more messy and natural look. Only professional hairstylists can do it with confidence. It's all about that trimming skill where they gather a chunk of your hair and trim out the uneven hair that is standing or poking out. They know exactly which strand to chop off and which one to leave for brilliant end results.
7. Wispy
Wispy includes your hair ends pointing towards different directions and giving volume to your hair. This mainly suits curly and wavy hair. You can also style your hair in that fashion to keep them short till your shoulders and increase the density of your hair.
8. Disconnected Layers
These layers are not like smooth flowing hair. They are cut at different levels using a razor and it gives your hair a lot of movement and texture. If your hair is naturally thin and you want to define the density, you can cut separate layers to make it look fuller.
9. Asymmetrical
Not everything looks good in full symmetry! Haven't we all drooled on the pixie where one side is longer than the other? It defines your face cut and gives you a stylish, edgy look that goes with every outfit. You can experiment with different styles like an asymmetric undercut, shag, bob, etc.
Pro Tip: It may sound weird, but if you have OCD, you should stay clear of this haircut. It will bother you not to have your hair in symmetry, and you will eventually chop it up in a pixie cut.
10. Dusting
Dusting is when you love your look, and you stick to the haircut by just getting rid of split ends and damaged hair. It will keep your hair healthy without changing the cut. You can also call it a clean-up of your existing hairstyle if you are not in the mood for fancy haircuts.
11. Lob
Lob is when the bob cut reaches your collarbone but still has a classic signature look. The word is simply a shortened version of a long bob. It allows more texture and has come to be a favorite celebrity haircut. This style is perfect for women who are undecided about keeping their hair short or long. This is the perfect in-between hairstyle to rock without feeling guilty of any extra locks being chopped off.
12. Fringe
Fringes are bangs that you cut to cover your forehead. It can be worn in different ways, and the length varies according to your face cut. It is the easiest way to change your look and suits people with large foreheads.
Pro Tip: No matter how tempted you are to cut it yourself, don't! Many things can go wrong, and you definitely don't want to experiment with the hair in front.
13. Pixie
If you dare, you dare! Pixie is the shortest of haircuts you can give yourself and definitely the cutest too. It takes years away from your face and adding bangs to it suits the cut the most. There are many ways to style a pixie, and once you are comfortable with it, you will never go back to long hair.
14. Undercut
The undercut is when there is a different length of hair on top and at the bottom. It is mostly done in pixie and mushroom cut when the layer at the bottom is shaved crisply while the top layer is allowed to grow. A lot of side-undercut hairstylists are making the rounds where the left or right side of the head is shaved while the hair from the top falls on that side. Covering just enough for that hard rock vibe. You can also pull and tie it up for an androgynous man-bun look.
So now that you know all about the terms and what they mean, you are surely going to be your hair stylist's favorite. There might be many more new terms to you, and the safest way to go about it is to ask! No one is supposed to mug up the terms before entering the salon. Do you have a funny experience related to the hairstyle terms? Let us know in the comments!
The following two tabs change content below.