12 Hairstyles That Are Made For One-Shoulder Dresses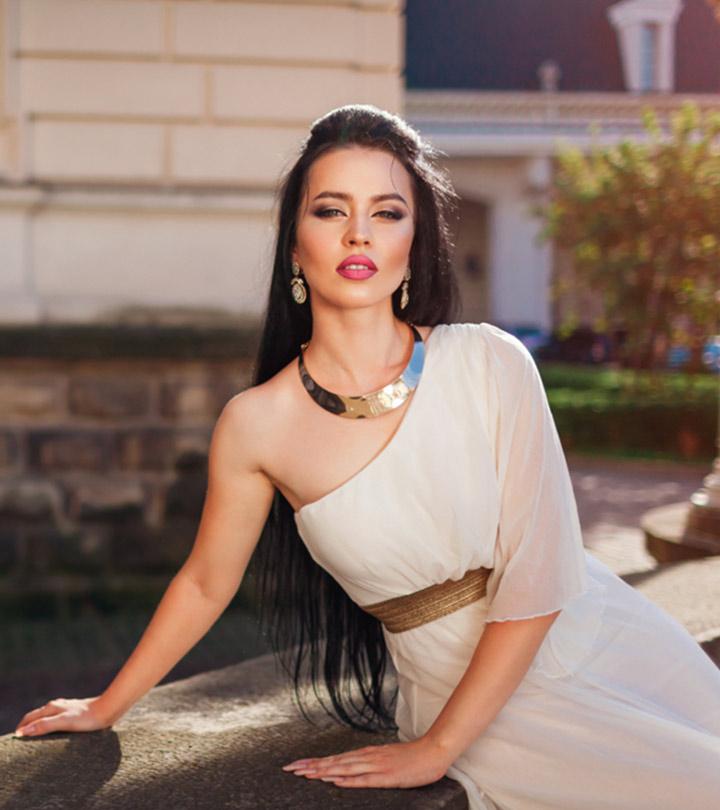 Every woman deserves to have a one-shoulder dress in her wardrobe. Who wouldn't want a gorgeous dress that plays peek-a-boo with the collarbone? But the problem with one-shoulder dresses is you need to wear your hair right, so that it doesn't ruin your style. But how do you style your hair, so it complements your one-shoulder dress? Well, we are here to help. Here in this article are a few hairstyles you can experiment with that will make your outfit look amazing. Read on!
1. Snatched Topknot
Like hair updos? We have something you will absolutely love! Put your hair in a ponytail and brush it back until it's entirely down. Next, make a high, lifted ponytail at the crown of your head. Put in bobby pins at the base of your twisted ponytail and pull it firmly until it begins to twist around itself. You can use a toothbrush and your preferred hairspray to tuck in any stray baby hairs around the outside of your hairline.
2. Mermaid Braid
The gorgeous mermaid braid hairstyle demonstrates how to draw attention to your dress's neckline by keeping all your hair on the same side as your sling. Make sure you side your hair on the same side as the shoulder patch to make it look perfect.
3. Low Bun
Wearing your hair in a low bun that is styled to appear longer is a great way to show off your neck and shoulders in a one-shoulder dress. In addition, you can try accessories to weigh down your hair and make it look beautiful.
4. Minimalist Low Ponytail
To do this hairdo, you need to apply hair gel to your hair from root to tip. Now, secure it with an elastic and gather your hair around the base of your neck. Next, make a crisp, straight parting using a comb. If you use more styling products on your ponytail, the stray hairs will be better able to stay in place.
5. Undulating Waves
An elegant hairstyle is not necessary for every special occasion. Without sacrificing any of the ultra-glam appearances, these long, soft waves may give your look a smooth, casual look. The bouncy and beachy look, may be achieved with a roller set.
6. Ponytail
You can go for a gentle, cascading style, such as this side-swept ponytail, to complement the outfit with a single, billowing sleeve. Wrap the base of your elastic band with a 1-inch portion of hair first from the rear of your ponytail, being careful to hide any ties or pins.
7. Curly Waves
Need to know how to make your natural curls seem good with a show-stopping one-shoulder dress? Well, we are here to help! When the garment is truly breathtaking, you want to draw attention to its exquisite intricacies. The chest, back, and neck can all be appreciated when worn in this style.
8. Undone Bun
If you're in a rush to get ready, you may get a soft, romantic appearance by using a flat iron to create S waves in the portions of your hair that frame your face (from the ear forward).
9. Ballet Bun
We like the carefree airiness of this embellished ballerina bun, thanks to the solitary strand of hair that peeks out from above the dress's sleeve. This is relatively simple to do. Make sure you have many pins and spray to keep the hair in place.
10. Diagonal Parting
Changing your hair parting might be an easy way to highlight your one-shoulder dress. If you want to show off your skin and collarbones, part the hair on the side of your clothing where there is no strap.
11. Toss-Up
The flexibility of a half-up, half-down hairdo cannot be overstated. Cover or reveal as you please with a simple flip of the hair.
12. Hair Bangs
Making the fringe the focal point of the look is only one of the numerous advantages they bring. You only need a brush if you want to style your bangs quickly and easily. You can go anywhere wearing your fringe with an updo and some eye-catching earrings.
So now that you know how to style your hair with your one shoulder dress, nothing can stop you from looking like an absolute diva. What is your favorite hairstyle to go with your dress? Let us know in the comments section!
The following two tabs change content below.