10 Pieces Of Advice That Can Help You Hide Your Belly And Side Fat Under Your Clothes
They say you should exercise and eat right to get a flat tummy and look your best in your clothes. We say chuck that. Let's do some smart work instead of hard work and make ourselves look good despite the flaws we have!
How, you ask?
Well, by intelligently hiding those flaws, of course! Don't think of your wardrobe as your enemy that highlights a flabby belly. Think of it as an armour that shields it and makes it almost invisible! With the right style tips by your side, you can hide your belly and side fat and look as fabulous as any Bollywood diva!
Here are 10 invaluable fashion tips to help you do just that:
1. Wear Loose Dresses
You might look at a bodycon dress and think it'd be amazing on you too (like it is on the model), but tight clothes like these might often turn out to be a disaster! Loose, flowy clothes are your best bet as they completely hide tummy fat and instead highlight those curves you want to be highlighted. You could layer, too, to give yourself a slimmer profile. Stick to single colours even if they are in pastel shades.
2. Go Vertical
Horizontal stripes might be the rage, but you should steer clear of them as they'll make you look broader. If you want in on the stripe trend, go for vertical stripes. These create an illusion of both slimness and height. However, bear in mind the width and frequency of the stripes you choose as stripes that are too wide can make you look bigger. Narrow stripes are safer. Black, blue, and white should be your top picks in colour!
3. Highlight Your Plus Points
Do you have long legs or a killer cleavage? Then flaunt them as much as you can and steal the attention away from your belly. The good thing is classic wardrobe essentials can help you do that! Items like deep cut blouses or black dresses, pencil skirts, and trousers can all help show off your plus points without taking away the comfort factor.
4. Opt For Longer Lengths
While wearing dresses or skirts, pick out hemlines that at least reach your knees. Even maxi lengths will look great on you, and you can wear them in bold patterns if you want! Large flowers are what we'd recommend. Besides, another thing you should keep in mind when wearing dresses is to choose fit-and-flare or high-waisted ones, as these will hide problem areas and allow you to experiment with colours!
5. Stick To Solid-Coloured Tops
Whether you're stepping out in a t-shirt or attending a boardroom meeting in a blouse, try to stick to monochromatic tones only. The advantage here is that solid-coloured tops not only slim down your waistline but give you the chance to experiment with to your heart's desire! For example, a classic white shirt will look amazing with embroidered jeans or geometrically patterned leggings. Even layering is easier on single-hued tops!
6. Invest In High-Waisted Pants
High-waisted pants have been doing the rounds lately and we can see everyone – from Deepika to Kareena – flaunt this trend. Fortunately, this is one trend you can safely copy despite your belly size! High rise trousers and jeans can smoothen out your belly and side fat, making them practically invisible. Our suggestion is you buy a pair in a thick material and dark shade as it's more effective in downplaying flaws.
7. Ditch Low Rise Bottoms
If high rise pants are what you should invest in, then low rise ones are what you should throw out! Oh, and add skinny jeans to that too. The perfect jeans for you are those that rise high and are straight in pattern. However, accessorizing your jeans with belts can be tricky as your waist comes into question. It's best to go for belts with small buckles in this case!
8. Make Flowy Tops Your Best Friends
These should be wardrobe staples for you if you're heavy on the belly. They can completely camouflage the fat in this area, so you don't have to worry about it being visible. However, don't make the mistake of choosing a size that's too large for you as that'll only make you look bigger!
9. Step Out In Skirts
Whenever you have an occasion coming up that calls for a dress, ditch the dress and wear skirts instead. Pencil skirts in dark shades made of thick material automatically slim down your waist in the simplest fashion! Moreover, even flared skirts can make your belly less prominent and give you the chance to play around with bright colours and patterns as long as they are high-waisted.
10. Layer With Cardigans
Dress, skirts, pants, jeans – no matter what you're wearing, a cardigan will look good with all of them! Long, knitted cardigans will effectively cover problem areas as long as you wear them open. However, don't go for cardigans with large pockets as they can direct attention to your waistline.
Looking for something more? Wear a corset or compressive underwear to give your waist a super-slim appearance! Otherwise, these tricks will do you good regardless.
The following two tabs change content below.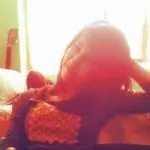 Latest posts by Tanya Arora (see all)