13 Home Alone Christmas Ideas For Remote Workers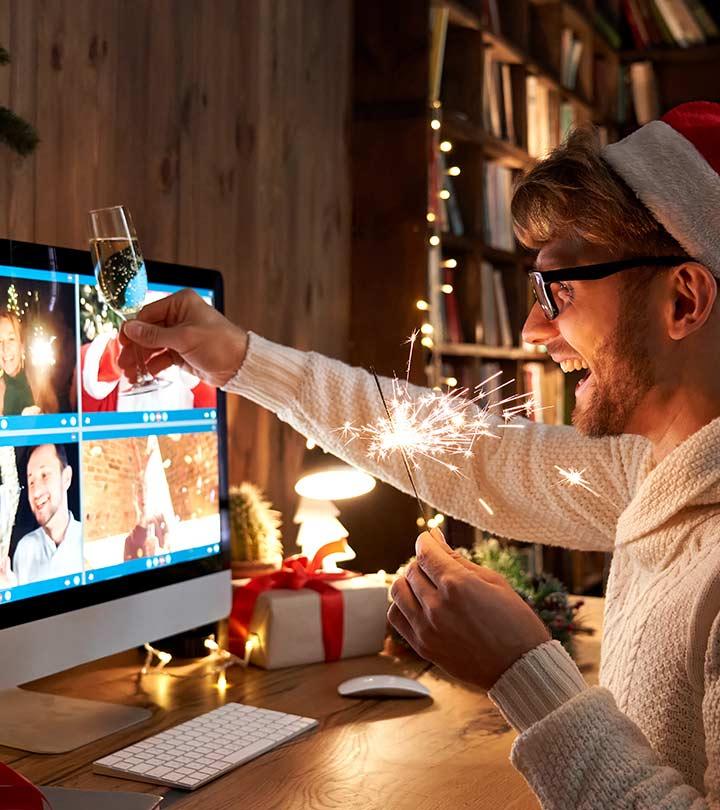 What are we waiting for – Christmas?! It's that time of the year when this sarcastic pun actually means something! After a long year of endless Zoom calls, meeting people through screens, and carrying the weight of a mask on our ears, we have finally reached the time where we can put our work aside and spend quality time with our loved ones. Even though times have changed drastically and we can't imagine an office Christmas party with hundreds of people, we sure can make Christmas memorable in our own way. So if you are home alone and celebrating Christmas virtually, we have some cool ideas to make Christmas extra fun and enjoyable for you. Here are the most innovative celebration ideas that will keep the party going while keeping you safe! Read on to know what they are!
1. Virtual Pajama Party
Let's be honest, all year round, you were dressed in pajamas under the formal shirt and tie during your team meetings! To bring a twist to it, keep the theme of your Christmas party – Sleepover! You can ask your team to join the virtual meet in their favorite pajamas, and to make it even more fun; you can do a ramp walk in turns. It is perfect to ward off all the stressful work tasks that kept all of you on your toes. One of the best relaxing ways to spend a more relaxed time with your co-workers. The calming energy of a pajama party is enough for you and your colleagues to recharge for upcoming projects.
2. The Christmas Cake Delivery!
Even though your colleagues are working from their hometown, it doesn't mean you have to miss out on eating the Christmas cake together! You can pack a dry Christmas theme cake or cookies and post them to their address before Christmas. Make sure they don't open it before the virtual meet. Once they open the link, you can celebrate together with cake!
3. Christmas Tournaments
Be it real or virtual; games are always welcome. You can organize simple games that help everyone participate, like- Handmade Christmas muffins or the most innovative Christmas tree! You can even arrange a small seminar on how to knit cute Christmas stockings!
4. Virtual Secret Santa
We have all played secret Santa in the office, but who knew how fun it would be to play it online! Ensure the organizer collects the names and addresses of everyone who is playing and randomly distributes them to the Santas. It has to be done so that the gifts are delivered by the 20th, so everyone gets a surprise on Christmas!
5. The Online Charity Drive
A virtual casino is what will make everyone attend the party. It will keep your guests engaged and raise money that you want to give for charity. Make sure everyone is encouraged to join and play for the charity home of their choice. This is a good drive to engage your team for better camaraderie and a sense of community during all the festivities. There are many streaming sites that can help you do that. You can ask your colleagues to arrange not only money but anything like old clothes, extra or old furniture, blankets, etc. for mass donation.
6. Card Making Contest
One thing we absolutely love about Christmas is the Christmas cards! Just because the world has gone virtual doesn't mean we can't get real Christmas cards! Make sure you design as many cards as your team members and mail them to their individual addresses. They can collect all the cards on Christmas day and decorate them on their Christmas tree background.
7. Holiday Trivia Showdown
How much do you really know about Christmas? This game is always interesting as no matter how much you celebrate it year after year, there is always something new that you learn about it. You can either play it in groups or win the prize single-handedly!
8. Guess The Christmas Tune
Christmas carols are one of our favorite things about Christmas. This game requires the least of arrangements. Only the ones participating have to name the song by listening to the music. You can also mute the calls and keep the chat on to make sure the music is loud and clear for everyone.
9. Carole Karaoke
What's Christmas without singing? Make sure you organize a full-blown session of karaoke where your whole team participates in singing. Just for fun, you can also record the song and put the team's pictures on the cover. Maybe gathering in person isn't possible for a singing group session, but a virtual one is no less fun. This might be a fun activity to record and post on your company's page to show the pillars behind your company. Way to interact with your audience!
10. The Christmas Filter
Filters have their own way of making us look good, and when it comes to Christmas filters, it's always fun. Imagine your boss picking up the Zoom call with a red nose and antlers! You can download various apps to give you a complete Christmas feeling even when you are away.
11. Invite Online Carolers
If you love Christmas carols, but you're not ready for a full-blown karaoke session, leave the singing to the professionals by hiring a virtual caroling troupe. Host a caroling concert, or have carolers pop in when you're transitioning from one activity to another.
12. The Rock Concert
Just because you are celebrating it remotely doesn't mean you can't rock the party. Depending on the budget, you can invite a rock star to play for your company, and you can even suggest and dedicate songs that you like. How cool is that!
13. A Classic Christmas Movie
Instead of watching it on your own, how about you watch it with your whole team! Put the movie that most people like and play it on a shared screen so you know everyone can have an excellent movie time even if you are far away.
So now that you know how amazing Christmas can be even if you celebrate it remotely, we can enjoy the festival and keep safe during the pandemic. Make sure you tell your friends and colleagues to come online on time to have the perfect Christmas blast. The more, the merrier! Merry Christmas!
The following two tabs change content below.