6 Homemade Face Packs With Vitamin E Capsules For Beautiful Glowing Skin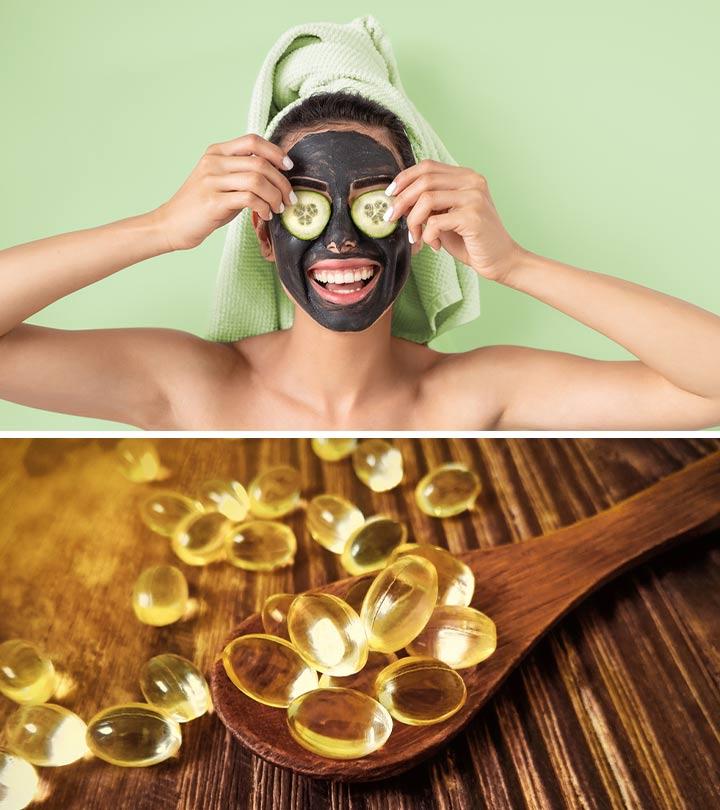 If you are new to skincare and seek advice, people from diverse age groups will tell you all about ingredients that have worked for them. Some will even share tips on the benefits of adding a vitamin E capsule to your homemade face pack. The skin readily absorbs the fat-soluble antioxidant vitamin E and provides rapid protection against free radicals (1). The free radicals contribute to premature aging and wrinkles on the face and neck (2).
Vitamin E is necessary for healthy hair, skin, and nails. Skin and hair issues can be alleviated with vitamin E. Therefore, it's worth including it in your diet and skincare routine. The good news is that there is enough oil in a single vitamin E pill to save you money at the dermatologist's office. In addition, vitamin E masks are easy to prepare at home with components you probably already have in your kitchen. Read on to know them all.
1. Aloe Vera Infused With Vitamin E
Ingredients:
1 tablespoon pulp of aloe Vera.
1 capsule of vitamin E
Method:
Remove the aloe Vera leaf pulp.
Blend vitamin E oil with an aloe Vera pump by piercing a vitamin E capsule.
Apply the paste to your clean face and let it soak for 15 minutes.
Wash your face, pat dry, and then apply a serum.
This facial mask will help lighten your skin tone while nourishing it. It is best to use it in the summer to bring a healthy shine to your face and keep it cool.
2. A Mask Of Glycerin And Vitamin E
Ingredients:
1 tablespoon glycerin
1 teaspoon rose water
1 capsule of vitamin E
Method:
Apply a mixture of glycerin, rose water, and vitamin E oil to your clean, dry face.
Allow it to sit for up to four hours or overnight.
Towel dry once you've rinsed it off.
This mask will leave your skin feeling silky smooth after just one use. The face mask is all you need to get baby-soft skin.
3. Papaya & Vitamin E Face Mask
Ingredients:
Pulp from 2 tablespoons papaya
1 teaspoon rose water
Two vitamin E pills
Method:
Mix the vitamin E pills with papaya pulp.
Add the rose water and thoroughly combine the ingredients.
Apply it to your clean, dry face.
Let it soak on your face before washing it.
Use water to remove any remaining residue.
When getting rid of a tan, papaya is an excellent choice (3). The rose water imparts a subtle radiance to the skin. This is a perfect choice for bringing your natural skin tone back after a holiday out in the sun!
4. Face Mask Enriched With Vitamin E And Eggs
Ingredients:
1 tablespoon yogurt
1 tablespoon whisked egg whites
1 capsule of vitamin E
Method:
Make a smooth mixture of all the ingredients.
Apply the paste to your clean, dry face.
Take a few minutes to allow it to soak on your skin.
Rinse it in cold water.
In addition to exfoliating your skin, yogurt may also brighten your skin tone. Vitamin E is an excellent moisturizer for the skin. It will also cleanse your pores and fill them with good nutrients.
5. Vitamin E And Honey Mask
Ingredients:
A tablespoon of honey
1 capsule of vitamin E
Method:
Make a smooth paste by combining the two components.
Apply the paste evenly to your clean, dry face.
Let it sit for 15 minutes.
Wash it gently with cool water.
Your skin will look radiant thanks to this two-ingredient face mask. It will also rejuvenate your skin and look more youthful and gorgeous.
6. Vitamin E And Mango Face Mask
Ingredients:
One fresh mango pulp
A teaspoon of oat flour
1 vitamin E capsule
Method:
Make a thick paste, combining oats powder and mango pulp.
Add the vitamin E capsule to it.
Using your fingertips, spread the mask across your neck and face.
Let it soak for 15 minutes.
Rinse the skin with ice-cold water after washing it.
This will tighten your skin and slow down the signs of aging. Mango also leaves a smooth touch to your face and keeps the glow on for a long time.
Vitamin E is a cheap and easy way to improve your skin's appearance without breaking the bank. All you need to do is relax after applying these treatments to your face. You can take some time for yourself to do a skincare regime every day without fail. This will help keep your skin radiant no matter how harsh your lifestyle is on your skin. So which of these recipes will be the first you try on your skin? Let us know in the comments section. Take care!
The following two tabs change content below.