Hottest Nail Trends For This Winter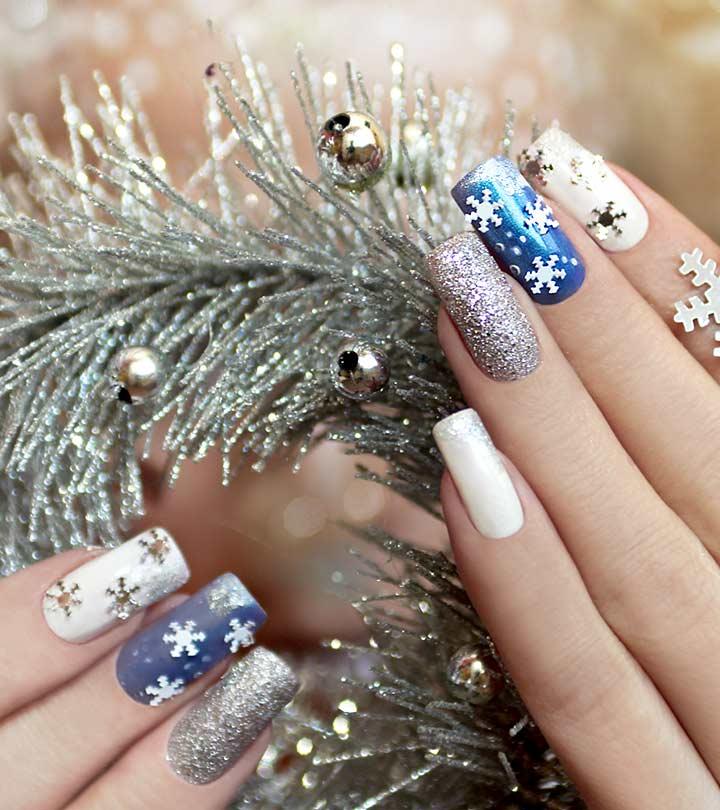 This season is all about classic bright and nude shades that have been tinkered and tweaked into more sophisticated and cooler versions of themselves.
The nail looks being sent down the runway this spring basically marinate in awesomesauce. You can start sporting them right away! The fashion month brought to us more than just makeup artistry and hairstyles that rocked the ramp. Along with makeup and hairstyles, it also brought to us artistic creations on nails.
Here are 15 new mani masterpieces you're going to want to try now.
1. Short Nails:
Shorter nails are in style for spring/summer 2015. It comes in handy to cut the nails short and paint them with awesome colors, particularly blue!
They were seen all over, including at Ohne Titel and Nicole Miller. Nails were cut short and nice before being painted.
[ Recommended Read: How To Manicure Short Nails? ]
2. Metallic And Jewel Nail Polish Tones:
In general, jewel and metallic tones look gorgeous, but when you add them to your nails, they make you feel that you're worth a million bucks!
The Marissa Webb rich jewel-toned nails were really mesmerising. Golden nails with artistic designs were also seen at Mary Benson's show.
3. Luscious Ombre Nails:
We have already seen ombre shadows, ombre lipsticks and even ombre hair. Now it is the trend of ombre nails that appeared on Christian Siriano's New York Fashion Week with a big splash.
The nails were really divine!
4. Sunset Tones On Nails:
The nails really stood out against the magnificent outfits at Mara Hoffman. The really beautiful sunset tones on the nails had captivated everyone for decades. The shade seems to reflect the earth's different tones.
5. Rounded Nails:
Rounded nails were a big trend during the New York Fashion Week. Although square nails might be a favorite for many, rounded nails look more sophisticated, down-to-earth and chic.
6. The Updated French Manicure:
The French manicure look has been a classic always. It was updated a bit to add some more chic sophistication to help finish off the outfit you want to wear the next morning.
Combine a French manicure with a bright base color, or try playing with burgundy and black shades.
Would you like to try French Manicure at home? Then you must watch this video tutorial.
 7. Negative Space Nail Art:
Negative space versions with lovely lacquer paints are actually some of the best nail art designs. They make up one of the biggest nail trends for fall 2015 with their fabulous appeal.
Chevron nails and negative space were rocking at the New York Fashion Week runway shows with punk rock vibes and edgy reverse.
8. Matte Nail Polish:
Not all nail polishes are made shiny. Some go matte, and this trend was again a big hit on spring runway shows.
Matte nails create an interesting look and being creative with them can come in handy. The matte nail polish appeared on the Antonia Marras shows with a shiny swirl and a gorgeous grey shade on a matte background.
[ Recommended Read: Best Matte Nail Polishes – Our Top 10 ]
9. Neutral Palettes Are Back:
Neutral palettes can never go wrong. Paint them on your short and rounded nails and they look so versatile that they match almost everything that you wear. The nails were simple and in the nude with a touch of gold at Erin Fetherston's show.
10. Usage Of Grey:
Grey is totally in this season, and we can get a head start by wearing it from now itself. The long and pointed metallic grey nail with matching eyeshadow and eyeliner is a perfect look for winter. Adding a touch of teal makes it appear incredibly attractive. We found it at Genny.
11. Bringing Back The Reds:
Red was never really out of trend. It is versatile and too classy. Red hues with dramatic palettes appear every now and then in the latest fall trends and this time it is coming around with a bang! One cannot underestimate this color, especially when we see matching lipstick and nail color on the runway shows.
Do you want to try few simple nail art designs at home? Watch this video.
12. All About Blue Manicure:
Since blue eyeshadow was trending on the runway, so it's pretty expected that nails would match with it equally! The sexy and shimmering blue nails really caught our eyes and senses on Monique Lhuillier's runway show.
13. Artistic Splatter Nails Make It Appear Big:
Can you imagine something more intriguing than a grey background with lines and dots of bright colors and splashed looks all over your pretty nails? We definitely loved seeing them all over the Desigual Fashion Line during New York Fashion Week.
If you ever considered the splattered canvases to be artistic, then you should be quite surprised to learn that now you can carry those lovely splatters on your nails!
14. Going Minimal:
Most of the looks presented at New York Fashion Week shows were minimal, starting from the clothing to the makeup. Some turned out to be interesting with simple lines and designs with contrasting colors.
[ Recommended Read: 50 Amazing Nail Art Designs For Beginners With Styling Tips ]
15. The Black And White Combo:
We saw it many times, and we must admit, we cannot escape from the fact that the black color adds extra drama when applied over an already bright color. Black and white make an awesome combo, and it was shown best in Kenzo's show with perfect black strips in the center over a white base.
Do you like the black and white combo for your nail art? Watch this video to learn an easy flower design.
Diversity is what is loved and appreciated about the Fall 2015 nail trends. They manage to cater to the style needs of those who love intricate nail arts with minimalistic looks. Whatever trend you chose to wear this fall, make sure to pay a lot of attention to your fingertips as they can change a lot in your looks.
Image Credit: www.shutterstock.com
The following two tabs change content below.