Google Honors Indian Swimmer: How Arati Saha Shattered Records And Broke Glass Ceilings With Her Swimming Abilities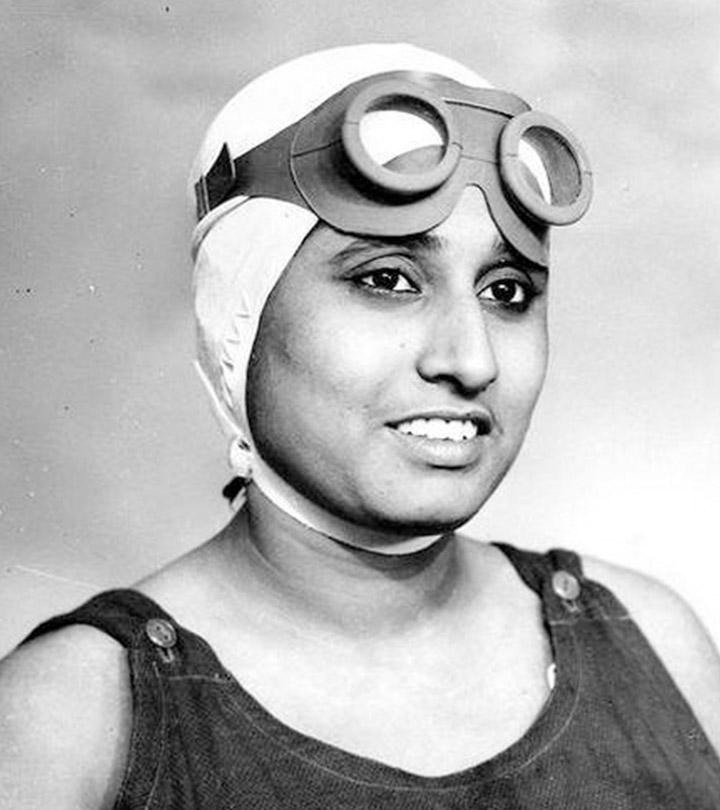 The year 1952 was a major stepping stone for India. It was the year India officially participated in the Olympics as an independent republic. Helsinki, Finland was the place where the Olympics was being held. India had selected four female and sixty-four male athletes to represent the country. Among those four was a young twelve-year-old girl named Arati Saha. Not only was she the youngest person in the Indian contingent, but also one with remarkable swimming talent.
On September 24th, her 80th birth anniversary, Google honored the legendary Arati Saha. Many fans woke up to their Google home page showcasing a special doodle that acknowledged and commemorated Arati's contribution to the field of sports. The unique doodle was created by a Kolkata-based illustrator, Lavanya Naidu. On the 29th of September 2020, it will be the sixty-first anniversary of Arati Saha's major feat. Years ago on this day, she managed to become the second Indian to cross the English Channel. If you've always been fascinated with India's standing in the sports field, here's the inspiring and daring story of Arati Saha:
Early Beginnings
Arati Saha began her wonderful and prolific journey as a swimmer when she was a wee four year old. She began her journey as a tiny little kid who swam across the famous Hooghly River in the city of her birth, Kolkata. Due to her fascination for the sport, her father decided to enroll her in a swimming club. In 1946, in 110 yards freestyle, she won the gold medal at the Shailendra Memorial Swimming Competition which kick started her swimming career. By the time Arati hit the age of five she had already established herself and was winning local competitions left, right, and center.
When she was only ten years old she beat another swimmer, Dolly Nazir's score in the 100 meters freestyle category in 1951. However, both Dolly and Arati were selected to represent the country at the Olympics in Helsinki. Arati was born to swim and anybody who knew her knew that she was a fish out of water. She was a trailblazer for the coming generations of Indian women. However, this wasn't even her biggest feat. Her most major feats came in the years that followed her 1951 entry into the Olympics.
Attempting To Cross The English Channel
Arati was dead set on becoming the first Asian woman to cross the English channel. To prepare for this, Arati trained for a whole six years and even admitted to practicing 8 hours a day during certain sessions. Finding funding was a bit of a problem but after many people stepped forward and requested the then-chief minister of Bengal, Bidhan Chandra Roy to help, funds were arranged. In July 1959, arati made her first attempt across the English channel. Unfortunately, the weather was extremely unfavorable and Arati had to turn back barely five miles away from the English coast.
However, Arati was a determined woman and wasn't the kind to back down from an intense challenge. So she decided to make the attempt once more and see it to fruition. Barely two months after making her first attempt, Arati began swimming across the English Channel again. She managed to cover the total distance of 42 miles in around 16 hours and about 20 minutes. Once she reached England, Arati made Indians across the globe proud when she waved the Indian flag. This was one of the most memorable moments in India's sports history. In the same year, Arati decided to settle down once and for all and tied the knot with her manager, Arun Gupta.
Recognition in India
After her big win for India, people across the country knew exactly who she was. At a time when women were shamed for even wearing a knee-length skirt, Arati was a symbol of freedom. She chose to pursue her dreams even if it wasn't considered a conventional task for women to pursue. Arati spoke about how she was inspired by Mihir Sen, the first Indian to swim across the English channel. After Arati's spectacular and inspiring sports accomplishment for the country, she was honored with one of the highest civilian honors an Indian can receive, the Padma Shri in the year 1960.
Arati passed away in the year 1994 at the age of 53 after suffering from a long bout of encephalitis and jaundice. She was survived by her daughter, Archana. Arati Saha was the first sportswoman to be awarded a Padma Shri. In the year 1999, a unique postal stamp of Arati was introduced and in 1996, a statue of hers was built near her old residence. The lane that went 100 meters alongside it was also named after her and her legacy still lives on in the streets of Kolkata.
Arati proved that no matter what the era or what the circumstances are, when it comes to talent and capabilities, only a true sportsman can tell you the hard work and dedication required to be the best at their sport. If there is something we can take away from Arati's story it is that you should never ever give up on something you set your mind on. Arati proved through sheer dedication and hard work that she could be the first Asian woman to achieve such a powerful feat. It was her willpower, dedication, and sacrifice that made her a force to be reckoned with. Tell us your thoughts on this article in the comment section below.
The following two tabs change content below.

Latest posts by Niharika Nayak (see all)

Niharika Nayak
Niharika has a passion for all things art, music and travel. During her spare time she likes experimenting in the kitchen, painting pop culture icons and chasing after random street cats. Her dream is to one day own an amusement park so she can ride roller coasters for free.