Festive Season 2020: How India Is Celebrating Low-Key During The Pandemic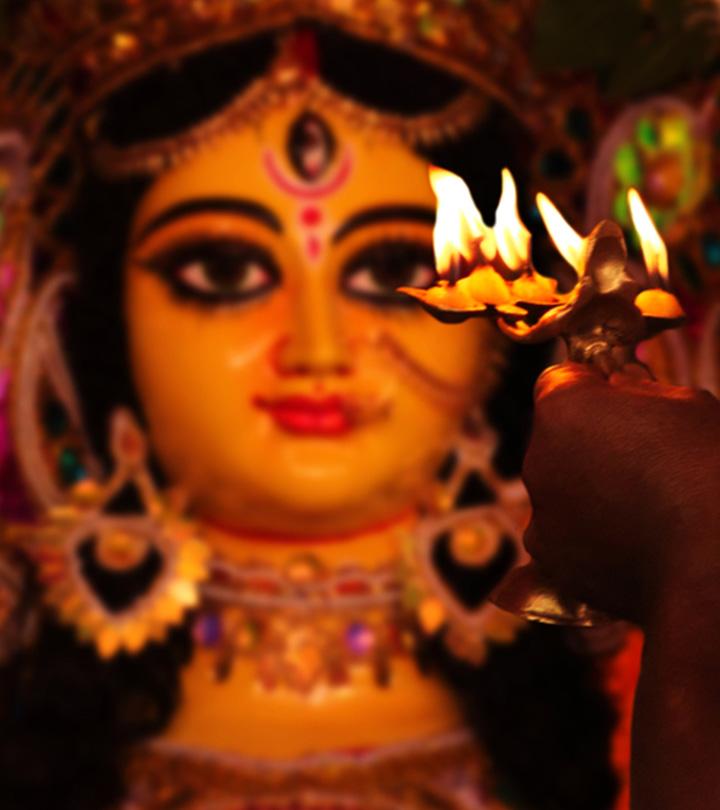 The festival of Durga Puja begins today and the festival of Navratri comes to its end next week. Many of the public "pandals" and other gatherings have started incorporating social distancing and other kinds of measures to allow people to seek blessings without risking their safety. The West Bengal government has ensured that the celebrations would be kept lowkey this year and that the pandals would have a sufficient amount of barricades to enforce social distancing. The government also requested people to stay indoors and avoid visiting pandals. Strict mask guidelines were imposed on those who did visit so far. Even though things are a bit rough now, we all are upholding the spirit of the festivities as usual. Want to know more? Read on.
How West Bengal Prepares For Their Most Iconic Festival
Durga Puja is a yearly festival that worships and pays tribute to the Goddess, Durga. The festival is of particular importance in the states of West Bengal, Tripura, Assam, and Odisha. It is a ten day festival and is iconic to Bengali culture. In the city of Kolkata, Durga pandals are seen as a major attraction and many will travel miles just to watch them. However, this time, the movement of people has been restricted severely. Besides the government-imposed order, the pandals have been organized in a way that not many can enter certain restricted zones. Police personnel have been deployed to ensure that people stick to the guidelines and actually follow through COVID restrictions.
Many of the district authorities in the areas have created certain buffer zones around the pandals to ensure that people don't cross any lines. The interesting thing is that many places are holding COVID-themed pandals and featuring the Goddess Durga slaying the coronavirus. Other pandals highlight the plight of migrant working mothers who had to take care of their families and return back to their homes in the harsh weather conditions and uncertainty of the pandemic.
During the Durga Puja, many acclaimed Bengali filmmakers release their critically acclaimed films but this time, things have been different. This year, since many cannot and would prefer not to visit cinema halls, a collection of stills from the legendary filmmaker Satyajit Ray's film, Sonar Kella will be published in a famous children's comic book called Sandesh which is a children's magazine. The son of Satyajit Ray, Sandip Ray informed reporters that these rare images were shot during the shooting of the film and they showcase some incredible behind the scene captures.
Earlier, West Bengal Chief Minister, Mamata Banerjee had said that a maximum of 150 people could be allowed in an open ground setting and with adequate social distancing measures kept in place. Many major pandals have asked their visitors to view the celebrations virtually online. Despite all the restrictions, many people are still flocking to restaurants and shopping malls to stock up for the festive season.
Navratri Celebrations
For Maharashtrian and Gujarati folk on the western side of the country, the festival of Navratri is a crucial one. In major cities like Mumbai and Ahmedabad Garba celebrations and Dandiya celebrations are a major part of the festival. However, considering that social distancing is extremely important and both cities have really high positive COVID cases, many societies have ditched the idea altogether. Many of these activities have been called off and other communities will be organizing special "baitha garbas" where people will be seated rather than dancing around in circles. In these "baitha garbas", people will be wearing masks, sitting at a distance and singing devotional prayers to the Goddess Durga.
For the Gujarati and Maharashtrian communities, this is a bit of a damper on their celebrations but many are just grateful to be able to celebrate within their homes. In the Borivali district of Mumbai, there will be online darshans and smaller pandals to bring in the festivities and give people a small taste of their favorite festivals. Many pandals have even decided to specially post mithai and other sweets to their devotees as they cannot come and celebrate the festivities.
Even in cities down South like Bengaluru, people are planning on keeping low-key celebrations and many plan on decorating their houses the way they would before the pandemic. Those celebrating the festival are still following the traditions of decorating their apartments with Dasara Dolls. Many folks will instead do family video calls instead of gathering at one house and celebrating.
It's wonderful to see how Indians are adapting to the new normal. It is crucial for us to keep social distancing guidelines in place as we welcome this vibrant festive season. Although things might seem bleak during this time, there's always many more years and celebrations to come for the rest of us. At the end of the day, when all else fails, we can look back and feel proud that we celebrated our traditions in our own unique way. How did you and your family celebrate this festive season? Tell us all the details in the comment section below.
The following two tabs change content below.

Latest posts by Niharika Nayak (see all)

Niharika Nayak
Niharika has a passion for all things art, music and travel. During her spare time she likes experimenting in the kitchen, painting pop culture icons and chasing after random street cats. Her dream is to one day own an amusement park so she can ride roller coasters for free.