How To Add A Classic Vintage Touch To Your Look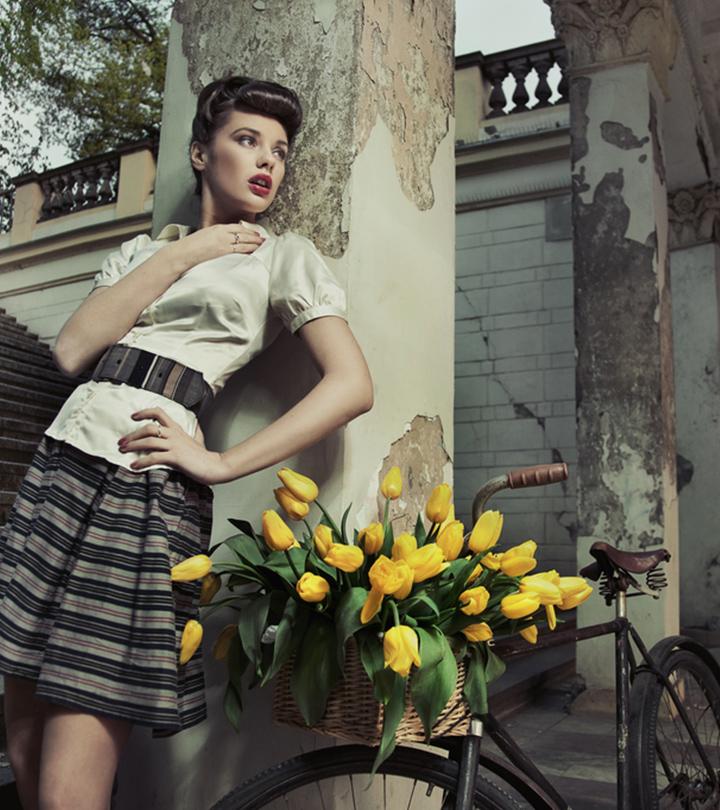 Each time vintage fashion is reintroduced as a trend, they make a bolder and more glamorous comeback. Who knows, maybe in a few years, wearing fancy feathered caps and pocket watches will rule the trends. When you think of styling yourself in vintage fashion, you need to be cautious because the idea is to borrow from the past and not look like a time traveler. So if you have been looking up articles and trying to figure out how to look classy and vintage without gathering odd stares, we are here with some great ideas. Read on to know them all.
Difference Between Retro And Vintage
Did you know, retro is not the same as vintage? The term "vintage," gained popularity in the '60s, and refers to any clothing that is no less than 20 years old, and can be as ancient as 100 years. "Retro," an abbreviation of "retrospective," is used to describe clothing that mimics the patterns, fabrics, and silhouettes of bygone eras.
1. Combine Antique With Your Modern Outfit
Start by picking a decade to learn about the look you want to go for. Don't try too hard to seem perfectly retro. That is to say, after you've figured out your personal aesthetic, roll with it. Many periods are represented in vintage clothing. It's up to you to do the legwork to learn about each era, identify where your own aesthetic fits in, and then run with it.
2. Add Vintage Accessories To Your Clothes
It is recommended that you wear your blue jeans with your ruched-detailed white shirt and antique circular sunglasses. Some vintage shoes may look good with modern clothing, but make sure you don't buy old-fashioned sneakers that may seem misfit with your outfit. A pair of silk gloves is all you need to achieve a lovely vintage style.
3. Try To Incorporate A Piece Of Vintage In Your Outfit
A classic appearance that has stood the test of time will likely never go out of style. In retro eras, classic furniture was prominent. Going for a timeless look is simple, especially if you have no idea how to dress  retro. Therefore, begin taking small risks like mixing and matching unexpected pieces, such as a black collarless coat, a cream-colored sweater, a micro plaid miniskirt, and black and white loafers. You may also wear a modern jacket and boots with your retro skirt, shirt, and hat from the '60s or '70s.
4. Try On Retro Styled Jeans
The longer you wear a pair of jeans, the softer they get and the more comfy they become. Wearing denim with a vintage look is a smart idea because it softens up the overall look without making you look ancient. Make sure you get a comfortable fit and a looser cut.
5. Mix And Match With Retro Pieces Of Accessories
Try to find some of the decade's most iconic forms, so you don't seem too costumey in any option you choose. Use complementary shapes for other accessories like spectacles, jewelry, hair extensions, scarves, and hats. You may also go for the '60s aesthetic by accessorizing with bright, geometric shapes and colors. Pick a pair of large, colorful gemstone dangle earrings to complete your '80s ensemble.
Take care of the hair and makeup. Consider the 1950s, a time of glitz and the rise of such beauty trends as red and pink lipstick, pastel feel ashamed, soft eyeshadow, arched eyeliner, and even feminine eyebrows. However, the '50s saw a wide variety of hairstyles, including the poodle cut, rockabilly hair, glamorous save curls, pixie cut, and bandana-wrapped hair. Avoid adopting a hairdo or cosmetics look simply because it was popular at the time. On the contrary, experiment with different hair and makeup looks until you find what works best for your face shape.
You can experiment with what you already own to create a retro look from head to toe. To get started, try mixing bold color palettes and shapes with complementary patterns. A pair of minimalist footwear from the 1990s would look great with your brocade jacket from the 1960s. A cropped jacket from the '40s, a tube top, an '80s skirt, '80s sunglasses, and '80s hair beads are fantastic examples of an excellent retro-futuristic outfit. The complementary colors and '80s-inspired fashions make for a winning combo. You may get a whole vintage style by donning a rose-colored chiffon dress from the 1960s, a belt from the 1980s, a velvet cloak from the 1930s, and a hat from the 1940s. So which of these ideas did you like the most? Let us know in the comments section!
The following two tabs change content below.